April 28, 2011 -
Greg Gabriel
Inside Draft Day
The NFL Draft is like Christmas in April for most scouts. A year's worth of work is culminated by bringing in new talent for your club. The day can be very satisfying or frustrating depending on what happens with the picks. One thing I have learned after taking part in over 27 drafts is that you have to be prepared and have a "game plan" in place for draft day. If the planning is thorough, a club will always have some success.
What goes into a draft day plan?
Every scenario has to be carefully thought out. Do you want to trade up or trade down? Who do we take if we keep our pick? In my preparations for a draft I always wanted to have a group of 4 to 5 players at different positions for each round. In the weeks leading up to the draft we would do our research on where we thought different players would go in the draft. For example, would a player go in the top of the third or the bottom of the third, etc. With this information you can pretty much have a good estimate of what players would be available when it was your turn to pick in each round. Of course there are always surprises and some players that you thought would go high drop for some reason and vice versa. Generally speaking, though, if you have done the proper amount of research you can have a fairly good idea of who will be available each round.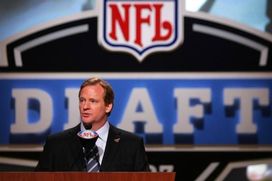 You better have a plan on draft night or else you could be setting your franchise back for years.
What you always have to be prepared for in every round but especially the first round is a "worst case" scenario. If you can accept that situation then you are in good shape. What is a "worst case scenario?" It could go like this… you have a group of five players you like, four of them are gone, you try and trade back but you can't and are left with only one player to choose.
When you think there is a strong possibility that you may trade down, that has to be prepared for. Around five to seven days before the draft you begin calling teams behind you and let them know that you may want to trade down. You have to have a secondary list of players that you may want to draft in a trade down. You also have to figure out how far back you are willing to drop. If you get an offer from a club that is 13 picks back and you don't feel that players in your secondary group will be available that far back then you don't make that deal. Generally you have two or three options available with trading partners and you have to then select the one that fits your strategy best. A club that has not prepared for a possible trade up or down and then is forced to try and do it when they are on the clock is in big trouble!
If you're thinking about trading up then you better have a surplus of picks. If you only have 6 or 7 picks and you want to move up, you may end up having to trade 2 of those picks to make the trade. When that happens you are giving up a good portion of your draft to make the trade, so the player better be worth it and have some "difference maker" to his play.
When developing a strategy on what players to draft and when to draft them, you have to look at the strengths and weaknesses of the draft. Each year it is different. Let's say going into the draft, your club needs an offensive lineman, a linebacker, a corner and a running back. If the draft is weak at the corner position as far as number of quality players and overall depth then you have to figure that you need to take the corner with an early pick. If the draft is deep with quality receivers then you figure you can get a receiver in say the 4th or 5th round. This year's draft has an abundance of defensive linemen but is thin at both corner and safety. So if you need a corner you better draft him early!
I think that because this year's draft is thin at linebacker, tight end, corner and safety, the quarterbacks are getting pushed up. Rick Gosselin of the Dallas Morning News said on the NFL Network Tuesday night that as many as six quarterbacks will be drafted in the first round today. I do not feel there are more than two first round quality quarterbacks but I do understand that because so many positions are thin with top level players that it is feasible he could be right. Also, because there has been no free agency, clubs that may have signed a veteran quarterback may now go after a rookie….just to make sure they have one! As I said in an earlier post, if the decision makers are wrong on the value of these QB's, in two to three years there could be some high level jobs available.
This is going to be a very interesting three days. With the labor issues unsolved it will be fun to watch how the different clubs strategize. I feel that this draft will be run differently than any draft in recent history.