February 15, 2012 -
Greg Gabriel
Is Brandon Weeden a premium draft choice?
Brandon Weeden has had a great career at Oklahoma State. He has been a two-year starter and has led the Cowboys to a combined 23-3 record over those two seasons. His passing stats have been off the charts. In 2010 he completed 342 of 511 passes for 4,277 yards, 34 touchdowns and 13 interceptions. In 2011 he was 408 of 664 for 4,727 yards, 37 touchdowns and 13 interceptions. He is a little better than a 69 percent career passer. Those numbers are as good as any quarterback in the last few drafts. With that being said, should he be a premium draft pick (1st or 2nd round)? Many of the draftniks say yes, I say no. Here's why.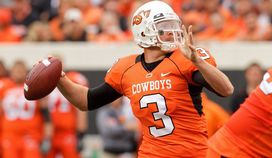 Would you draft Brandon Weeden in the early rounds of April's NFL Draft?
Weeden plays in a high percentage half-read college spread offense. Just by the nature of the offense, he is supposed to put up big numbers; it's very quarterback friendly. He plays from a shotgun style and must throw 12-15 bubble screens a game, plus a lot of high percentage short throws. The number of throws down field per game is average. There have been many quarterbacks who have played in similar offenses in the past 8-10 years who have done little in the NFL. Many quarterbacks who have played in half-field read spread offenses struggle when they get to the NFL because they have to learn how to play from under center, set up and read the whole field. It's a whole new concept. Weeden struggled in the Senior Bowl playing from under center. He completed just 5 of 9 passes for 56 yards with 2 interceptions.
Weeden has just average arm strength. He throws a tight catchable ball, but you seldom see him "drive" the ball. He does have very good accuracy and his ball placement is above average. One of my main concerns is his lack of mobility. He is very stationary. While he has a quick release he does not show the skills to extend plays or make plays with his feet. This is a trait that will not improve.
On the positive side, Weeden is mature and a strong leader. Having had experience in professional sports (baseball) he already knows the rigors of being a pro. But at the same time, his age works against him. He is already 28 and will turn 29 before the 2012 season is five games old. In all my years in scouting, I have never seen a rookie quarterback that old. I have seen some quarterbacks come out of college at 25 and play but not at almost 29! Coming from the offense he has played in, he might be 31 or 32 before he is ready to be a "winning" starter. That is a big concern. Does a club invest a high draft choice in a player that age? Just use Alex Smith as an example. He came from a similar offense and it took him 7 years before he played successfully. If that was the case with Weedon, he would be 35 or 36…already older than most QB's in the league.
I like Weeden's intangibles, I know he is a winner. There is not a doubt in my mind that he will play in the league. I do have doubts as to whether he will ever be a successful starter or just a career backup. If he was 24 I might use a 3rd round pick. But at his age, I wouldn't pull the trigger until the 6th round at the earliest. It's a risk/reward business and you have to go with the percentages. In this case, the risk is very high if a club invests a high pick. Will it happen? Maybe, but I think it would be a foolish move.