October 10, 2014 -
Greg Gabriel
Is Everett Golson a legitimate Heisman candidate?
It seems like every year a player comes out of nowhere when the topic of Heisman Trophy candidates comes up. In 2012, was there anybody who mentioned Johnny Manziel's name entering the season? Late year was similar in that no one knew who Jameis Winston was until he came up big in some early season games for Florida State.
In August, when people in the media began listing Heisman Trophy candidates for 2014, the most prominent names we heard included Winston, Oregon quarterback Marcus Mariota, Ohio State quarterback Braxton Miller and UCLA quarterback Brett Hundley.
Just as it usually happens, some prospects play themselves out of consideration and other names take off because of great early season play. Braxton Miller had a season-ending injury in preseason practice, Winston has his off-field issues that led to a suspension and when Oregon lost to Arizona, Mariota's star began to dim.
Players like Wisconsin running back Melvin Gordon, Nebraska running back Ameer Abdullah and Alabama receiver Amari Cooper have played themselves into consideration. Another who did the same is Georgia running back Todd Gurley and he may have been one of the favorites until Thursday's suspension was handed down.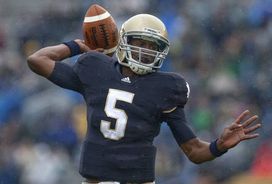 Golson has notched 17 total touchdowns in five games with the Irish this season.
Another player who has quietly played himself into consideration is Notre Dame quarterback Everett Golson. Golson, who led Notre Dame to the National Championship game two years ago, missed all of the 2013 campaign because of an academic suspension. He has come back to play superbly in the early part of the 2014 season.
Through five games, Notre Dame is undefeated and Golson has completed 114 of 178 passes for 1,383 yards, 13 touchdowns and only three interceptions. He has also rushed for 138 yards and four scores. Two weeks ago in a game against Syracuse at MetLife Stadium, Golson completed an amazing 25 passes in a row.
The difference in Golson's play from 2012 until now is astonishing. In 2012, Golson who was a redshirt freshman at the time, was trying to manage the game and not do anything to lose it. Notre Dame had a strong rushing attack in 2012 and didn't have to rely on Golson's arm to win games.
That is not the case in 2014. Golson is now running a more up-tempo style of offense, has the ability to audible and is asked to make plays with both his feet and arm.
That is exactly what he did last Saturday against Stanford when he led Notre Dame on a game-winning 65-yard drive in the final minutes, capped by a 23-yard touchdown pass to Ben Koyack on a fourth and 11 with 1:01 to play. It's plays like this in a national spotlight type of game that puts a player into consideration. In Golson's case, he has been doing this all year.
In the 2014 season opener against Rice, Golson was 14 of 22 for 295 yards and two touchdowns. The following week against Michigan he went 23 of 34 for 226 yards and three scores. Golson did not throw an interception until the Syracuse game, which was Notre Dame's fourth contest of the season. He has played pretty much flawless football.
Not only is Golson making big plays, but he is playing with outstanding consistency. He has also become the leader of this Notre Dame team. In 2012, there were seniors like Manti Te'o who led the squad. But in 2014, this is Everett Golson's team. He is the face of the program and how Golson goes, so goes Notre Dame.
Still, in order for Golson to win the Heisman Trophy, he has to play that same flawless type of football for the entire season. The week Notre Dame hosts a 2-3 North Carolina team. Assuming Notre Dame wins and Golson plays well, his whole candidacy will be determined the following week in Tallahassee.
On October 18, Notre Dame plays at Florida State in a game that ABC has picked up as the evening national game. With Florida State being ranked No. 1 and last year's Heisman winner Jameis Winston on the other side of the field, a big game by Golson could very well put him among the leaders for the coveted award.
A poor game and Florida State blowing out Notre Dame could very well end his candidacy. While that might not be fair, such is the case when it comes to national awards.
Follow Greg on Twitter: @greggabe