May 29, 2012 -
Greg Gabriel
Is Forte's durability a concern?
With the long holiday weekend we didn't have much football news over the weekend. OTA's restart for some teams today and I'm sure us football junkies will be rewarded with some new "news." With that being said, here are some of my thoughts on some recent news items.
Forte's durability
Over the weekend, we saw that the Bears have some concern about Matt Forte's future durability and that may be one of the reasons that they can't seem to agree on a long term contract. Forte's camp fired back that there is nothing wrong with his knees and future durability should not be in the equation. I beg to disagree.
When Forte came out of college in 2008 some clubs did have a concern with a knee injury he suffered while at Tulane. As far as I know, no team flunked him on a medical, but some were concerned enough to downgrade him some.
In the 2008 season, Forte showed no signs of injury and played well, but during OTA's in the 2009 offseason, Forte did suffer an injury that was then described as a hamstring injury. He claimed to be fully healthy when training camp began but he did not look like the same back we saw in 2008. At the combine in 2008, Forte ran a sub 4.5, but in 2009 he looked like a 4.7 type running back. It was because of that the Bears signed Chester Taylor the following season.
Forte bounced back to have both a strong offseason and season in 2010. He looked much like the back we saw in 2008 and the burst that was not there in 2009 was back. 2011 was much the same way with Forte picking up where he left off in 2010. In fact he was having a career year until he injured his knee in game 12. The injury has been reported as a MCL sprain but this is the 2nd significant knee injury that Forte has had.
Should the Bears be concerned? Yes, they have to be. At the running back position the shelf life is short and any injury to a knee has to be concerning. Does the injury mean Forte could have a shortened career? Not necessarily. The one thing I know is that Forte is a freak athlete and he takes pride in how he conditions himself but still at that position a player is one hit away from never playing again. When a running back starts to go downhill it isn't a gradual process, it's like he fell off a cliff. He could look great one year and awful the next. I understand both sides' feelings in this negotiation…The Bears have to protect themselves and Forte wants to be paid like one of the better backs in the game. Here's hoping they can find a middle ground that both can live with.
Banks wants a shot at the NFL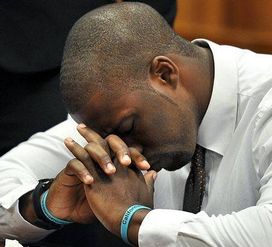 Brian Banks is a 26 year old who had his best football years taken away from him.
Who is Brian Banks? Years ago while in high school, Banks was a highly recruited linebacker who had "committed" to play football for USC. He never got that opportunity as he was convicted on a rape charge and sent to prison. Last week, Banks was exonerated of the crime and his record wiped clean. He is now a 26 year old who had his best football years taken away from him. Because he no longer has a record he wants a shot at the NFL. His agent says he has been training hard 6 days a week to prepare for the opportunity if given the chance.
What Banks has gone through is a travesty, but just because he was a former top high school football player doesn't mean he deserves a shot at the NFL. As we have seen many times in the past, highly recruited high school players don't always turn out to be top college players and future NFL players. The percentage is quite small. In Banks' case he had all his developmental years taken away from him. The years where he could have "learned" the game, developed instincts and gained experience. I think that the best thing Banks can hope for is that a team or teams bring him in for a workout so he can show what he is able to do. After being away from the game for as many years as he has, the chances of Banks earning a contract are minimal at best. Can it happen? Yes, but it's a longshot.
Nicks breaks his foot
Last week during OTA's Giants All-Pro receiver Hakeem Nicks broke the 5th metatarsal bone in his foot. That can be a devastating injury to a receiver because of the time it takes to recover.
After the injury, the Giants said that Hicks should be back in about 12 weeks. A few days later ESPN's Adam Schefter reported that Hicks could be back in as little as 6 weeks. I highly doubt that scenario. In all the years I have been involved in football I have never seen a player (especially a skill position player) come back from that injury in less than 3 months. While the timetable of 12 weeks is legitimate, most players are not back to their "normal" selves until more like 16 weeks. What this means is the Giants probably cannot count on Hicks being 100 percent for the first quarter of the season. It also means that rookie receiver Rueben Randle needs to be ready to go week 1. Randle is a very talented player with size and speed. Many thought that he would go much higher than he did in the draft (32nd pick, 2nd round). The reason he slid as much as he did is because there were people in the scouting community who felt Randle lacked a degree of toughness. The Giants have to hope those were false claims.