July 15, 2013 -
Greg Gabriel
Is Johnny Manziel a top NFL quarterback prospect?
During the 2012 college football season the name that came out of nowhere to be a top star and win the Heisman Trophy was of course Mr. Johnny Football, Johnny Manziel.
As a redshirt freshman, Manziel accounted for an SEC-record 5,116 yards of total offense. He completed 295 of 434 passes for 3,706 yards and 26 TDs. He also ran for over 1,400 yards and 21 scores. His season was one of the greatest college seasons of all time and he earned every award he received.
As a third-year sophomore, there has already been a lot of talk about this being Manziel's last season at Texas A&M and that he will enter next year's NFL Draft. The question many are asking is if he is a legitimate NFL quarterback.
The answer is yes.
Can he be a high first-round pick? The answer again is yes. Here's why.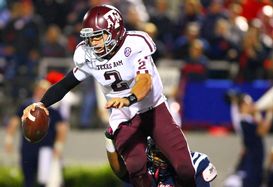 US PRESSWIREJohnny Manziel could be a high NFL draft pick when he leaves A&M.
Manziel does not have great size. He is listed as 6-1 and 200 pounds. I think that the 6-1 and the 200 may be a bit of a stretch but Manziel has rare athleticism and speed and that makes up for his size limitations. When scouting in the NFL you always ask yourself the question "who does he remind me of?" In this case the first player who came to my mind was Doug Flutie. Flutie was small but he was a great playmaker. Manziel has more size then Flutie, has more speed and is probably a little better athlete. I think their arm strengths are similar as is their ability to make big plays.
The difference is that when Flutie was starring at Boston College, many colleges were playing in pro-style offenses. Today's college game is dominated by spread offenses and this plays to Manziel's traits. From watching tape I would say that Manziel has easily a sub 4.5 40-yard dash time. I would also say that when he tests in the agility drills he may be off the charts. He has rare change of direction and body control. His ability to keep plays alive or make plays with his feet is amazing. He has great open field run instincts. There are countless plays where Manziel uses his feet and quickness to get out of trouble and either run for big yardage or get the ball to an open receiver downfield. When you watch him running around with the ball his eyes are always looking for an open receiver.
I like the offense at Texas A&M. It is not a half-field read system. The QB has to read the whole field and that helps prepare Manziel for the NFL game. Manziel has good not great arm strength but he throws a tight ball and his ball placement and accuracy are good. The good thing about him is that when he is on the run he still throws the same type ball and has the same accuracy.
What gives the A&M offense a huge advantage is Manziel's ability to run. Defenses have to be alert for that. Manziel shows a quick release and when his primary receivers aren't open he is quick to take off. With his run skills he is a threat to make big yardage every time he takes off. This is a special trait that few QB's have. When Michael Vick came out of Virginia Tech he had similar running skills but he did not have the passing skills or the pass game instincts that Manzeil has. In short, Manziel is very difficult to defend. He can be a defensive coordinator's nightmare. With experience he is only going to get better.
Having great physical talent does not always make a player a top prospect. At the QB position character and leadership also come in to play. By the nature of the position, the QB is the team leader. Manziel shows leadership skills on the playing field and his teammates respect his ability to make plays. From what I hear and understand there are many who don't respect him as a person. He has a cocky personality and some say that his notoriety has gone to his head. He can rub people the wrong way. I've heard some say they feel Manziel has a sense of entitlement. Not a good trait to have at the QB position. He is not the best worker in the weight room or in practice and his preparation would have to be graded a "B" not an "A." Others have told me he can be "high maintenance."
I'm not saying Manziel is a bad kid; he's not. I think it has more to do with his maturity level. He is still just 20 years old and he does things a lot of immature 20 year olds do. Still, if he wants to become a successful NFL quarterback he is going to have to take things more seriously and become a complete leader. To be successful he has to be a leader both on and off the field and his work habits and prep have to be second to none. If that doesn't happen, he will survive in the NFL for a little while because of his talent but he won't become anywhere near the player he has the talent to be. Being a top prospect does not guarantee that he will become a top NFL player.