February 15, 2012 -
Greg Gabriel
Is Luck 'once in a lifetime?'
There is an interesting post on Profootballtalk.com about how NFL Network draft analyst Mike Mayock refers to Andrew Luck as great but not a once-in-a-lifetime player. He also says that Luck isn't a Peyton Manning. I can agree and disagree.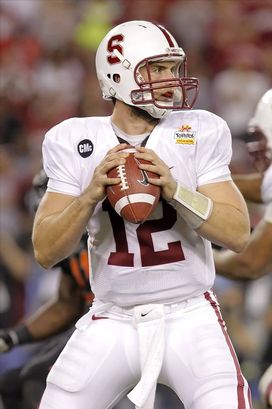 ICONAndrew Luck is very likely heading to Indy to become a Colt.
First I will say that Mayock is the best draft analyst on television. Unlike some of the other so-called experts, he watches tape…and lots of it. He easily watches as much tape as many scouts and he understands scouting and scouting concepts. Just because of that, his opinion is respected by most in the NFL.
I will also say that having scouted Manning, Tom Brady, Sam Bradford, Matt Ryan and every other quarterback to come out in the last 20-plus years, I feel that Luck is the best quarterback prospect since Manning. He had a better college career than Manning and he is more advanced at the same stage of his playing career. His record and stats while at Stanford easily show that. I remember being at Manning's pro day and came away unimpressed with the way he threw that day. Still I thought he was the best prospect in that year's draft. I don't think anyone felt that Manning would turn out as good as he has. We thought he would be an excellent pro but he has turned out to be one of the all-time greats. No one in their right mind can expect Luck to become an all-time great but we can expect him to become a very good pro.
Where I disagree with Mayock is when he compares Luck favorably to Bradford. I don't think its even close there. Bradford was an excellent quarterback at Oklahoma but he did not have the skill set that Luck has. One of the things that separates Luck from others is the offense he runs. Many college offenses, especially some of the spread offenses, are not that complex. That's not the case at Stanford. The Stanford offense is more complex than many in the NFL today. Running that system gives Luck a huge advantage over other quarterbacks coming out of college.
Is Luck a "once in a lifetime?" No, but who is? He is a once in every 10 years guy…and that's pretty darn good!