June 05, 2012 -
Greg Gabriel
Is Michigan's Robinson a potential NFL quarterback?
One of the more interesting players to watch this college football season will be Michigan quarterback Denard Robinson. He is a very exciting playmaker with exceptional athletic ability but is he a prospect to play quarterback in the NFL? That is the question that every NFL scout that goes to Michigan will have to answer for himself and his team.
Looking back to when Robinson was coming out of high school, he was rated as a 4 star prospect but also was not rated as a quarterback but rather an "athlete." That tells us that the recruiting evaluators were not sure what position he would play in college. Robinson was a highly recruited player with offers from Florida, Auburn, Ohio State and Georgia as well as Michigan. While at Michigan, Robinson has played in 38 games with 28 starts. In all those games he has played quarterback. There was one game his freshman year where he also saw action as a running back.
Robinson does not have prototypical quarterback size, as he is listed at 6-0 and 190 but he may not be that tall. The one thing that stands out about Robinson is his athleticism. He is a very smooth athlete with body control, change of direction and speed. I would say that he easily has 4.45 speed in the 40. The other thing that jumps out on tape is he is not a pure passer.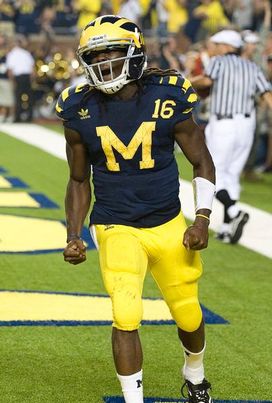 ICONDenard Robinson had his best year as a passer in 2010 when he threw for 2,570 yards with a 62.5 completion percentage.
Looking back at his career, his best year as a passer was his sophomore season in 2010 when he completed 182 of 291 passes for 2,570 yards and a completion percentage of 62.5. In that season he was playing in Rich Rodriguez's spread offense that had a fairly simple passing attack as far as reads. Last year when Brady Hoke came in as head coach the offense became more complex. Robinson played from both under center and in the shotgun and the route tree the receivers were running was more sophisticated. That showed in Robinson's stats, as his completion percentage dropped to 55 percent.
When I was studying receiver Junior Hemingway for last April's draft the one thing that was apparent was he was not playing in a strong passing offense. Looking at Robinson, it's clear that he is not an instinctive thrower. He can be slow to find an open receiver and he lacks a very quick delivery. He waits for a receiver to break open before he releases the ball. While he is excellent at extending plays with his feet, he can be slow to find secondary receivers. He also can get impatient and just run. While that is a good thing for Michigan because of his running skills it hurts his evaluation as a quarterback.
Some may say that he is similar to Tim Tebow, but I don't buy that. Tebow has much more size and isn't nearly as fast or quick as Robinson. Their passing skills may be similar in that neither is a pure passer but Tebow's throwing motion was much more unorthodox in college. Robinson has a tight overhand delivery and a strong arm but he often throws a loose ball. He is more of a thrower than a passer. His accuracy is average at best and like I said above, he waits for his receiver to break open before he releases the ball. He does not have good anticipation. A more accurate comparison to make of Robinson would be former West Virginia quarterback Pat White. Robinson has more speed and is a better athlete but they have similar size. I would say at this point of their careers, White was the better passer with better accuracy and instincts, but Robinson has a knack for making plays.
If Robinson isn't a quarterback, then what is he? That's a good question. If he had more size, I would play him at running back because of his great running skills (he ran for almost 1,200 yards last year). He lacks the size you would want for a running back so until he can work out for clubs next spring where he plays could be an unanswered question. If he shows good ability to catch the ball and run routes then receiver may be his best pro position. I'm sure there will be some clubs that will want to use him as a combination player and have a package for him at either running back or receiver as well as some plays at quarterback.
Needless to say, Robinson is one of the more exciting players in college football but that alone does not make him a top pro prospect. While many have been in awe of his playmaking ability in the past, this season he will be much more under the microscope so to speak as scouts seriously evaluate him to play in the NFL