May 15, 2012 -
Greg Gabriel
Is the new CBA good for young players?
It hasn't been a year since the new CBA has been in existence, but I already see some flaws.
This agreement is very good for veteran players but it hurts the young player. It slows their chance to develop. Why? Under the agreement, offseason workout programs are shorter than they used to be and the number of OTA's has been cut. Once we get into training camp, the number of practices have been cut back and then during the season there is only a limited number of padded practices a club can have. While I agree that this will prolong the careers of many veteran players, it hurts the young player.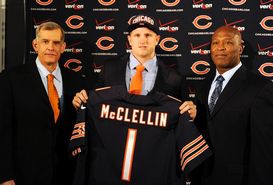 Rookies like Chicago's Shea McClellin need all the practice they can get.
The young untested player needs as much practice time as he can get in the offseason, training camp and regular season. He needs it to develop technique and gain confidence in those skills. Going through unpadded practices is not a way to develop skills. While it may work for some receivers and defensive backs, it really hurts linemen…both offensive and defensive. Sure they get mental reps but the only way a lineman can truly develop and improve techniques is with contact. Many clubs had "after" practice sessions with young squad members and practice squad players to work on skills. That meant maybe an extra 10 minute 1 on 1 pass blocking or run blocking drill. With the number of contact practices limited, this can no longer happen.
The reason practice squads originally came about was so that young players could be developed through practice. It was a great concept for both the player and the club because a young player who wasn't quite ready for "prime time" so to speak could still practice every day and continue to develop while not counting on the active 53-man roster. Under the new rules, I can't see these players "developing." Let's face it, football is a physical game and the only way to get better is to practice "playing" the game. Mental reps are not going to get the job done.
There has been some talk that adjustments to the CBA can/will happen but the league first has to see the pros and cons of the agreement. Last season was not a true barometer because of the lockout and the late start of camps. This year with a full offseason and training camp to study, the league will probably then ask coaches and player personnel executives their thoughts on the practice limitations. It is my opinion that there has got to be a way where veteran players can be protected and young players can get the reps they need to develop. If something doesn't happen, we may not see a dramatic change in the level of play in the near future but in the long run we will. Yes, veteran players may keep their jobs a little longer, but that is only because the young players have not developed as quickly as they should. Coaches are always going to play the people they trust and if they can't trust a young guy he won't see the field. That hurts the product and the game in the long run.