February 17, 2012 -
Greg Gabriel
Is the NFL Combine about more than just the workouts?
There are many who feel that the NFL Combine is mainly about the workouts. Who runs the fastest 40-yard dash, etc. That's not really the case, because so much goes on in Indianapolis that the average fan doesn't know about.
Up until the last seven or eight years, many prospects skipped the workout part and chose only to participate in the medical and interview processes. There are some in the NFL office that believe that almost all prospects work out at the Combine because it's on television. While that may be partially correct it isn't the real reason. Most invitees work out because of the huge amount of money their agents have paid to get them ready for the Combine.
Many players have spent the last six to eight weeks at training facilities preparing for their workout in Indianapolis. It costs an agent anywhere from $1,500 to $2,000 per week to send a player to these facilities. The agent wants his player to work out. If the player waits until his school's pro day, it could cost the agent another $4,000 to $6,000 in training costs. And that's a lot of money.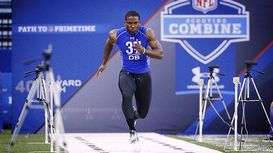 The NFL Combine is more than just workouts and 40 times.
The thinking now is if a prospect has a strong workout at Indy then he doesn't have to redo his workout at his pro day, but rather just do position drills for the coaches present. It ends up taking a lot of pressure off of the player at the pro day.
It can also be said that because the majority of players have spent so much time preparing for Indy that they are expected to have good workouts. A player having a great workout isn't a surprise; it's the players that have poor workouts that bring up the red flags.
While the workouts are important, many of the other things that go on are equally important but not seen on television. The interview process is extremely important. Clubs can formally interview up to 60 players while at the Combine. These interviews are limited to a 15-minute time period, but the clubs have mastered the art of getting a lot done in 15 minutes. In many cases the interview is the first face-to-face meeting a player has had with a club's head coach and/or general manager. In the past I have seen many players rise or fall on a club's draft board based on the impression he has left in that interview. There have been cases when a player is so impressive that you come away with the feeling that you have to get that player.
The other thing that is important and probably the most important is the medical. When I first started scouting it was easy to get medical information from schools about their prospects. Because of privacy laws that is no longer the case. It's up to the scouts to do some serious "digging" to find out about injuries that a player may have had while in college. Obviously if a prospect tore up a knee in a game on television you would know about it, but it's the injuries that take place in practice that a scout can have a hard time finding out about. Because of this, when a player is at the Combine he is looked at very closely.
In each of the last few years there have been over 600 MRI's done -- that's an average of about 2 MRI's per player. Besides the extensive orthopedic examinations done, there is also a complete internal medicine workup done. When you get back all the results a few weeks after the Combine you find out that there are many players that you had high grades on who are now a medical risk. In some cases you can still draft the player but in others, the player's name is removed from your draft board.
The one thing I have seen over the years is that while one club may flunk a player on his medical another may pass him. It all depends on how the team doctors look at each situation. When a player fails your medical exam and then is drafted high by another club, you can rest assure that the player's career is followed closely. This is because it may have an effect on how another player with the same medical situation is looked at in the future.
What is interesting is that there are a few Hall of Fame players who had flunked a majority of clubs' physical exams. They are running back Thurman Thomas and tackle Anthony Munoz. Thomas had a torn knee ligament that was never repaired while in college...after a Hall of Fame career, the ligament still hasn't been repaired. Munoz had a serious knee condition that caused many clubs to fail him. These are obviously exceptions and more a testament to those players than anything else, but it does show that players can overcome serious medical issues.