January 20, 2011 -
Greg Gabriel
Julio Jones or A.J. Green — who do you take?
With the NFL announcing the entry of 56 underclassmen in this year's draft, it became official that Julio Jones and A. J. Green are both available. These two have been competing against one another for the last three years in the SEC. Jones played at Alabama and Green at Georgia. In that three-year time period, many scouts had friendly arguments discussing the two. Let's have a little discussion of our own. I'll give my view and I invite all of yours.
Before talking about both, I will say that for the sake of the fans and clubs, I hope both decide to participate at the Combine next month. There are two groups of wide receivers at the Combine, with an equal number of players in each group. They are grouped alphabetically so both Jones and Green will most likely be in the same group. Assuming this happens, they will be competing against each other doing the same drills on the same surface, in the same place at the same time in front of the same people. You can't ask for a more equal competition and it would be really fun to watch.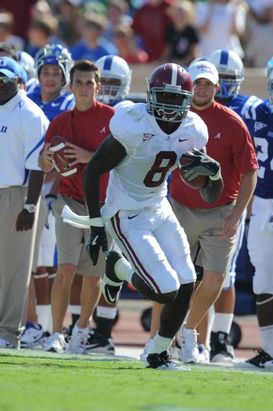 ICONAlabama WR Julio Jones
Julio Jones – Alabama
This is as talented a wide receiver as I have seen in years. Some scouts like Green better than Jones but if I needed a wideout and both were there, Jones is my guy. He is tall with long arms and big hands. He is extremely physical and can be a nasty blocker when he has to. Many tall receivers can't break down and separate real quickly, but Jones is fluid and very flexible. He has great body control and gets out of his cuts very quickly. He has very good hands and his ability to adjust to poorly thrown balls is outstanding. He consistently competes for the ball in traffic and comes up the winner. He is like a tall running back after the catch. He runs with power, and has as good a stiff arm as I've seen since Eric Dickerson and also has the ability to make defenders miss in the open field. With his speed and burst he gets open deep. Once he learns the nuances of the NFL passing game he will be a No. 1 receiver for the club that drafts him. I think he is a can't-miss prospect.
A.J. Green - Georgia
As I said above, some scouts like Green better than Jones and I understand why. Green may be a slightly better athlete than Jones and a fraction faster. Green is a very fluid athlete who like Jones has exceptional body control. He is also tall and long. He is very sure handed and also makes the difficult catch. I don't see Green being as physical as Jones and he isn't anywhere near the blocker. When comparing their run after ability, Green may be a little niftier but he doesn't have the power and tackle-breaking ability. He may have a slight advantage as a deep threat, but if he does it's minimal. Like Jones, once he learns the NFL game he will be his team's No. 1 receiver and in all likelihood be a future star.
When it gets down to where they go in the draft, it may be decided by the numbers. From an athletic standpoint the comparison can be made by the 20-yard shuttle, the 2-cone drill, the vertical jump and the standing long jump. Obviously the 40 time comes into play.
If there is a clear-cut winner when the two complete all the measurable athletic events then that person will in all probability be the player drafted higher. In saying that, I go back to my argument about Jones and Green competing head to head at the Combine. If they don't do this then there is some margin for error in comparing the two. Alabama holds its pro day in its indoor practice facility on field turf. If Georgia does what it has done the last few years, the school holds its pro day outdoors on field turf. When a workout is done outdoors then weather conditions come into play and that can have an effect on times. Here's hoping they compete at Indy.
Want to work in the NFL? Click here to sign up for the NFP's "Chalk Talk at the Combine" Seminar February 25 in Indianapolis.