March 23, 2012 -
Greg Gabriel
Last word on 40 times
A few days ago at the Baylor Pro Day, it was said on the NFL Network that receiver Kendall Wright dramatically improved his 40 time from the 4.61 he ran at the Combine by clocking 4.44 and 4.46. The only problem I see with that is did Wright really run a 4.61 at the Combine?
I talked to some scouts I know and I was told that Wright's hand held times at Indy were 4.49 and 4.51 on his first 40 and 4.62, 4.60 on the second 40. If you average them out he was a 4.55 or 4.56. His electronic times were 4.61 and 4.64. Which times are the right times and how do you figure what his time really is?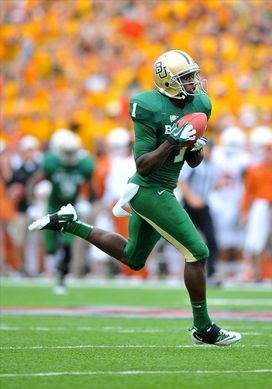 ICONHow high will Baylor WR Kendall Wright go in the draft?
When I was a Director of College Scouting for the Bears, I never used the electronic times because of two reasons. First, the electronic time is not a true electronic time. At the Combine, the electronic time is hand started, so if the timer is off on the start then the whole time is off. Secondly, when you send coaches and scouts out to the Pro Days, the 40's are all hand timed. If you want to compare apples to apples you have to use the hand times otherwise there is no sense in timing at the Pro Days. I don't want to hear an analyst use a player's electronic time at the Combine and compare it to his hand held time at his Pro Day. It's a useless comparison!
This year, I had an opportunity to work with some players as they prepared for the Combine. When they were practicing 40's, they were using "true" electronic times. How is a time true versus not true? In this case, the players had to put their hand or thumb on a starting pad, once they lifted their hand, the timer started and when they crossed the "beams" at the 20 and 40 the clock stopped. This is far more accurate than having a timer hand start an electronic time. Still even using a more accurate process doesn't change the fact that on Pro Days all the times are hand timed. For comparison reasons, all times have to be done the same manner otherwise you don't have consistency when comparing one player to the next.
Every year we hear of players who have run their 40's in under 4.3 or in the mid 4.3's. These are all hand held times. Reality is hand times are not completely accurate. Over the years I have had the opportunity to talk to many track coaches about the timing process and they all have told me that no football player can really run in the 4.2's or 4.3's. The top sprinters in the world can't run that fast when they are timed with a true electronic process. They might be in the 4.4's or even in the low 4.5's.
The important thing is when players are timed the same way, which ones run faster? Is there a margin of error? Of course there is. If a scout has a question on a player's speed, go back to the tape. The tape doesn't lie. When I was in Chicago, our scouting reports had a little box where the scout filled in "play speed." Even though it was an estimate and wasn't accurate it's important. How much faster or slower does a prospect look on the field when compared to the rest of the players?
When Jerry Rice was in the draft back in 1985, the Dallas Cowboys sent scouts down to Starkville, Mississippi (that's where Rice was from and where he worked out) on numerous occasions to get a good time on Rice. They never timed him faster than 4.6. I was with the Giants at that time and Jerry Angelo was also sent to time Rice. Jerry got him in 4.57 and 4.59. Obviously Rice was not a burner but put on the tape in Rice's first 10 years in the league and tell me how many times he was caught from behind. I can't think of any! When it came to play speed he was a "burner." He might have only been a 4.6 but he was so strong that he could also run 4.6 with his pads on and no one caught him.
Yes, times are important and they do have a direct relation to where a player gets drafted but play speed is also important and should always be used in the equation.