March 29, 2012 -
Greg Gabriel
Last word on Tannehill
Texas A&M's Ryan Tannehill had his Pro Day on Thursday and by all accounts did a good job of showing off his athleticism and arm strength.
I agree that he is very athletic and has a strong arm, but after that I disagree with many draftniks. Yes, Tannehill will get drafted high and I know of at least three clubs that are praying that it actually does happen because that drops a good football player to them. It has been my opinion all along that some evaluators and people in the media are "creating" a player just as they did Blaine Gabbert last year and others like him in previous years. Don't forget, J'Marcus Russell was the first pick of the draft the year he came out.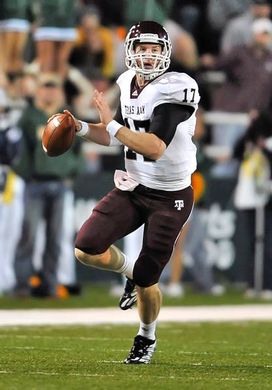 ICONRyan Tannehill has been labeled by many to be a Top 10 pick.
Tannehill is a better player than Russell in part because he does have a strong passion for the game and works at it. The player who I best can compare Tannehill to is Kyle Boller. Boller had limited success at Cal before Jeff Tedford came in as head coach. Boller played well his senior year but what people fell in love with were his big arm and athleticism -- not his instincts and ability to play quarterback in the NFL. We all know that Boller has never succeeded as an NFL quarterback.
I have always felt that the sign of a good quarterback is the ability to make the players around him better and to be able to lead his team to wins that they shouldn't be able to win. If a quarterback is going to get drafted in the top half of the first round he better lead his team to numerous victories. Let's look at what Tannehill has done in big games.
In the 2011 season, Texas A&M played 6 games against teams ranked in the top 25 at the time of the game. The teams played were Oklahoma State, Baylor, Oklahoma, Kansas State, Arkansas and Texas. Texas A&M's record versus those teams was 1-5. The only team they beat was Baylor and Tannehill had probably his best production in that game. He was 25 of 47 for 415 yards, 6 TDs and 1 interception. The only thing I will say about those numbers is we all know how poor the Baylor defense was. Did anyone watch the Alamo Bowl where Washington put up 67 points and over 600 yard total offense?
In the other games, Tannehill was average to poor. The worst being the Texas game, which is A&M's biggest rival. In that game Tannehill was 20 of 49 for 224 yards with 2 TDs and 3 interceptions. In the Oklahoma and Oklahoma State games, he threw 6 more interceptions. In those 6 "big games" Tannehill threw a total of 13 TDs and 12 interceptions, and like I said before was only able to win 1 of those games.
High first-round quarterbacks play better than that.