May 18, 2012 -
Greg Gabriel
McCoy and Weeden set to battle in Cleveland
When training camps open up in July, one of the more interesting QB competitions will be in Cleveland where third year veteran Colt McCoy will try and hold off first round pick Brandon Weeden. Personally I don't think there is a competition…I feel McCoy is by far the better player but he is a third round pick who had a mediocre year in 2011. With Weeden being a first round pick the decision makers in Cleveland most likely will want him to win.
For the fun of it, let's do an in depth comparison of the two. Both played their college football in the Big 12 Conference, McCoy at Texas and Weeden at Oklahoma State. Looking at it from a size viewpoint, Weeden has a distinct advantage measuring 6034 and 221 to McCoy's 6011 and 216. Weeden ran a 4.95 40 yard dash while McCoy ran 4.81. McCoy didn't do any of the shuttles but had a 9'6 long jump while Weeden jumped 8'6 and had a 4.49 short shuttle.
McCoy redshirted as a freshman and then started the following 4 seasons and had a record of 45-8 in those four seasons including 3-1 in bowl games. Weeden was a 2 year starter with a record of 23-3 and 2-0 in bowl games.
As a passer, McCoy attempted 1,639 passes and completed 1,177 for a 71.8 career completion percentage with 112 touchdowns and 45 interceptions. He also threw for 13,253 yards and his completion percentage was over 73 percent in his final 2 years.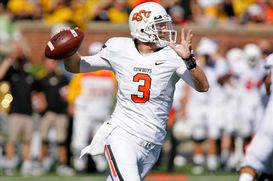 ICONWith Brandon Weeden being a first round pick the decision makers in Cleveland most likely want him to start in 2012.
Weeden played baseball in the New York Yankees system out of high school and when he was done with baseball enrolled at Oklahoma State. He redshirted as a freshman, was a backup the following two years and then a 2 year starter. In his 2 years as a starter he completed 750 of 1,075 passes for 8,994 yards and 71 touchdowns. He threw 26 interceptions in those years. His completion percentage was a little over 69 percent in those 2 years.
Weeden played in a high percentage spread offense that was somewhat half field read. He threw a high number of bubble screen percentage passes and almost never lined up from under center. In their base offense he seldom had to face pressure or make plays with his feet. He lacks mobility and doesn't have the athleticism to extend plays. If the pass rush is heavy, he's going down. He has a good but not a great arm and the ball can float. When having to play from under center at the Senior Bowl he lacked quickness setting up and seemed to lose some velocity on his throws. He struggled in the game throwing 2 interceptions in 9 passing attempts.
McCoy on the other hand is much more athletic in the pocket. While he played in some spread formations he also played a high percentage of plays from under center. He was excellent at keeping plays alive with his feet and rushed for over 1,500 yards while at Texas. He also had 20 rushing touchdowns. The things that he does well are he gets the ball out of his hand quickly and can throw accurately on the run.
McCoy was the starter the last half of his rookie season in 2010 and a year ago you wouldn't find too many people who didn't think he was going to develop into a top NFL quarterback. Admittedly he struggled in 2011 but was the poor play all his fault? The Browns receiving group is awful. McCoy won't be 26 years old until early this September and has already started more than 20 games in the NFL. Is it too early to give up? Having followed his career in college very closely, I know he is a competitive winner and he will only get better.
Weeden on the other hand has never played from under center and still has to learn the pro game. He will be 29 years old before the season's 4th game and the majority of spread formation quarterbacks who have come into the league have struggled. If Weeden wasn't a first round pick I probably wouldn't be writing this article, but because he is there will be pressure for him to play right away. I don't doubt Weedon has a CHANCE to develop into a competent NFL quarterback but at his age, the odds are stacked against him. The risk Cleveland is assuming is if it doesn't work out for Weeden, it has cost them the development of 2 quarterbacks not 1. If Weeden becomes the starter McCoy is done with the Browns. Maybe not this year but I doubt you will see him there after this season.
Personally, having watched both players a number of times, I don't think that Weeden has the tools to beat out McCoy unless the competition is rigged. The only advantage I see Weeden having over McCoy is height. In saying that, it will be interesting to watch how it unfolds this summer in both camp and the preseason. My money is on McCoy. Any takers?