August 16, 2011 -
Barry Dorey
McElroy has impressive debut for the Jets
When a club plays a rookie quarterback during the preseason, you don't usually expect a lot, especially when the player was a 7th round draft choice. In practice he does not get many reps so when he goes into the game you look for his grasp of the offense and how he handles adversity. Is he able to bounce back from a bad play and overcome his mistakes?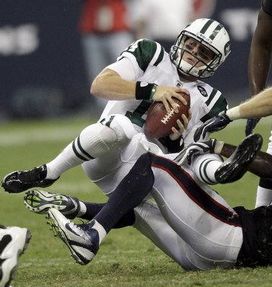 Greg McElroy bounced back from adversity Monday night in the Jets' contest against the Texans.
With that in mind, I took a close look at Greg McElroy last night in the Jets game versus Houston.
As you know, McElroy was a starter at Alabama and had an excellent college career including winning a national championship. He is a very intelligent kid with great instincts and leadership skills but he wasn't blessed with the best physical tools. At 6-1 and 220 pounds, he doesn't have great size, has just average arm strength, and at 4.9 isn't the fastest QB on the field. But his intangibles are off the chart.
McElroy came into the game at the start of the second quarter and his first two series were horrible. He threw behind his receiver on his first pass, then he was sacked and fumbled setting up a Texans score. On his 2nd series he threw a pick but it was called back because of a penalty. That is a lot of adversity to overcome for any rookie. Still, because of his maturity and mental toughness he was able to complete 23 of 39 passes for 208 yards and a touchdown. I counted at least five of his incomplete throws as dropped balls. Yes, he made some mistakes. But his overall play was good.
He did a good job reading the field and found his secondary receivers when the primary was covered. You don't see many rookie quarterbacks do that with only two weeks of practice. He has a quick release and good accuracy. With the Jets down by 4 with just under 2 minutes left in the game he led an impressive Jets drive down to the Houston 10 before they ran out of time.
What I liked about McElroy was his poise and leadership. He didn't get rattled when he made a mistake. Most rookie quarterbacks have to run a limited offense because of their lack of reps but that didn't seem to be the case for McElroy. I did a lot of work on McElroy the last two years and the one thing that is obvious to me is he is a winner! I have no doubt that he will eventually become a winning starting quarterback in the league. Looking at his history, you wouldn't expect anything else.