November 11, 2010 -
Greg Gabriel
Midseason All-Rookie team
So far this season there have been many rookies that have made big contributions to their teams. So we decided to have a midseason All-Rookie team to let you know who the top rookies have been up to this point.
Offense
At quarterback, St. Louis' Sam Bradford is the obvious guy. He has started every game and completed almost 59 percent of his passes with 11 touchdowns and 8 interceptions. The player that is closing in fast, though, is Cleveland quarterback Colt McCoy. McCoy has played in three games, won two of them and has an 83.5 quarterback rating. What's even more important is he has led Cleveland to two wins in a row over New Orleans and New England. Now that's impressive.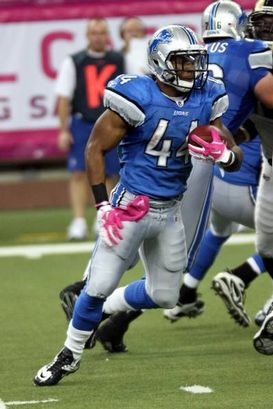 ICONLions RB Jahvid Best has rushed for 345 yards and 4 touchdowns.
At running back, no one has really jumped to the head of the class but there are three players that deserve mention. Ryan Mathews of San Diego plays in a rotation and has run for 392 yards and a 4.4 yard average. He has two rushing touchdowns. Jahvid Best of the Lions also plays in a rotation and has run for 345 yards and 4 touchdowns. The surprise is New Orleans free-agent rookie Chris Ivory out of tiny Tiffen University. He didn't get a carry in the first two games yet has run for 382 yard with a 4.9 average per carry on the season.
At wide receiver, there are a bunch of players that are just now starting to come on, led by Jacoby Ford of the Raiders. But the two that have been the most consistent so far have been Mike Williams of the Tampa Bay Bucs and Dez Bryant of the Cowboys. Williams has 36 catches for 559 yards and 5 touchdowns. Bryant, who has missed some time, has 38 catches for 415 yards and 4 TDs. The other player who deserves some mention is Bengals receiver Jordan Shipley. Playing as a slot receiver, he has caught 28 passes for 396 yards and a TD.
There are two players that deserve recognition at the tight end spot. One is Tony Moeaki of the Chiefs. Moeaki plays as both an in-line tight end and an H-back type. He has caught 30 passes for 344 yards and 2 touchdowns. The other is Aaron Hernandez of the Patriots. While not really a conventional tight end, he is listed at that position. You seldom see him lined up in tight. He is more of a big wide receiver. Still, he has caught 34 passes for 436 yards and 2 TDs
On the offensive line, rather than name guys at tackle, guard and center, I am going to name guys who have played well on the line regardless of position. Pittsburgh's Maurkice Pouncey has been a key player on the Steelers line all season. Rams left tackle Rodger Saffold has been a starter all season and played very consistent football. In Green Bay, Bryan Bulaga has taken over the right tackle position for Matt Tauscher and has played extremely well. Seattle's Russell Okung has missed some time with injuries but when he has played he has done a great job. In their game against Chicago, he shut down perennial All-Pro Julius Peppers. In San Francisco, Mike Iupati has been the starter at left guard all season and has become a very consistent player. He has all the tools: size, strength, power and athleticism. The Raiders also have a young lineman that has caught my eye all season. Jared Veldeer comes from a Division II background yet has started most of the season at either left tackle or center and played well. He improves every game. In Washington, Trent Williams has also missed time because of injury but he starts at the difficult left tackle position and more than holds his own. One other offensive lineman I would like to mention is Broncos center J.D. Walton. He has started every game and while not the most powerful guy, he is very athletic and steady.
Defense
The defense does not have as many players that have made big contributions as the offensive rookies but there still are some that have been very productive.
The first defensive player drafted in this past draft was Ndamukong Suh. The big defensive tackle from Nebraska has played very well for Detroit. He already has 30 tackles, 6.5 sacks and an interception. At the halfway point he is the clubhouse leader for defensive rookie of the year.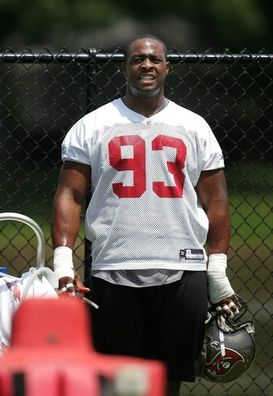 ICONBucs DT Gerald McCoy needs to improve his pass rush.
The Bucs' Gerald McCoy has not put up the stats that Suh has but he has played well. He needs to improve his pass rush. The Jaguars took some heat when they drafted Tyson Alualu but he has been a very consistent starter at defensive tackle for them. The other rookie defensive lineman who deserves mention is Raiders defensive end Lamarr Houston. He only plays on run downs but he has helped the Raiders improve their run defense and also has logged two sacks.
At linebacker the most productive rookies have been New England's Brandon Spikes and Oakland's Rolando McClain. Spikes has 47 tackles as a starter at inside linebacker while McClain has 42 tackles and 3 broken up passes. The other linebackers who deserve all- rookie mention are Koa Misi at Miami, who plays in a rotation and has 21 tackles and 3.5 sacks, Navarro Bowman with San Francisco and Daryl Washington with the Cardinals Bowman plays inside and has come on of late. He has 24 total tackles. Washington, the speedy and athletic product from TCU, is 4th on the Cardinals defense in total tackles with 37.
This year, there seems to be more rookies playing well in the defensive backfield than there has been in years. In Kansas City, Eric Berry has been outstanding with 45 tackles, 2 sacks and 2 interceptions. Nate Allen in Philly has 34 tackles, 1 sack, 3 interceptions and 6 broken up passes. The third safety that has played extremely well is Earl Thomas in Seattle. He has 39 tackles and 4 interceptions. There are also three corners that deserve All-Rookie mention. Kareem Jackson of the Texans starts at right corner and has 2 interceptions to go along with 44 tackles. In New England, Devin McCourty has started every game and has 2 interceptions and 37 tackles. The Tennessee Titans' Alteraun Verner has only been a starter for a few games but before that he was the nickel back. He also has put up big stats with 37 total tackles and 2 interceptions. While not the fastest guy in the secondary, he has very good instincts and ball skills.
It will be interesting to see how many of these players continue to play well for the remainder of the season and how many come on and finish strong.