June 19, 2012 -
Greg Gabriel
NFC breakout teams
A couple of weeks ago I wrote about a few AFC teams that weren't in the playoffs last year who I felt could challenge for a playoff spot this season. Today, let's take a look at the NFC and the team that leads my list is the Chicago Bears.
The Bears were well on their way to the playoffs last year until Jay Cutler and then Matt Forte went down with injuries. They are back healthy. The other teams that weren't in the playoffs last year and could make a serious challenge this year are Carolina and Philadelphia. Here's why.
Chicago
Last year with six games to go when Cutler went down with a broken thumb all the Bears had to do was go 3-3 in the final games to be in the playoffs. With Caleb Hanie at quarterback they struggled and finished 1-5 in the final six. Don't look for an encore of that performance.
The Bears made a lot of changes in the offseason. The most important is Mike Tice replacing Mike Martz as offensive coordinator. Tice has gotten rid of the slow developing Martz offense and replaced it with a quicker hitting passing game. Look for Cutler to be on the move often and get the ball out of his hand quickly. The receiver corps has been upgraded tremendously with Brandon Marshall and rookie Alshon Jeffery. With those two the Bears have two big outside receivers at X and Z. Add to that Devin Hester and Earl Bennett playing inside and the Bears offense has the potential of giving defenses fits.
The line gets last year's first round pick Gabe Carimi back and they also added free agent guard Chilo Rachel from San Francisco. Chris Williams may move back to left tackle if J'Marcus Webb doesn't show improvement. Either way the line looks vastly improved.
On defense, the Bears have always played well and with all their core players back look for more of the same play. They felt they needed to add another outside pass rusher and may have gotten one with first round pick Shea McClellin. The linebacker and defensive back groups remain intact. Chicago should not only challenge for a playoff spot but will also challenge Green Bay for the division championship.
Carolina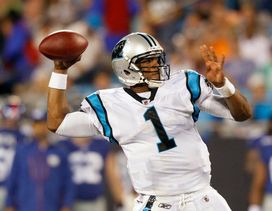 Cam Newton and the Panthers could challenge for a playoff spot in 2012.
Last year, Cam Newton put up better numbers than any rookie quarterback in history. He showed rare poise for a rookie and with a year under his belt he should be ready to lead the Panthers to a potential playoff spot.
While the NFC South is usually a strong division, this year could be different because of the problems at New Orleans and Tampa Bay having a new coaching staff. Carolina is in year two under Ron Rivera. While they were competitive last year they still lost a number of close games. I look for them to win those games this year. Newton's experience will be a major factor but also a healthy offensive line will help. Steve Smith is back to lead the receivers but the experience that David Gettis and Brandon LaFell gained will also help. The draft brought Joe Adams from Arkansas and he is a younger version of Smith. This offense will only get better.
On defense, Carolina needed to upgrade the middle. They added first round pick Luke Kuechly, who I feel has Pro Bowl potential. The defensive tackles have to play better. Last year they signed Ron Edwards to upgrade the middle and he was hurt in training camp and never played a game. He's back as well as second year players Sione Fua, Terrell McClain and Frank Kearse. The experience these players gained as rookies is invaluable and they should show vast improvement. Using these four in a rotation will make it very difficult to run on Carolina.
Rivera is one of the best young coaches in the NFL. Last year his team played hard but just wasn't good enough. This year I look for the Panthers to be in the chase for a playoff spot right until the end.
Philadelphia
When the lockout ended last July, the Eagles went on a tear and signed many of the top free agents available. The press was calling them the "dream team" but with no offseason to jell they faltered. This year should be different with these players all having an offseason of work. This is also the second year under defensive coordinator Juan Castillo and his system. The continuity of being together one full year will make the defense that much better.
The defense added some key players in the draft. First round pick Fletcher Cox was the best defensive tackle in the draft. He should provide a strong inside presence. Defensive end Vinny Curry gives Philly another edge rusher and linebacker Mychal Kendricks is a very athletic and instinctive Will linebacker. Philly also added former Pro Bowl linebacker DeMeco Ryans in free agency. His play will be a huge upgrade in the middle of the defense.
On offense, the biggest need is to replace All-Pro tackle Jason Peters, who is out for the season with an Achilles tear. The Eagles signed former Buffalo tackle Demetress Bell to replace Peters. Bell is athletic and talented but has had a hard time staying healthy throughout his career.
Michael Vick had a very strong 2010 but played inconsistently in 2011. He has to revert back to his '10 form. If that happens the Eagles will put a lot of points on the board as they have some very strong offensive skill players in DeSean Jackson, Jeremy Maclin and LeSean McCoy.
The key to this season will be the play of Vick. If he plays well the Eagles could overtake the Giants in the NFC East.