September 09, 2010 -
Greg Gabriel
NFC rookie rundown
Every April after the annual NFL Draft, you won't find a team that doesn't feel good about its draft. Every time I was asked the question, "How did you do in the draft?," I would have the same answer. "We got many of the players we were targeting. It looks good on paper but we will find out for sure in August."
Well, August has come and gone, so let's take a look at how many draft choices actually made NFL rosters. Today, we will look at the NFC and tomorrow the AFC.
New York Giants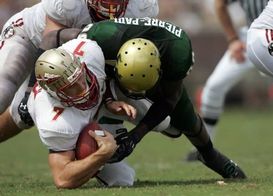 ICONThe Giants selected DE Jason Pierre-Paul in the first round of April's draft.
The Giants had seven draft choices. Five of their picks made the opening day roster, led by first-round pick Jason Pierre-Paul, a defensive end from South Florida. Their sixth-round pick Adrian Tracy is on injured reserve. The Giants third-round choice, safety Chad Jones from LSU, is not playing football this year. Shortly after signing his contract, Jones was in a horrific car accident in New Orleans. At this time, it's doubtful if he will ever be able to play again. Jones was a very talented player and I'm sure he would have made a big contribution to the Giants this year.
Dallas Cowboys
Dallas had six picks in the draft. Five of the six players made the 53-man roster. The most promising is, of course, first pick Dez Bryant. Bryant injured his ankle early in camp and did not play in any of the preseason games. He is healthy now and ready to contribute. Sixth-round pick Jamar Wall didn't make the roster.
Washington Redskins
Of the six Redskins choices, only two made the opening roster. First pick Trent Williams is listed as the starter at left tackle on their current depth chart. Washington did not have picks in the second or third round, but fourth-round pick Perry Riley, a linebacker from LSU, is a backup. Three of their picks — Terrence Austin, Eric Cook and Selvish Capers — are on their practice squad. One pick, fullback Dennis Morris, didn't make the roster.
Philadelphia Eagles
The Eagles had 11 picks in the draft. Their first two choices, defensive end Brandon Graham and safety Nate Allen, are listed as starters. Seven other picks made their roster. One of their fifth-round picks, defensive end Ricky Sapp, had knee surgery and is on injured reserve. Running back Charles Scott is no longer with Philly. At this point, it looks like a successful draft for the Eagles.
Chicago Bears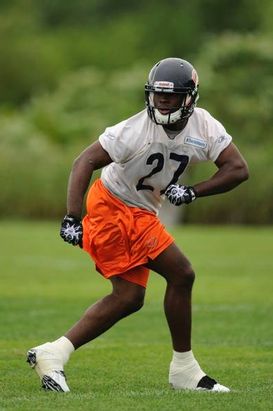 ICONMajor Wright is a backup for now, but likely not for long.
The Bears did not have a choice until the third round. That pick was safety Major Wright. Wright had a very strong first preseason game and looked like he may be a starter. He broke a finger in the second game and it required surgery and he missed the rest of the preseason. He is ready to go now but listed as a backup. The Bears had four other picks, and three of the four made their team. Sixth-round pick Dan LeLevour did not stick. The injury to backup QB Caleb Hanie hurt LeFevour's chances of making the team because the Bears had to go out and sign a veteran quarterback. LeFevour was claimed by the Bengals and is now their third quarterback.
Detroit Lions
All five of Detroit's draft choices made the team. At least one (defensive tackle Ndamukong Suh) will start. The Lions other first-round choice, running back Jahvid Best, is not listed as a starter but he will get significant playing time and will be the starter before long.
Green Bay Packers
Right now it looks as if Green Bay had a strong draft. The Packers had seven picks, with all but sixth-round pick James Starks on the active roster. Starks had a severe hamstring pull going into camp and is on PUP. Third-round pick Morgan Burnett will start at free safety. First pick tackle Bryan Bulaga is a backup now but may be a starter before the year is over.
Minnesota Vikings
The Vikings did not have a first-round pick. Corner Chris Cook was their top pick and was taken in the second round. He played well in the preseason but is injured and won't play in their opener tonight. Minnesota had five other choices and all but Nate Triplett are on their team.
San Francisco 49ers
I liked what San Francisco did. The Niners had eight picks in the draft and they all made their team. They had two picks in the first round (tackle Anthony Davis and guard Mike Iupati) and both are starters at this time. Running back Anthony Dixon will be a key backup.
St. Louis Rams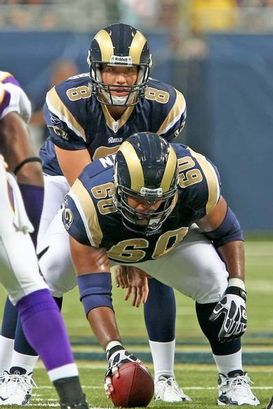 ICONFirst overall pick Sam Bradford.
The Rams took quarterback Sam Bradford with the first pick in the draft and he opens the season as a starter. Second-round pick Rodger Saffold starts at left tackle. Of the seven other choices, five made the club. One (Marquis Johnson) is on the practice squad and Hall Davis was cut.
Seattle Seahawks
With a new coach and front office in Seattle, there were a lot of changes. All seven of the Seahawks draft picks made the club. The first two picks, tackle Russell Okung and safety Earl Thomas, are listed on their depth chart as starters. Two others have a chance at getting a lot of playing time. They are corner Walter Thurmond and receiver Golden Tate.
Arizona Cardinals
Of the six picks Arizona had, five have made the roster. Second-round choice Daryl Washington will start at linebacker. Fourth-round pick O'Brien Schofield was injured at the Senior Bowl and is on PUP. Defensive back Jorrick Calvin is no longer with the club.
Carolina Panthers
Carolina had a good draft. The Panthers had nine choices and eight made the opening day roster. None are starters now but they are going to get strong contributions from a fair number of rookies. Jimmy Clausen may be a starter before the season is done, Greg Hardy and Eric Norwood played well in the preseason. Seventh-round pick R J Stanford is on the practice squad.
New Orleans Saints
The world champs had five selections in the draft. Four made the team. None will be starters right away, but three have a chance to be eventual starters. They are Patrick Robinson, Charles Brown and Matt Tennant. The Saints always do a solid job scouting.
Tama Bay Buccaneers
The Bucs had eight selections in the draft. Seven of those players will open up the season on the active roster. Two will be starters — top pick defensive tackle Gerald McCoy and the surprise is fourth pick wide receiver Mike Williams from Syracuse. No one questioned Williams' talent, it was his off-the-field field issues that made him slide to the fourth round. He beat out second-round pick Arrelious Benn to become the starter. Top to bottom Tampa had a strong draft and it wouldn't shock me if four of their draft choices are starters before the year is out.
Atlanta Falcons
The Falcons had seven picks and all seven are on the active roster. None of the picks will open the season as starters but it looks like three or four will play a key roll. Since coming to Atlanta, general manager Thomas Dimitroff has done a n outstanding job with the draft.
According to the published depth charts, there are 14 draft choices who will be opening day starters in the NFC. Only eight draft choices were cut and no longer with the club that drafted them. Seven players were cut and are on the practice squad of the team that drafted them and four players are on either PUP, IR or NFI lists. The number of picks starting seems low, but that number will increase as the season goes on. All told, the NFC clubs did a pretty good job drafting.
Click here to purchase the Total Access Pass/Fantasy Draft Guide from the NFP.