February 28, 2012 -
Greg Gabriel
NFL Combine: the merits of rising and falling 'stock'
Contrary to what you may read or hear, players' "stock" doesn't necessarily rise or fall instantly after their workout at the Combine. What happens is it becomes an alert to do further research on the player.
As I have written before, players are expected to do well in Indianapolis. Most have spent the last 6 to 8 weeks at training facilities preparing for their workout. On a daily basis they have rehearsed everything they will do at the Combine so many times that it almost becomes second nature. For example, RGIII running in the 4.4's did not help his stock. He was expected to run that fast. When you look at his history, you will find that as a freshman, he was an All-American 110-meter high hurdler at Baylor. You don't achieve that status unless you are indeed fast. The red flag would have been if RGIII ran in the 4.5's or 4.6's.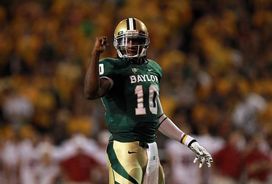 Robert Griffin III was expected to run fast, which he did, at the Combine.
Scouts go into the Combine with an opinion as to how certain players will perform. It's when they either do better or worse than anticipated that causes scouts to re-evaluate their opinion. For instance, A.J. Jenkins, the receiver from Illinois, had a very steady career showing improvement every year. He was looked upon as a solid draft choice. When he worked out on Sunday, his numbers for every drill were consistently near the top of the receiver class showing us that he may be a better athlete than we anticipated.
What many scouts will do is go back and look at more tape and see if he is a better player than they originally thought. In many cases scouts find something they didn't see before and raise his grade. It can also be said that when you go back and watch more tape you may find some things that can hurt his grade also. This happens because when you are doing a "final" review of the tape you aren't necessarily watching all the prospects at that school, just the player in question. When you are watching one player and concentrating on that player you often see more than you did the first time. Remember one thing, when you have questions about a player, go back and watch more tape, it will always tell you the truth.
Clubs don't receive the "official" results of all the drills until sometime this Wednesday. They have "unofficial" times from their scouts taken in the stands, but I have found over the years that the times taken in the stands are usually slower than those taken by the scouts on the field. It's after I get and review these times that I start to form opinions of what happened in Indy.
A few days after the Combine is over, the tapes of the drills are delivered to each club. What is nice about reviewing the tapes is that each drill a player did while at Indy is on his "tape." A coach or a scout doesn't have to go through watching all the players do a certain drills, he can watch what each player did individually. The beauty of this is that if you want to compare 4 or 5 players against each other you can do that back to back without having to watch another 20 players do the same thing. This can be very helpful when wanting to compare players. By watching only a few players at a time do the same thing you can easily separate them as to athletic ability.
When a club really needs to find out unanswered questions about a player, it will often schedule a private workout. Just as the Combine can be very "congested" with so much going on, so can the pro days because there are many players working out and time is limited. A school may have 7 or 8 players working out for the scouts and coaches and often you don't see what you need to see. When this happens clubs will often schedule a private workout with a player, especially if it's a player they are considering selecting in a premium round.
At a private workout the club has the player by himself with no distractions. They may do an "interview," put him on the board and then work him out. During the workout they are looking for things that they may not have seen on tape. They can also see how he reacts to coaching. The interaction with the player is much better than at the Combine or a Pro Day.
The Combine is the beginning of a 6 to 8 week period that can be very crucial to how a clubs makes their picks in the draft. The pace can be hectic but if the work is done properly, it can lead to a very successful draft.