August 12, 2014 -
Greg Gabriel
NFL debuts: Teddy Bridgewater & Derek Carr
My plan is to watch each of the top rookie quarterbacks closely this preseason due to the fact that many of them will become starters sometime during the year. The Oakland-Minnesota preseason matchup gave me the opportunity to see both Teddy Bridgewater and Derek Carr make their NFL debuts. Bridgewater was the third quarterback selected and the last pick in the first round of May's draft. Carr was nabbed by the Raiders in the second round, but only a few picks behind Bridgewater. To be honest, neither player stood out in his first game.
Teddy Bridgewater
Bridgewater entered the game about midway through the first quarter with Minnesota holding a 7-0 lead. In his first series, the Louisville product led the Vikings on a ten-play, 42-yard drive that resulted in a field goal. Bridgewater did some good things during that drive, but also made some mistakes. On second-and-seven from the Oakland seven-yard line, Bridgewater didn't have a good feel for the outside rush and when he started to scramble, he held the ball too low allowing the defender to make a strip. Luckily, the Vikings recovered, but the play resulted in a nine-yard loss and what could have been a touchdown drive ended with a field goal.
During his first drive which resulted in points, Bridgewater was playing with the first offense. On the other drives the Minnesota rookie was playing with the second unit and was unable to generate much offense. For the game, Bridgewater finished with 6/13 for 49 yards with no touchdowns or interceptions.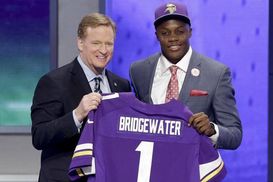 Bridgewater's pro debut was a good start for the rookie, but there's also plenty to work on.
Some of the things I liked were Bridgewater's poise and throwing motion. He played from both under center and in the shotgun and when under center, Bridgewater displayed good setup quickness. He is athletic and can move around in the pocket.
As a thrower, Bridgewater has a good throwing mothing and a quick release. In this game he threw a tight ball with good velocity.
What I was concerned with was his lack of feel for the pass rush. In addition, Bridgewater was inconsistent with his accuracy and ball placement. He had a couple of very nice throws, but was off target with others.
In college, Bridgewater's accuracy was good on shorter routes, but once he had to throw downfield, his accuracy became worse. In this game he only threw downfield one time and didn't have enough on the toss, short-hopping it to the receiver.
Overall, I was a bit disappointed with Teddy's play. I've been reading about how Minnesota offensive coordinator Norv Turner has been raving about Bridgewater and because of that I expected more. He looked like a typical rookie quarterback, with some good plays and some poor plays. Was this a good game to build on? Yes, and I'm sure he will look much better the next time out. If he doesn't, there will be literally no chance for Bridgewater to become the starter for the opener, as Matt Cassel clearly outplayed him.
Derek Carr
As most of you know, I had Derek Carr as my top quarterback in this past draft. While he was the fourth quarterback selected, it remains to be seen which signal-caller will turn out to be the best NFL player. We won't know the answer to that question for a few years.
From what I understand, Carr has virtually no chance to start this year, barring an injury to Matt Schaub. The Raiders coaching staff anointed Schaub as the starter before camp started and because of that, Schaub is getting all the reps with the first team, while Carr is splitting backup reps with Matt McGloin. This means that Carr is getting less than 20 percent of the reps in practice.
In his preseason debut against the Vikings, Carr did some good things. But like many rookies, had was inconsistent. The Fresno State product did not enter the game until the second quarter and played with the second team line and receivers.
Last year in college, Carr rarely took snaps from under center. In this game, he played mostly from under center, but did play from the shotgun formation on some obvious passing downs. When playing from under center, Carr showed a quick setup and good footwork. He usually set his feet before he threw and had a smooth throwing motion. In addition, Carr displayed a quick delivery and a good arm strength.
While Carr was accurate in college, his accuracy in this game was questionable, as a few passes sailed on him. For the game he went 10/16 for 74 yards with one interception. The interception was a case of overthrowing his target. That play was a bootleg to the left and he didn't have his shoulders square to the line when he let go of the ball.
I liked Carr's poise and the way he handled the offense. He never seemed to be bothered by pressure and stayed focused after a poor throw.
Like Bridgewater, this was a good game for Carr to build upon. While I expect improvement in the second game, it may not be as drastic as Bridgewater's because he doesn't get nearly as many reps in practice. It will be interesting to see how Carr progresses during the season and if he gets a chance to play with the starters if Schaub falters.
Follow Greg on Twitter: @greggabe