May 01, 2011 -
Greg Gabriel
NFL Draft winners and losers
Some teams did some very good things in the first half of the draft. Their new players should be able to help their respective teams. There were also some clubs that made some questionable moves. Let's first take a look at some of the clubs I thought did well.
New York Giants
The Giants had to be ecstatic that corner Prince Amukamara from Nebraska was available to them at the 19th pick. In the weeks leading up to the draft everyone thought he would go before the 15th selection. He should be able to come in and be an immediate starter. In the second round they came back with Marvin Austin of North Carolina. There is not a doubt in my mind that had he been able to play in 2010 he would have been a first-round pick. I know some people have questioned his character, but he has done nothing to break the law, it's been his overall decision making that caused problems. I will say that most defensive linemen have a little crap in their necks, and it goes with the territory. If they are not nasty and half-crazy they might not be worth drafting.
Kansas City Chiefs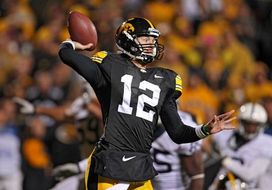 ICONGetting Ricky Stanzi late could prove to pay big dividends for the Chiefs.
Last year at this time many thought Jonathan Baldwin would be a top 15 pick. I saw him play live twice in the 2009 season and he was a difference maker. He got the "Diva" tag put on him this year and it hurt his stock. If any coach can handle a "Diva" it's Todd Haley. He was our receivers coach in Chicago for three years and is one tough coach. He will get everything out of Baldwin and more and he will help an already potent offense. Second-round pick center Rodney Hudson could start right away at center. A solid pick. Getting quarterback Ricky Stanzi late was a steal!
Detroit Lions
Last year the Lions drafted Ndamukong Suh and he went to the Pro Bowl. This year they get Nick Fairley, who back in early January many thought might be the first pick in the draft. Fairley is very talented and a great inside pass rusher. It just might give the Lions the best defensive tackle combination in the league. Titus Young gives Detroit a needed deep threat and running back Mikel Leshoure is the perfect complement to Jahvid Best.
Chicago Bears
Jerry Angelo was praying that four to six quarterbacks would go in the first half of the first round. That would assure that a good offensive or defensive lineman would drop to the Bears. That's exactly what happened and they were able to draft tackle Gabe Carimi. I did a lot of work on Carimi and I feel he is one of the steadiest offensive linemen in the draft. I thought he would be gone before the 20th pick. Second-round pick defensive tackle Stephen Paea can play either the nose or the three technique and will get a lot of playing time in the rotation. Many of the "draftniks" had low grades on third-round pick safety Chris Conte. Many of those same people never do tape work. I talked to two different scouting directors and both told me he was one of the best safeties in the draft. I saw three games and have to agree. He is a great tackler, can cover, has range and is a very good special teams player. He could be a starter early in his career.
Buffalo Bills
Buffalo did not have the personnel to play a 3-4 defense last year. Drafting Marcell Dareus, who was the best defensive lineman in the draft, will be a big help. He will give them a strong presence along the front three. Second-round pick Aaron Williams could start at either corner or free safety. Third-round pick Kelvin Sheppard will start at one of the inside linebacker positions and add size some size and strength to the position.
New Orleans Saints
I thought first-round pick Cam Jordan could very easily have been drafted in the top 15. He has great instincts and a great motor. He is the type of defensive lineman that defensive coordinator Gregg Williams loves. He will have an early impact. Trading back into the first round to get Mark Ingram was genius. He was easily the best running back in the draft. I see him as a consistent 1,200 yard per year rusher.
Tampa Bay Buccaneers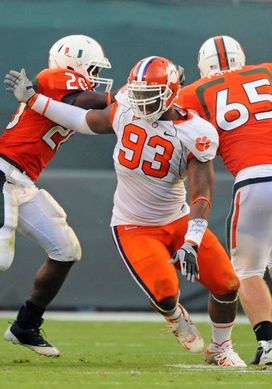 ICONIf his knee is healthy, Da'Quan Bowers could prove to be the steal of the draft.
Getting defensive end Da'Quan Bowers in the second round may be the steal of the draft. Yes, he has some knee questions but it wasn't long ago that he was thought to be a solid top 5 pick!
Now let's take a look at some of the clubs I thought made some questionable moves.
Seattle Seahawks
Seattle had to upgrade its offensive line, but I felt the team reached on each of the first two picks. Tackle James Carpenter had a strong Senior Bowl week but his play at Alabama was a bit inconsistent. I felt he was a solid second-round pick but was surprised he went ahead of Gabe Carimi and Derek Sherrod of Mississippi State in the first round. Carimi was a four-year starter at Wisconsin! Seattle did not have a second-round pick and in the third they selected guard John Moffitt of Wisconsin. Moffitt is a good player and may be an eventual starter but he is just an average athlete with average strength.
Minnesota Vikings
I really respect Rick Spielman and Scott Studwell very much but I felt they reached when they took Christian Ponder in the first round. The Vikings have a huge need at the quarterback position but could they have traded down or waited to get Ponder? If he doesn't turn out to be a very good quarterback, it sets back the Vikings. Tight end Kyle Rudolph of Notre Dame in the second round and defensive tackle Christian Ballard of Iowa in the fourth round were excellent choices. Both will be solid starters.
Tennessee Titans
Tennessee had an obvious need for a quarterback, but I felt drafting Jake Locker with the 8th pick was the biggest reach of the draft. Locker has great intangibles and will work to improve, but in my view he lacks accuracy and I question his instincts, two things that are tough to overcome in the NFL. As bad as I thought the Locker pick was, I loved their second-round pick. I thought linebacker Akeem Ayers could very well have been a late first-round pick.