January 14, 2011 -
Greg Gabriel
NFL news and notes
I was going to write about scouting the All-Star Games but there has been so much football news this week, I had to talk about some of that. I will leave the All-Star games to next week.
Ron Rivera
Carolina hired Ron Rivera on Tuesday to be its new head coach. This will turn out to be an outstanding hire. I worked with Rivera for three years in Chicago and I know first hand what a terrific coach he is. He is very intelligent and pays close attention to detail. He is an excellent teacher and motivator. His players practice hard and play even harder.
Rivera has played and worked under the best. He has picked up things from all his "mentors' and utilizes them today. As a player he played under Mike Ditka and Buddy Ryan. When he was the linebackers coach in Philadelphia he worked under the late Jimmie Johnson, who just happened to coach one of the most aggressive defenses in football. When he came to Chicago as coordinator under Lovie Smith, he used Lovie's Tampa 2 scheme but was able to utilize some of the aggressiveness that Johnson taught him. One of the strong traits Rivera has is his ability to learn, teach and adapt.
After Rivera left Chicago, he was hired by San Diego as linebackers coach. The Chargers play a 3-4 scheme, a scheme that Rivera had never played in or coached under. Within a year of his hire he was promoted to defensive coordinator and promptly turned San Diego's defense into one of the best and most aggressive defenses in the National Football League. Just being able to do that shows you what a special coach he is. It won't be long before Rivera leads the Panthers back to one of the elite teams in the league. He is a great person and a great leader.
John Fox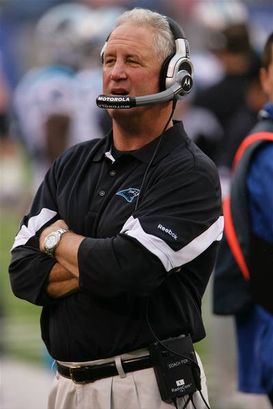 ICONFormer Panthers head coach John Fox will lead the Broncos in 2011.
John Fox is another coach I have had the pleasure to work with in the National Football League. I was on the scouting staff with the New York Giants when he was the defensive coordinator under Jim Fassel. When Fox took over the defense we had been playing a 3-4 and he was able to change the defense to a 4-3 and in short time we became one of the best defenses in the league. We won the 2000 NFC title with that defense. Fox, along with line coach Denny Marcin, helped Michael Strahan become the dominant player he was.
When Fox became head coach in Carolina he took a team that was last in the NFC South to first in a very short time. Fox is very energetic and pays attention to detail. Like Rivera he is a very strong motivator and leader. When he was with Carolina I knew one thing: when you played the Panthers you were in for a 60-minute war. I strongly feel that Fox is the perfect man to turn Denver around.
Cam Newton
It was no surprise that Cam Newton announced Thursday that he will be entering this year's draft. In one year he helped turn Auburn from a good SEC team into a National Champion. No small feat.
Is he ready to play in the NFL? Yes and no. Newton has great talent. He's big at 6-6 and very athletic. He does not have great speed but he is quick with very good feet and body control. He is still very raw and has only started 14 games at the major college level, but he did spend time in a top Florida program — he just didn't get playing time. After he left Florida he led his junior college team to the JC National Championship. So in two years he has won National Championships at two levels. Not too many can put that on their resume.
I like his arm strength, poise and decision making. He is a playmaker who comes up with big plays when they are needed. Bringing Auburn back from a 24-0 deficit at Alabama to a victory tells you a lot about Newton as a player. Is he raw? Yes. Is he talented? Very. He can make all the throws needed but not consistently. With only 14 starts there still is a lot he hasn't seen, but there is also a whole lot to work with.
The off-the-field issues are the things that concern me. He was dismissed from Florida, had the recruiting issues at Mississippi State and I'm sure there is more. If you draft this guy the question is "what are you buying?" Are you getting a raw but talented quarterback that you can develop into a top NFL quarterback? Or are you getting all the issues that already have been exposed and maybe some more that haven't come up yet?
When you watch interviews of him on television you see a quiet, poised kid full of charisma. But there is a lot under the hood that has yet to be examined. I have no doubt that he will be a first-round draft pick. He has more raw talent than Vince Young and is a much better passer than Young was coming out. But you have to remember this. If you pick him in the first round you are saying he is your quarterback and team leader of the future. With that position, he takes center stage in your locker room. The team that takes him better have all the questions answered because it could be a great pick or an all-time blunder. While in Chicago, we had a grade for a player that we called a "non predictor." The grade was an (S 2.0). What it meant was that the player had special talents but because of circumstances, you have no idea how this player was going to turn out. If you drafted the player it was with the understanding that it was "hit or miss." Newton fits that definition to a T.
Want to work in the NFL? Click here to sign up for the NFP's "Chalk Talk at the Combine" Seminar February 25 in Indianapolis.