June 12, 2013 -
Greg Gabriel
NFL notebook: Last chance for Tebow?
"In one of those opinioned days..."
That was how an old friend used to start off periodic columns for the Buffalo News. Larry Felser, who was a longtime writer first for the Buffalo Courier-Express and then the Buffalo Evening News, was one of the great football writers of our generation and a friend. He died oddly enough on April 24, the day before this year's NFL Draft, an event Larry truly loved.
Larry attended the first 37 Super Bowls and was a Hall of Fame voter as well. I met Larry when I was student at Canisius College and an intern for the old Buffalo Braves (now the San Diego Clippers) in the early 1970's. We quickly became friends and while I was with both the Giants and the Bears I would often talk to Larry and seek out advice from a very knowledgeable football man and fan. He will be missed.
It's been a year since I last wrote a piece for the National Football Post so I thought I would come out of hibernation and give you opinions on some recent events in our great sport.
The Patriots sign Tim Tebow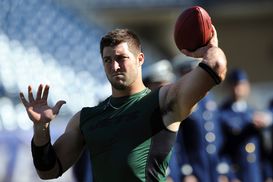 Can Tim Tebow make the Pats' roster?
This has been a hot topic in football news the last couple of days. There were 80-plus press credentials given out yesterday for the Pats mini-camp practice and Tebow's first practice in New England. In my mind it is not a given that Tebow makes the final 53-man roster. When you look at the contract Tebow signed, you see that there was no guaranteed money. This is nothing but a low-risk tryout the Pats are giving Tebow. Don't forget that Tebow played his best football as a professional with Josh McDaniels as his coach in Denver. McDaniels is now the Patriots offensive coordinator, so he may be able to help resurrect Tebow's career. If not Tebow's days in the NFL are over.
The Bears trade Gabe Carimi to the Bucs
I have a feeling that this move may come back to haunt the Bears. Many are quick to label a first-round pick who doesn't become an instant impact player a "bust." It would be easy to say that is the case with Carimi, but it's not. As a rookie in 2011, Carimi quickly won the right tackle job. He played well in the preseason and very well in the first two regular season games before he went down with a serious knee injury. Carimi spent much of the next year rehabbing that knee but by the time the 2012 season began he was not playing with nearly enough lower body strength. He also lost some lateral quickness, which is huge for an offensive lineman. He struggled early while at right tackle and lost his job. Later last season he played at right guard and his play improved. With another offseason to rehab and strengthen his lower body, I have been told that he looks much better. The problem was he was doing his rehab and training in Arizona and not in Lake Forest at Halas Hall. This did not sit well with the new coaching staff and GM Phil Emery. Let's not forget, Carimi was not drafted by Emery but rather by former GM Jerry Angelo. The coaching staff and Emery have no allegiance to Carimi so it was easy to cut ties. I totally understand the thought process.
Before his injury, Carimi was a very talented player and it would not surprise me if he ends up becoming a winning right tackle at Tampa Bay. The Bucs paid only a 6th-round pick to get him and this could turn out to be a steal. In the meantime, who becomes the starting right tackle in Chicago has not been determined.
The Chiefs hire Chris Ballard as Player Personnel Director
This offseason we saw clubs hire a number of new general managers. I felt the best was Kansas City hiring John Dorsey. Dorsey played in the league as a linebacker and has been in scouting 20-plus years. He has worked for a successful franchise in Green Bay and in short he "gets it." He is a very astute talent evaluator and works well with people. His first big hire after the draft was appointing Chris Ballard as Player Personnel Director. Ballard has been in the league since 2001. He was the first person I hired in Chicago after I became Scouting Director in June 2001. He picked up the nuances of scouting very quickly and before long he was my best scout. After about three years working with Chris I knew that he was a future GM in the NFL. Ballard has a great personality but on top of that he knows football and he knows how to find players. He can present a player to the coaching staff better than any scout I have ever been around. Tommie Harris, Charles Tillman and Henry Melton…all Pro Bowl players were players that Ballard highly recommended. This is a great hire for Kansas City and don't be shocked to see Ballard being named a GM in about two more years.