January 11, 2011 -
Greg Gabriel
NFL playoffs rookie report card
One of the stars in Green Bay's 21-16 victory over Philadelphia was James Starks, a 6th-round running back from the University of Buffalo. If you listened to Troy Aikman's comments during the game Sunday you would have thought that the Packers had scored some sort of scouting coup by drafting Starks. Green Bay does an excellent job — the Packers have one of the better scouting staffs in the league but everyone knew about Starks. In fact, another team had told Starks they were going to draft him earlier in that same round only to change their minds. More on that a little later, but first who is James Starks?
Going into his senior year at Buffalo in 2009, Starks was actually a highly rated prospect. In 2008 he led Buffalo to the Mid-American Conference championship with 1,384 rushing yards, 53 receptions and 17 total touchdowns. In 2008 as a sophomore, he ran for 1,181 yards, had 53 receptions and another 14 touchdowns. His most remarkable stat was during that two-year period he had 7 touchdowns of over 50 yards, including a 92-yard TD run.
Starks is a big back at 6-2 and about 220 pounds with 4.48 speed. He has a tendency to run a little tall but he is very strong and consistently gets yards after contact. He has great balance, a burst and very good cutback ability.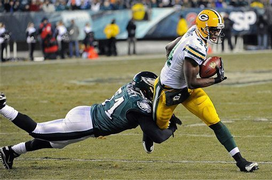 Rookie RB James Starks was almost a Chicago Bear.
How did he last until the 6th round? In a scrimmage about a week before the opening game of the 2009 season, Starks tore the labrum in his shoulder. He had surgery about a week later and had to miss the entire 2009 season. Despite the injury he was invited to play in the 2010 Senior Bowl but wasn't cleared medically for contact and had to pull out. He did go to the Combine and had an outstanding workout. He measured 6-2, 218 pounds, ran a 4.48, had a 36" vertical jump and despite being only 4-5 months out of shoulder surgery still did 15 reps of 225. The shoulder surgery he had was his second surgery while in college and because he did not play at all in 2009 there was risk involved. Thus he dropped to the 6th round. Had he played at a more visible program he would have been drafted higher. I felt that if he was able to play in 2009 and had a season similar to 2008 he may have been a second to third-round type pick. The talent was there, durability issues had to be answered.
On draft day last year while I was still Director of College Scouting with the Bears, we had a lot of discussion about Starks. Three different people had graded Starks (the area scout, me and Jerry Angelo) and all three of us had high grades. Going into the draft, the running back position was not a big need because we had Matt Forte and had just signed Chester Taylor as a free agent. When we got to the 6th round and Starks was still on the board he stuck out like a sore thumb, we had to discuss him! There was another player who we also had a high grade on available. That was quarterback Dan LeFevour of Central Michigan. There was excellent discussion on the two players with some people favoring Starks and others favoring LeFevour. I was in Starks' corner. The reason being his talent, and the plan was to carry only two quarterbacks on the active roster. With Jay Cutler and Caleb Hanie under contract I did not see how LeFevour could make the team. I had watched Starks play live 4 times during his career; there was not a doubt in my mind that he would contribute to the Bears. I liked Dan LeFevour as well. He had great intangibles, is very smart, has a strong arm and was a fit for Mike Martz' offense. But under the circumstances it would be difficult for him to make the team.
As we got closer to our pick, Angelo made the decision for the Bears to draft Starks. When we drafted a player there was a protocol we followed. After the decision on who to draft was made, Cliff Stein (the Bears contract negotiator) would call the players agent and tell him we were planning on drafting his player. He would tell the agent that the wanted to get a 4-year contract with the player and wanted the contract done by a certain date. If the agent agreed then I would call the player and give him the news that the Bears were going to take him. This is exactly what happened with Starks. I was on the phone for a minute or so with Starks when Angelo walked in my office and told me he had changed his mind and was drafting LeFevour. I put Starks on hold and then said to Angelo that Stein had already talked to the agent and I had the player on the phone…we couldn't do business like that. He said he was sorry but he decided he wanted LeFevour and the card had been turned in.
I then had to tell the player (a player that I had developed a good relationship with over the previous two years) that in fact we were not drafting him. Hearing a kid go from being extremely excited to silence was not easy. It was the most embarrassing moment I had experienced while scouting.
In my mind everything is about integrity and I felt our integrity had been damaged. We had told a player and his agent that we were going to draft him and then backed out of the deal. To make amends, we promised the agent that if Starks was still available in the 7th round we would draft him. Green Bay, though, took him about 10 picks later and the rest is history.
Looking back, I have no problem with Angelo's decision to draft LeFevour. He is the General Manager and as such has final say in all football matters.
As a post script, LeFevour was released at the final cut and is now with Cincinnati and Starks ran for 123 yards on 23 carries in a playoff game. Good for you James! I'm proud of you. Good luck next week in Atlanta.