August 24, 2010 -
Greg Gabriel
NFL preseason notes
Tennessee
Last week I talked about how different coaches use the preseason. Tennessee is one of those teams that make a statement. They attack and they don't hold anything back.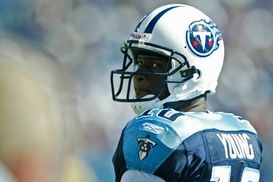 ICONVince Young is playing with much more confidence and poise for the Titans.
Vince Young is starting to develop into the quarterback the Titans thought they were drafting in the first round of the 2006 draft. He is playing with much more confidence and poise. He does not hurry things. The game is no longer fast for him. In Kerry Collins, they have one of the best backup quarterbacks in the league. Kerry is still in great shape and can still fire the ball. If the Titans keep three quarterbacks, Chris Simms should be the third.
The Titans don't have the biggest feature back in Chris Johnson but they sure have the most explosive. They still need a complimentary back and I think that before the preseason is over that back will turn out to be rookie free agent LeGarrette Blount. Blount had third-round talent, but because of his fight on national TV after the Boise State game he fell to free agency. He is in the right situation with Jeff Fisher being the head coach of Tennessee.
Another player that looks like he may have a breakout year is second-year tight end Jared Cook. He looks like a big wide receiver and there aren't many tight ends in the league that can run like him.
Tennessee has always been strong on defense. They usually come off the bus blitzing and they looked no different last night. They put constant pressure on the offense. Their first-round pick Derrick Morgan still hasn't played yet because of a muscle pull, but when he is ready, he will upgrade an already strong front four. The secondary has always been good but they have added rookie corner Alterraun Verner from UCLA. He is not ready to be a starter but will get a lot of playing time as their third or fourth corner. He had a big play in the end zone last night to break up a pass.
I will say right now that Tennessee has to be the favorite to win the AFC South over Indianapolis.
Arizona
Arizona looks to be a team in transition. After two preseason games, neither Matt Leinart nor Derek Anderson has grabbed hold of the starting quarterback job. Leinart looked very tentative in his three series last night and Anderson did some nice things but is inconsistent. Their offense this year just won't be as strong as it has been the last three seasons. They have lost Kurt Warner and Anquan Boldin and reshuffled the offensive line. Larry Fitzgerald hurting his knee hasn't helped. They have some potential young playmakers in Early Doucet and Andre Roberts but they are not going to make up for the losses in just one season.
Chicago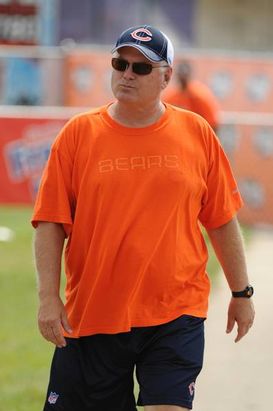 ICONMike Martz finally has his veteran backup QB on the Bears.
Offensive coordinator Mike Martz lobbied all offseason for the Bears to sign a veteran backup quarterback. It's not that he didn't like Caleb Hanie — the truth is he is enamored with Hanie's talent. But his lack of experience scared Martz. Martz wanted a player that he could trust and hold the fort if Jay Cutler got hurt and had to miss a few games.
The problem was Jerry Angelo wanted to keep just two quarterbacks on the 53-man roster. If the Bears signed a veteran then they would have to expose Hanie to waivers before placing him on the practice squad. That is something Angelo didn't want to do.
Now that Hanie is hurt and rookie Dan LeFevour is not ready, the Bears had to make the move to sign veteran Todd Collins. The Bears will now have to keep three quarterbacks on the roster at least through the first part of the season. That will cause them to be short-handed at another position.
Minnesota
With word coming out that Vikings wide receiver Sidney Rice needs hip surgery, it doesn't make the team's wide receiver situation any better. Percy Harvin has already missed a good portion of training camp with migraine headaches. If the Vikings have to go for an extended period without those two players, then it will be much easier for opponents to game plan for the Viking offense. They will have only one receiver to concentrate on (Bernard Berrian) and of course Adrian Peterson. It will be interesting to see how this all shapes up.
Click here to purchase the Total Access Pass/Fantasy Draft Guide from the NFP.