January 20, 2014 -
Greg Gabriel
NFL prospect focus: Carl Bradford
A little more than a week before the January 15th final filing date to enter the NFL Draft, Arizona State junior OLB/DE Carl Bradford announced that he would return to school for his final year of eligibility. For whatever reason, Bradford later changed his mind and decided to come out. After watching five of his performances on tape, I have to admit he made a good decision. Bradford is a terrific player.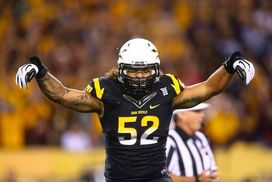 After originally announcing he would stay in school, Bradford later decided to enter the NFL draft.
Bradford is a fourth- year junior and a two-year starter. He redshirted his first year (2010) and played as a backup with one start in 2011. The last two seasons, Bradford has been a playmaker supreme for the Sun Devils. During that time span, the standout linebacker has amassed 142 total tackles including 39.5 tackles for loss and 20 sacks. He's also notched two interceptions.
Bradford is listed as a defensive end in Arizona State's scheme and plays mostly from a 3-point stance, but he will play on his feet at times both as an outside linebacker and in some situations as an inside linebacker. As a defensive end, he lacks great size. Bradford is listed as being 6010 – 243. He has good arm length for his size and he is very athletic. He can change direction easily, has quick feet, very good balance and quality play speed. I would estimate he will run in the 4.65 – 4.68 area. Despite not being very big, Bradford shows strength and is able to hold the point of attack. He plays with bend and can use his hands. He has the ability to shed quickly and he can move laterally through trash. Bradford is a quick reactor who is instinctive and able to find the ball. He seldom gets fooled.
In the run game, Bradford makes plays both at him and in pursuit. He consistently takes good angles to the ball. With his quickness he can slip blocks and get to the ball. One of the best parts of his game is he has an all-out motor and competes on every play. Bradford may lack size, but he plays a physical and aggressive game. As a pass rusher, Bradford has the speed and burst to be effective off the edge, but he can also put together counter moves and come back to the inside. He has the body flexibility to get under his opponent when he is turning the corner. He also shows some effectiveness as a bull rusher. Bradford has the natural power and explosion through his hips to use this technique. While he is not used that often in pass coverage, he shows a good drop into the short zones. He has lateral quickness and can plant and drive on the ball.
Overall, this is an interesting prospect. On tape, Bradford is very productive and I have no doubt that he will start very early in his pro career. His best fit is as an outside linebacker in a 3-4 scheme where his pass rush talents can be utilized. He can also play as a Sam linebacker in many 4-3 schemes and be used as a defensive end in passing situations. Because he is an underclassman, Bradford's verified measurables will have a lot to do with where he actually gets drafted. He is listed as being 6'1, but may not be that tall. His timed speed will also figure highly into where he is taken. Without knowing his actual size and speed, Bradford's tape says he should go anywhere from the late second round to early third.
Follow Greg on Twitter: @greggabe