September 05, 2013 -
Greg Gabriel
NFL prospect focus: Georgia
Georgia lost to Clemson in the opening game last Saturday in Death Valley. Many writers and college football analysts had Georgia as one of the top teams in the country going into the season. Looking at this game I don't think the 'Dawgs will challenge for the top spot in the SEC East.
Usually Georgia has a number of highly rated senior prospects. That is not the case this year with only quarterback Aaron Murray being rated as a guy who could go in the top three to four rounds. Here is a look at some of their senior NFL prospects.
Aaron Murray – Quarterback
Murray is a 5th year senior and a four-year starter for Georgia. He has been highly productive with over 10,000 passing yards and 95 touchdowns going into the season. In Saturday's game he completed 20 of 29 passes for 333 yards with no touchdowns and 1 interception. Though the stat sheet looked good I thought his play was average. He was unable to come up with the big play when it was needed. The best he looked all game was on the final drive in the last few minutes of the game when the game was out of reach for Georgia. It didn't help that Georgia lost one of its best receivers for the game and season early in the game when junior Malcom Mitchell injured his knee.
Murray has adequate size for an NFL quarterback at 6-1 and 208. He plays from both under center and in a spread. He has good athleticism with good play speed and quick feet. When playing from under center he shows good setup quickness. When under center or in a spread he shows good feet and agility to move around in the pocket and keep plays alive. He has a good feel for pass rushers and does a good job stepping up in the pocket before he throws. He has good not great arm strength and he throws a tight catchable ball. In this game he showed he can make all the throws needed to play in the NFL, he just wasn't consistent with those throws. On a number of short passes he was low and short with the ball.
Murray shows patience in the pocket and does a good job going through a progression. He can find secondary receivers and he has a quick release. He usually reads coverages well, but on one play early in the fourth quarter he misread a linebacker's drop and threw an interception. This play basically took Georgia out of the game. He had another turnover when he fumbled while getting sacked.
I like the way Murray handles himself during a game. He shows poise and he is clearly in charge. Overall, except for ideal height, Murray has a lot of the tools needed to be successful in the NFL. He has a lot of experience against top competition and played in many "big" games. He is smart, agile and poised. Just off of this game I would say he is a legitimate third-round type but one game isn't a season. With quarterbacks you have to study the whole body of work and that will include this season as well as last year. I will be watching Murray more as I get more tape.
Arthur Lynch – Tight End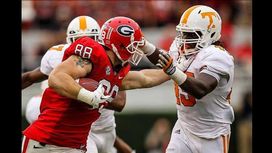 US PRESSWIREArthur Lynch caught 24 passes for 431 yards and 3 touchdowns last year.
Lynch is listed as a "tight end," but he rarely lines up in tight as a "Y." He is used more flexed out, on the wing and even at fullback. It was a hard game to evaluate Lynch because he played in a rotation and was not an every down player. There were times when he wasn't even in for a series.
Lynch has been productive. Last year he caught 24 passes for 431 yards and 3 touchdowns. In this game he was thrown to once and caught it for an 18-yard gain. The pass was a short curl route but Lynch was able to get about 9 more yards after the catch with a strong run. He also had a very nice lead block when playing on the wing that helped the runner get extra yards. On the punt team he plays as the personal protector.
He looks to be a good athlete and in limited play time showed 4.75 play speed. He has good size for a "move" tight end at about 6-5 and 255. Overall, I need to see more tape on this player before I can be accurate with a grade.
Kenarious Gates – Offensive line
Gates started at left tackle and also played some right guard in this game. To put it mildly, he struggled. He gave up at least 2 sacks in the game and a few pressures and after that I stopped watching.
Gates is knocked kneed and straight legged. He plays with no bend. When he tries to get low he has to widen his base because he can't bend. He has a tendency to bend at the waist when he gets out of position on a play. He plays mostly from a 2-point stance and is slow to set. He has limited lateral agility and recovery. He gets beat wide by speed rushers often.
In the run game he flashes because he has size and strength but because he can't bend he has poor explosion and can't play with leverage. He is not a consistent finisher and will fall off blocks and struggles to get to the 2nd level. His ability to adjust on the move is poor.
In my opinion, Gates is not an NFL prospect. He lacks the athleticism required to make blocks at the NFL level. Off of this game I wouldn't even sign him as an undrafted free agent. Georgia plays South Carolina this week and Jadeveon Clowney has to be praying that Gates is still the starter at left tackle! If I were Murray I might call in sick for the game.
Chris Burnette – Guard
Burnette starts at right guard but there were some series when he was out and Gates played that position. Burnette is only a fraction better than Gates. He has below average athleticism. He can block an opponent right over him but struggles getting to the 2nd level or making angle blocks. He had one short pull when he made a very good block that helped the runner go 75 yards for a TD. That was his best play all day.
Burnette is high in his stance because he lacks good lower body flexibility. His initial quickness for both the run and the pass in average at best. He plays tall and lacks explosion. While he has athletic limitations he does compete and play hard. Like I said above he will flash as a run blocker if his opponent lines up right over him. He has some strength and will work to get some movement. I question his awareness because there were a few times he could not find a block at the 2nd level.
In pass protection he flashed a punch and because he has strength he handles bull rushes fairly well but he struggles versus counter moves because of his lack of lateral agility.
Overall, Burnette is not a player that I would draft. He is limited athletically and he lacks awareness. He is a low-level free agent at best.