January 27, 2014 -
Greg Gabriel
NFL prospect focus: Hyde and Mason
As it relates to the NFL Draft, the running back position has become devalued in recent years. The primary reasons for this occurrence are that most running backs have a short shelf life and clubs are now using backs in a rotation more than they ever have before. Unless a back has some really special traits that a club can't afford to pass on, the days of running backs going in the top 10 are pretty much over.
Two of the better running backs in this year's draft class are Ohio State's Carlos Hyde and Auburn's Tre Mason. Here are my thoughts:
Carlos Hyde – Ohio State
Hyde is a fourth-year senior from Naples, Florida. He has been used in a rotation the last three seasons and while he may not start the game, he always handles the bulk of the carries. This year, Hyde missed the first three games of the season after being suspended for an off-field issue. Despite missing those three contests, however, Hyde was still able to rush for over 1,500 yards, averaging 7.3 yards per carry, with 15 touchdowns. He also had 16 pass receptions.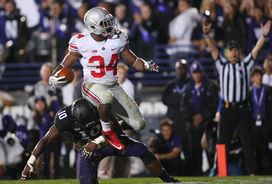 US PRESSWIREHyde rushed for 1,521 yards in just 11 games last season.
Hyde has excellent size for an NFL running back. He is listed as being 6000 – 235. He has quickness and very good balance, but I wouldn't call him a burner, as Hyde should run in the 4.58 – 4.60 range. Ohio State plays in a spread offense with the running back lined up either as a "pistol" or next to the quarterback. When in the pistol, Hyde shows good initial quickness with a good burst to the hole. When lined up next to the quarterback, the running game is slower to develop, as the back usually takes a lateral step before he moves forward. Personally, I don't like that style, as the runner does not have a lot of momentum when he gets to the line of scrimmage.
When in the pistol, Hyde has good quickness to the hole and is patient enough to allow his blocks to set up, which permits for the OSU running back to make a cut in the hole and sprint to daylight. Hyde runs low and with power. He is not an overly elusive guy, but he can make a quick cut. He keeps his shoulders square to the line of scrimmage and he attacks tacklers. Hyde has the strength and power to move the pile and gets yards after contact. He's not a speedster, but Hyde has some long runs on his tape. However, that's mainly because the holes are there. Still, he runs with good instincts. He is best as a between-the-tackles inside runner, but he does have a burst to turn the corner. Once in the open field, Hyde has demonstrated that he can make one defender miss, but usually not more than that.
In the pass game, Hyde is reliable as a receiver. He is generally utilized on short routes or as a check-down receiver. He has good hands and gets up field quickly after the catch. As a pass blocker, he is willing, but not consistently effective (see Big 10 Championship game). He has to learn to keep better position and use his hands with more effectiveness.
Overall, Hyde has the talent to be a starter in the NFL, but he has some limitations. He would be best utilized in a rotation with a complementary back. His style is similar to Green Bay's Eddie Lacy, but Hyde is not as violent a runner. He may go in the first round, but I see Hyde more as a solid second round selection.
Tre Mason – Auburn
Mason is a third-year junior who is entering the Draft early. He has been a starter since midway through the 2012 season. Mason had a breakout campaign in 2013, winning the SEC Championship and getting an opportunity to play in the National Championship game. In 2013, Mason ran for over 1,800 yards with a 5.7 yards per carry average while catching 12 passes for 163 yards.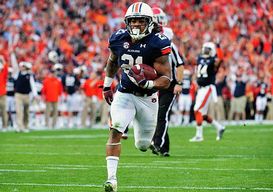 Mason played an integral role in Auburn's run to the National Championship game.
Mason is not a big guy. He is listed at 5100 – 205 and may not even be that big. What he is, however, is a very athletic and fast runner who has very good instincts and the ability to make people miss in the open field. Auburn plays in a multiple formation spread offense. Mason is very quick to the hole and has very good vision/run instincts. While he is quick, he is patient enough to set up blocks and can make a cut in the hole to an opening. However, even though Mason has demonstrated quick cutting ability, I wouldn't call him a cutback- type runner. He runs low and has good, but not great, strength. He shows he can lower his shoulder into his opponent and get a few extra yards, but he is not a tackle breaker, nor is he a top after-contact runner. Mason is more of a creative, elusive type who can get to an open seam. Once in the open field, he has the speed to take it the distance. I would estimate he will run in the 4.48 range.
Mason is effective as both an inside and outside runner because of his vision. He is reliable as a receiver, but is not used that often in the passing game. In the games I viewed, Mason was used mainly as a check-down receiver. As a pass blocker, he is willing but not very effective. His technique is poor and he doesn't use his hands well.
Overall, I see Mason as a rotational back who would be an excellent complement to a big power runner. While he is a dangerous open field runner with breakaway skills, he needs work as a pass blocker and a receiver. Mason is going to have to be trusted as a pass blocker before he gets a lot of playing time at the next level. While he is talented, I don't see him going in the first round. He could get drafted in the second, but is more than likely taken in the third. A strong showing at the Combine or at Auburn's Pro Day as a receiver could make him more valuable.
Follow Greg on Twitter: @greggabe