January 18, 2014 -
Greg Gabriel
NFL prospect focus: Jernigan & Jean-Baptiste
Timmy Jernigan – Defensive Tackle – Florida State Seminoles
Jernigan is one of the record 90+ underclassmen who have declared for the NFL Draft and just might be the best interior defensive linemen in the group. Jernigan is a third-year junior, with 2013 being his first year as a starter. Florida State uses a strict rotation with their defensive linemen and as a freshman and sophomore, Jernigan got significant playing time in that rotation. Though he wasn't a starter, Jernigan played a key role on defense during both of those aforementioned seasons.
Jernigan lines up mostly as a 0, 1 and 2 technique depending on FSU's defensive formation. I've seen a few plays where he lines up at outside linebacker as well. He is very productive in his role. This season, Jernigan finished with 68 total tackles, 11 tackles for loss and 4.5 sacks. In 2012, the defensive tackle amassed 46 total tackles as well as 8 TFLs and 1.5 sacks. He also has numerous quarterback pressures.
For an inside player who plays a lot of 0 and 1 technique, Jernigan is not very big. He is listed as being 6020 – 292, and while I'm sure the 292 is close to accurate, he may not quite be 6'2 when he gets to the Combine. Jernigan has a thick frame with good arm length. While he may not time that great in the 40 (5.0 estimate), he is extremely quick and I doubt too many defensive linemen with be faster for ten yards. Jernigan is explosively quick and athletic. He is light on his feet and changes direction easily. He has very good balance and excellent lateral movement, enabling him to clear his feet through trash.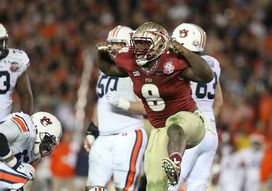 Jernigan notched 4.5 sacks for a Seminoles team that won the National Championship.
Jernigan has very good snap reaction to go along with a quick first step. He has quick hands and a strong punch that allows him to control opponents. His hand use is very good and that, along with his first step quickness, makes is very difficult for opposing offensive linemen to get their hands on him. Jernigan is an alert, instinctive player who finds the ball and makes plays. He is a top run defender who gets penetration and is disruptive. While he shows he can 2 -gap, he is much better when playing in 1 gap defenses where his quickness comes into play. As a tackler and a pursuit player, Jernigan is excellent.
As a pass rusher, the now ex-Seminole is quick off the ball and, again, combined with his hand use, he makes it difficult for linemen to block him. He has the snap in his hips to bull rush and the quick feet and hands to be very effective with counter moves. He demonstrates a very good burst coming off blocks to close on the quarterback.
Overall, Jernigan can play in any scheme, but I feel he is best suited to play in a 4-3 one gap scheme. This type of scheme utilizes his traits. In a Lovie Smith defense, Jernigan would be an excellent 3-technique candidate. He is a quality "A" level player who could start as a rookie for most teams.
Stanley Jean-Baptiste – Cornerback – Nebraska Cornhuskers
Jean-Baptiste is a fifth-year senior and a transfer from Fort Scott (Kansas) Community College. He was a 2008 high school graduate who attended prep school for a year before enrolling at Fort Scott in 2009. Jean-Baptiste redshirted at Fort Scott and then transferred to Nebraska. He started his collegiate career as a wide receiver, but was moved to defensive back. In 2011, Jean-Baptiste functioned mostly as a backup, but did get one start. In 2012, the cornerback got five starts and played in every game, paving the way to become a full-time starter in 2013. This season, Jean-Baptiste finished with 41 total tackles, 12 pass breakups and four interceptions. For his career, he has seven interceptions.
Jean-Baptiste has excellent size and is listed at 6030 – 220. He is a good athlete with good playing speed (4.50 estimate). He has good hip flip flexibility and good foot quickness. Jean-Baptiste shows he can stay low in his pedal and turn without taking extra steps. In the Nebraska scheme, he played mostly press man coverage, but will also play some off and zone. He is best with press man and is an adequate zone player. However, he can struggle some when in off man.
When in press, Jean-Baptiste shows a good jam, can turn and run with most receivers he faces and is able to keep good positioning. He will occasionally have some trouble with double moves. Most of the time while in press, Jean-Baptiste tracks the ball well and displays adequate hands. When in zone, he tries to keep good positioning and shows fairly good awareness. He does a good job keeping things in front of him. When Nebraska plays off man, Jean-Baptiste can struggle. He plays too loose and doesn't anticipate well. He seems to be back on his heels and often gets beat by moves. When this happens, Jean-Baptiste doesn't have the catch-up speed to recover. On tape I saw him get beat deep a few times because of this. He also struggles with double moves when in off coverage.
With the natural size that Jean-Baptiste possesses, you would think that he would be a dominant run support player, but he's not. He is not physical or aggressive in support and is just an average tackler. He flashes big-hitter capabilities, but needs to do a better job wrapping up as a tackler. He is used some to blitz and is inconsistent. He is not good a disguising a blitz and his timing can be off.
Overall, Jean-Baptiste has unusual size for a corner. There will be some teams enamored with that. He needs to go to a club that plays a lot of press man. If that happens, he may become an eventual starter. If he gets drafted by a team that plays a lot of zone and off coverage, I don't see him becoming any better than a fourth corner. He will probably be drafted in the middle or later rounds.
Follow Greg on Twitter: @greggabe