January 14, 2014 -
Greg Gabriel
NFL prospect focus: Jordan Matthews
Wide receiver Jordan Matthews is a fourth-year junior and three-year starter who recently became one of the most prolific pass-catchers in Vanderbilt history. Since 2012 (26 games), Matthews has caught 206 passes for 2,800 yards and 15 touchdowns. For his career, the 21-year-old has 262 catches for 3,759 yards and 24 touchdowns. Needless to say, Matthews is one of the top senior wide receiver prospects in this year's draft class.
Matthews has great size, standing approximately 6024 – 208. He has a long frame with a good build. He is a very good athlete with excellent body control. While I wouldn't call Matthews a burner, he does possess good play speed with a burst. I would estimate his 40 speed at between 4.50 and 4.53. Despite not having great top-end speed, Matthews is very quick and can reach top speed in a hurry.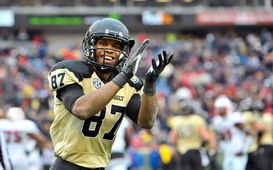 Matthews caught 112 passes in 13 games for the Commodores this past season.
Matthews has good initial quickness to get into his routes. He has the size, strength and quickness to either avoid a jam or elude it. He is a very good route runner who shows the ability to uncover versus both man and zone. Despite his size, Matthews has demonstrated that he can break down and get in and out of cuts very quickly. He is good with single and multi-cut-type routes. When playing against zone coverage, Matthews has the awareness to find and get open down the seam.
At Vanderbilt, Matthews was utilized on a variety of routes. He was the team's go-to receiver and is productive as both a short and deep pass-catcher. With his length and toughness, Matthews consistently competes for the ball in traffic. He has very good hands and can snatch the ball out of the air. He also tracks the ball very well and I have seen him make a number of acrobatic catches. After the catch, he is a strong runner. Matthews has the skill set necessary to get up-field instantly and the burst and power to consistently pick up yards after contact. He shows good run instincts and can turn a short bubble screen or hitch into a long gain. With his size and strength, Matthews is a physical receiver who is both willing and productive as a blocker.
Overall, Mathews is a very skillful receiver who has the talent and smarts to start as a rookie for most NFL clubs. While he doesn't have the top end speed to be a consistent deep threat at the NFL level, Matthews will be very productive as a short and medium range receiver. The player he reminds me of is Reggie Wayne of the Indianapolis Colts. They are similar type athletes, but Matthews is a little bigger than Wayne. Where Matthews gets drafted will most likely be determined by how fast he runs. Wide receiver is a stop watch-driven position and the faster guys have a way of getting drafted higher. Still, I think the worst-case scenario for Matthews is that he gets taken in the second round.
If that ends up the case, the club that pulls the trigger on Matthews will have a Day 2 steal.
Follow Greg on Twitter: @greggabe