January 15, 2014 -
Greg Gabriel
NFL prospect focus: Kony Ealy
A few years ago, when Missouri announced it was going to leave the Big 12 to play in the SEC, I felt the school was making a mistake. From a personnel and recruiting standpoint, I thought the Tigers just didn't have the talent to compete with the best in the SEC.
Oh, how I was wrong.
Not only is Missouri competing, the school is competing for SEC Championships. The reason being is that they have the athletes both on the defensive line and at the skill positions to play with the best teams in the SEC. Last year, Missouri had defensive lineman Sheldon Richardson, who ended up being a first-round selection with the Jets and is quickly becoming one of the better young defensive linemen in the NFL. This year, their top defensive lineman is junior DE Kony Ealy, who is entering the draft early and come May, should be a first-round draft pick.
Kony Ealy – Defensive End – Missouri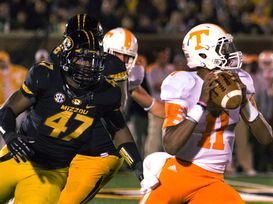 Ealy notched 9.5 sacks for the Tigers in 2013.
Ealy is a fourth-year junior and a two-year starter for the Tigers at left defensive end. Coming out of high school, Ealy was an undersized defensive end (approximately 230 pounds), but was still rated as a 4-star recruit and had offers from schools such as Georgia Tech, Nebraska and Mississippi. Ealy redshirted his first year and was a role player during his second season. As a starter in 2012, he had 37 total tackles including 3.5 sacks and 10 tackles for loss. This past season, Ealy had a breakout year with 43 total tackles, 9.5 sacks and 14.5 tackles for loss. When you take into account the fact that Missouri rotates their defensive linemen, those are outstanding stats. When Ealy is in the game, his athleticism and hustle jump out on tape.
Ealy has good defensive end size at about 6050 – 275 with good arm length. He is a very good athlete with speed, body control and change of direction. He plays fast and looks as if he will run in the 4.68 range. He has excellent snap reaction and a very good first step. As a run defender, Ealy is good. He has the strength and power to hold the point and uses his hands to shed blocks. He makes a lot of pursuit plays and does a fairly good job versus the inside run. While Ealy can be inconsistent versus the outside run, the reason is that he's a bit undisciplined and tends to get caught inside. He needs to play contain better and not allow himself to be hook blocked.
Where Ealy excels is as a pass rusher. He is explosive off the ball and has a variety of moves. He can make a quick step outside and then counter and come back across his opponent's face to get inside pressure. He also has the speed and bend to edge rush, dip his inside shoulder and burst to the quarterback. Ealy's burst off a block to the quarterback is excellent. While he is not a real big guy, he has explosive power through his hips and can bull rush with effectiveness.
Overall, Ealy possesses the integral trait that NFL teams covet: He can rush the passer. He is best suited to play as a 4-3 defensive end, but most of the 3-4 clubs will work him out as a linebacker and if he proves to be able to drop into coverage, he will have high value to those organizations as well. From an athletic viewpoint I see no reason why he can't play on his feet. He has the bend and hip flexibility needed to drop.
Don't be surprised to hear Ealy's name mentioned a lot in the weeks leading up to the draft. He is an impressive player.
Follow Greg on Twitter: @greggabe