February 04, 2014 -
Greg Gabriel
NFL prospect focus: Linder and Linsley
Starting today we'll be implementing a new format for our 2014 scouting reports, with the main purpose being to offer reports similar to what NFL scouts write. The main difference is that besides strong points, weak points and summation sections, many club formats will also include the scout's individual grade for specific factors at each position.
Today we're going to focus on offensive linemen, with the specifics to look for including run block, pass block, initial quickness, strength and explosion, pull ability and hand use. What I try to do is touch on all those specifics in the summation section.
Brandon Linder – Guard/Tackle – Miami
Size – 6053v – 316v – 5.40e
Note: "v" stands for "verified," while "e" stands for "estimated."
Strong Points –
Plays both guard and tackle in every game, very productive, run block, pass block, hand use
Weak Points –
He's an average athlete, has limitations when playing in space, does not play with top bend
Summation –
Brandon is a fourth-year senior and a 3.5-year starter for the Miami Hurricanes. In the games I viewed, Linder split time at both right guard and right tackle. He is a big, productive overachiever who knows how to play within himself. He is very tough and competitive and tried to be physical on every play. Linder is an average athlete, does not have much speed and looks to be a bit tight in the knees, but still plays well at the line of scrimmage. When he has to play in space, Linder can have some trouble because of his athletic limitations.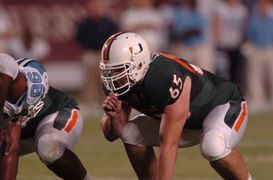 Linder started 13 games for the Hurricanes last season.
Linder is very strong, but not overly explosive. He has good snap reaction and initial quickness and gets to his blocks in a hurry. While he doesn't have a lot of "snap" on contact, he is powerful and will run his feet to get movement and finish most blocks. He is good with drive blocks and angle blocks and also productive with combo blocks in tight space. When Linder gets into space he's a bit inconsistent and doesn't always adjust well on the move when playing at the second level. He can do a fairly good job with short pulls, but is not consistently able to get to his block on longer pulls.
In pass protection, Linder has a quick set. He displays good hand use and more times than not gets his hands on his opponent first. He has a good punch and can keep his hands inside. While Linder isn't a natural knee bender, he does play with some bend. He plays with a wide base and keeps good position on his opponent. He anchors well because of hand use and strength. When he was playing at tackle, I saw him get beat wide only a couple of times. While Linder doesn't have great lateral quickness, he does take good angles. He knows his limitations and plays hard to offset them.
Overall, Brandon is more suited to play guard instead of tackle at the next level. In saying that, he may be able to get by at right tackle for a few games if he has to play there. He may also be able to play center and that may ultimately function as his best position. I see Linder as a backup during his rookie year, but he will dress on Sundays because of his position versatility. He should be a productive starter by year two. You don't like this player much when you first watch him, but the more tape you study, the more you begin to appreciate Linder's talent and competitive nature.
Grade: B 6.5
Corey Linsley – Center – Ohio State
Size – 6030e – 300e – 5.1e
Strengths –
Athletic, strength and power, balance, hand use, run block, pass block, has played guard and tackle in the past
Weak Points –
Adequate estimated size
Summation –
Corey is a fifth-year senior and a two-year starter at center. As a reserve in 2011, he played both guard and tackle. Linsley moved to center in the spring of 2012 and has been the leader of Ohio State's offensive line ever since. He has very good initial quickness with his snap and step and is an excellent short snapper in a spread formation. He can get to his blocks with good quickness and is explosive on contact. In addition, Linsley shows good hip snap and keeps his feet running on contact, enabling him to generate movement. He consistently plays with bend while keeping his back straight and can easily get to the second level while taking good angles.
Linsley can adjust on the fly to hit a moving target and can also turn and seal a bigger opponent. In pass protection, he has a quick set and can get his hands on his opponent in a hurry. Linsley has a good punch and does an excellent job keeping his hands inside. He is a natural bender and has very good lateral agility, showing he can mirror opponents through moves. He slides and recovers very well and can anchor. Linsley is an alert player who does a very good job of picking up stunts and blitzes. In short, Linsley is one of the better centers I have seen in quite some time. He should be able to start for most clubs as a rookie, with his position versatility providing additional value.
Grade: B 6.6
Follow Greg on Twitter: @greggabe