September 11, 2013 -
Greg Gabriel
NFL Prospect Focus: Michigan
Michigan has gotten off to a strong start this year with convincing wins against Central Michigan and Notre Dame. Looking at the Big Ten this year, it looks as though the battle for a BCS game berth will go down to the annual Michigan-Ohio State game in late November. Michigan only has four seniors who are considered prospects at this time. They are tackles Lewan Taylor and Mike Schofield as well as receiver Jeremy Gallon and running back Fitzgerald Toussaint. All played well in the Notre Dame game.
Jeremy Gallon – Wide Receiver
Gallon is a fifth year senior and a 2 year starter. He may be small in stature (5'8 – 185), but he sure played big in this game. He finished the game with 8 catches for 184 yards and 3 touchdowns. He just about beat the Irish by himself. While not big, he is strong and has very good athleticism. He displays excellent change of direction and overall body control. He is both quick and fast and can cut on a dime. He shows very good route running ability and consistently gets separation when he makes a cut. He can uncover versus both man and zone. In this game he showed excellent hands while also adjusting to the ball to make some great catches. He always catches the ball in his hands showing the ability to snatch the ball. Despite his small size he is not afraid to compete for the ball in traffic and come up with it. He is very good as a runner after the catch showing top run instincts and strength. With his quick feet he can easily make a defender miss.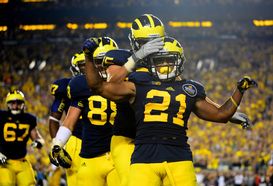 US PresswireDoes Jeremy Gallon have what it takes to succeed in the NFL?
Gallon has been used as a returner also. I didn't get an opportunity to evaluate that part of his game. His career stats are good but not the type of stats that a return man on an NFL team would have. Because he lacks ideal size, Gallon will probably be a slot receiver in the NFL. With his quickness, hands, and explosiveness he may be a club's third receiver before the end of his rookie year. While he doesn't have the skill set of a Tavon Austin, this is a good ball player. Will probably get drafted in the third round area.
Taylor Lewan – Offensive Tackle
Lewan is a fifth year senior and a four year starter. He has been a left tackle his entire career. Taylor flirted with entering the 2013 draft and had he done so he would have been a certain top 4 pick. Seeing that the first two picks were also offensive tackles, Lewan may very well have been the top pick a year ago. I saw Lewan and Eric Fisher one day apart last fall and at the time I thought Lewan was the better player. Despite his lofty rating, he still decided to come back and play a fifth year at Michigan. To date, he has done nothing to hurt his draft status.
Lewan has gotten bigger every year and is playing at about 315 now. He is a tall guy at about 6'7 but is also very athletic. He has a natural ability to bend, has quick feet and can change direction very well. He plays in a multi offense and usually plays out of a 3-point stance. He shows very good initial quickness and comes out of his stance low. He is a strong and explosive on contact and has the power to get movement with his run blocks. He easily gets to the second level and can adjust on the move. He is a physical player who looks to finish and has a bit of "nasty" in his play. In pass protection he can set quickly and easily mirrors opponents. I like that he is very patient in pass protection and seldom gives his opponent an opening. He stays square and can slide his feet and recover. He plays with bend and can anchor versus a bull rush. He has a strong quick punch and knows how to keep his hands inside. He doesn't pull that often, but when he does he can get in front of a back and adjust on the move to make a productive block.
Overall, I thought Lewan was the top tackle I saw last year and if he continues to play like he has so far this year he will probably be the first offensive lineman drafted. His main competition should be Texas A&M's Jake Mathews who I will cover soon.
Fitzgerald Toussaint – Running Back
Toussiant is another fifth year senior. He is a three year starter. He started the first 9 games in 2012, then suffered a leg injury and missed the final four games. His best season was 2011 when he totaled over 1000 yards rushing and averaged 5.6 yards per carry. Toussaint is not a real big back at about 5'9.5 – 200. He is quicker than fast but still runs well. I would estimate his speed at about 4.58 – 4.60. He is quick to the hole with good vision and instincts. He can make a quick cut in the hole to find daylight and then burst. He has excellent body control. He shows patience as a runner to go along with his instincts. What he lacks is power. While he has very good balance to keep his feet after contact, he doesn't have the strength and explosiveness to get many yards. Too often, the first tackler gets him down. His average per carry this year is only 3.6 yards. He is not the type to move the pile. He is best as a between the tackles type runner who uses his cutback ability well. He has a burst to get outside but they don't use him much that way. He is not used much as a receiver, having only 2 catches so far this season and 15 career receptions. As a pass blocker he is willing but lacks the power to face up and anchor with consistency.
Overall, I see Toussaint as a backup type player at the next level. He is going to have to improve his blocking and pass catching skills if he wants to be drafted. While he has talent, he is not a complete back.
Michael Schofield – Offensive Tackle
Like the other prospects, Schofield is a fifth year senior. He started at guard in 2011 and has been the starter at right tackle the last two seasons. Schofield has good size at about 6'6.5 – 305. He is not overly quick or fast but he is efficient. He will probably time in the 5.5 range. What I like about Mike is that he is a good competitor who knows and understands his position. He doesn't make many mistakes. He can get off the ball with adequate quickness and makes solid contact. While he shows some knee bend in the pass game you don't always see it when he is run blocking. He is not explosive but he has strength and will keep his feet moving on contact. Because he doesn't have top knee bend in the run game he will fall off some run blocks. He is best at the line of scrimmage but can be inconsistent getting to the second level or making backside cutoff blocks.
In pass protection he sets with adequate quickness and tries to keep good position. He shows adequate knee bend but can give some ground to a good bull rusher. I have also seen him jerked off balance a few times. Still he tries to keep good position and does a fairly good job stopping wide speed. I have not seen him used to pull.
Overall, because Mike has experience at both guard and tackle it helps his cause. He needs to get stronger and play with more consistent bend. He has the talent to be a backup in the league but I doubt he will ever be a starter. A good late round pick who may need a year on the practice squad.
Follow me on Twitter - @greggabe