September 02, 2013 -
Greg Gabriel
NFL prospect focus: Notre Dame defense
Notre Dame, which played for the National Championship last year, opened the season with a 28-6 win over Temple on Saturday. Based on the NFL talent the Irish have for next year's NFL Draft I would say they looked average. Both their offensive and defensive lines are as good as there is in college football and because of that I was expecting a more dominant performance.
This week the Irish play at Michigan and if they are going to beat a strong Wolverines team the lines have to pick up their play and play to the level expected. The Irish have 7 players who have the talent to get drafted in the first 4 rounds of the draft. Four of those seven players are on defense. We will take a look at those players today and I will write up the offense tomorrow.
Louis Nix III – Nose Tackle
Nix is a fourth-year junior who thought about entering last year's draft but decided to stay for one more year. He will graduate next spring and Notre Dame is telling scouts that he is entering the draft.
Nix is a huge man at about 6-2 and 350. In 2012 he played at about 330 and I thought that was a better weight for him. While he still has quickness and shows some speed for such a big man, he did not look as quick during the Temple game. He saw a lot more double teams in this game and while he was often around the ball, he didn't make as many plays as he usually does. Nix is very strong and you never see him get knocked off the ball. He has a solid base and stays on his feet. He can get a little tall at times but he is still able to get a push and be disruptive. He shows surprising pass rush skills for a big man. While he is more of a bull rusher he has some moves and flashes a burst off blocks to the quarterbacks. The other thing I like about NIx is his motor. He plays hard every play and chases the ball. You don't see many 350-pound guys run in pursuit like Nix
Off last year's tape I thought Nix was a sure first-round talent. While he played well on Saturday he didn't play like a first rounder. He has 12 more games in which to pick up his play.
Stephon Tuitt – Defensive End
Tuitt is a third-year junior and a two-year starter at defensive end in the Notre Dame 3-man front. Tuitt flashed dominating ability in 2012 and finished with 12 sacks. Last year he played at about 310 and this year he is over 320 and like Nix I think he is carrying a bit too much weight. Tuitt had sports hernia surgery after last season and did not participate in spring football and much of the offseason program. This may explain the added weight.
On Saturday he flashed his dominating ability, as he had a sack and a couple of pressures. But his overall play was inconsistent. He has to learn to play hard on every down. He has a tendency to get tall and when that happens he exposes his body, which makes it harder for him to get off blocks. He has excellent natural strength and very long arms so he needs to use his hands better to shed blocks. When Tuitt stays low he is very explosive and disruptive. He doesn't give ground and has the instincts to be around the ball. For a big man he is an excellent pass rusher, he can bull rush, use counter moves and flashes coming off the edge. He uses his hands better when rushing the passer and shows a nice burst off of blocks to the passer.
Overall, Tuitt's best fit is as a 3-4 defensive end in the NFL. He has the size and power to 2-gap offensive linemen and better pass rush skills than many 3-4 types. Like Nix he needs to pick up his play in the coming games if he wants to realize his first-round talent.
Prince Shembo – Outside Linebacker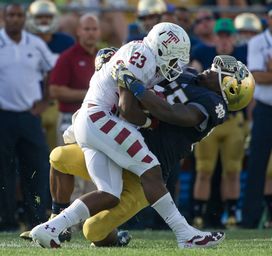 US PRESSWIREPrince Shembo gives ND consistent pressure coming off the edge.
Shembo is a 2-year starter at "Cat" linebacker. In that position he is half linebacker/half defensive end. He probably plays with his hand on the ground 50% of the defensive snaps. Shembo is a bit on the short side at just over 6-1 but he has good bulk (about 255), long arms and is very strong. He is a very good athlete with change of direction, balance, speed and body control. I feel he is one of the most underrated players on the Notre Dame defense. He has a nonstop motor and is very competitive. He has top instincts and is always around the ball. He shows strength at the point, can shed blocks and is a sure tackler. While not used in coverage a lot, he shows he can get depth with his drops, can transition and has good receiver awareness. When rushing the passer, Shembo knows how to get low and use leverage. He is very flexible and can use his hands to get off blocks. He gets consistent pressure coming off the edge.
Overall, I see Shembo as a 3-4 OLB at the next level. His speed and measurables will play into where he gets drafted, but this guy is a football player and will be a sure starter in the NFL early in his career.
Bennett Jackson – Cornerback
Jackson is a 2-year starter at corner. He was recruited as a wide receiver but switched over to defense his sophomore year because of his aggressive play on special teams as a true freshman. Jackson has excellent corner size at just over 5-11 and 190. He was a top hurdler in high school and shows good play speed. I would estimate his speed at 4.5.
In 2012, Notre Dame played a lot of zone coverage because of the inexperience of the secondary. This year with 3 starters back the Irish are mixing in a lot more man coverage. Jackson is consistent in both man and zone. He has a quick pedal, a good turn and a good burst coming out of the turn. He can also transition quickly. He shows a good jam while in press man and keeps good position in off man with good mirror skills. In zone he is aware, shows range and plays the ball well. He can be aggressive in run support and is an explosive tackler. He has done return work in the past but I don't see him as an NFL returner. On the negative side, Jackson has had 2 shoulder procedures, the last one coming right after last year's National Championship game. Right now I see Jackson as a mid-round prospect but with a strong year and a good Combine, I can see him moving up the charts. This will be an interesting guy to track this season.