September 03, 2013 -
Greg Gabriel
NFL prospect focus: Notre Dame offense
In Saturday's 28-6 win over Temple, Notre Dame's offense put up 543 yards and 21 first downs. Three of the team's touchdowns were over 30 yards and the Fighting Irish had a total of 7 plays for better than 25 each in the game.
One of the reasons for this is the Irish have three starters back on the offensive line, two of whom are 5th year seniors. Zack Martin is a 4-year starter at left tackle and Chris Watt is a 3-year starter at left guard. Both of these players are top NFL prospects. The other top prospect is receiver TJ Jones, who has also started for most of his 4-year career. Some scouts view quarterback Tommy Rees as a prospect but he has been too inconsistent over his career for me to say that at this time. If he plays the rest of the season like he did Saturday he may have a chance of being a late-round pick, though. Let's take a look at all four players.
Zack Martin – Tackle
Martin is a former 4-star recruit from Indianapolis. He redshirted as a true freshman and has been a starter at left tackle since his redshirt freshman year. He flirted with entering last year's draft but decided to stay mainly because he wanted a chance to play with his younger brother Nick, who is the Irish starting center.
Martin does not have great NFL tackle size at 6-4 and 308, but it is more than adequate. He has good bulk and he is very strong. He also has real good athleticism for a tackle. He has quick feet to slide and recover, he plays with bend and has excellent balance. A knock on Martin is that he has 32" arms. I was at the pro day last spring when the Notre Dame underclassmen got weighed and measured and I highly doubt the arm measurement on Martin is correct. He doesn't have 34" arms but they aren't 32" either.
Martin is about as consistent as they come. He is a solid run blocker who can get movement and also get to the second level easily. He gets off the ball quickly, has snap in his hips on contact and very good leg drive. In the pass game he is very patient. He gets and keeps good position on his opponent, has quick hands and a consistent punch. While he lacks massive size, he has such good bend that he seldom gives ground in pass protection. He is very alert and does an excellent job picking up stunts and blitzes.
The player who Martin reminds me of from last year's draft is Syracuse tackle Justin Pugh, who was the Giants' first-round pick. They have about the same size and athletic ability and play with the same temperament. Some teams will look at Martin as a guard but he can easily play either position at the next level.
Chris Watt – Guard
Watt is another 4-star recruit form the Chicago area. Like Martin, he redshirted his freshman year. He didn't start as a redshirt freshman but got significant play time. This is his third year starting at guard. Watt has ideal guard size at 6-3 and 320. He is very thick with good athleticism and plays with strength and power. He lacks the play after play consistency that Martin has but he is still a very effective blocker. He shows good initial quickness and can be explosive on contact. Though he is bigger and maybe has more weight room strength than Martin, he doesn't have that quick-twitch power. He can get tall at times but when he stays low and plays with leverage he will get movement. He is good but not great getting to the second level. There are times where I have seen him take a poor angle or just not have the quickness to get to the block. In pass protection he is very consistent. He shows a strong punch and does a good job keeping his hands inside. He plays with bend and handles bull rushers very well. He has adequate feet and usually mirrors opponents through counter moves but did get beat once for a sack on Saturday. He is good in space and can get out in front of a back on pulls and adjust to a moving target to make an efficient block.
Overall, I don't see Watt as a premium pick (1st or 2nd round) at this time but he could very easily go in the 3rd. Many clubs will try and work him as a center also because versatility gets you dressing on Sunday as a rookie. I think that Watt has starter potential by year two. He has top football character and is very smart and those traits get you playing time in the NFL.
TJ Jones – Wide Receiver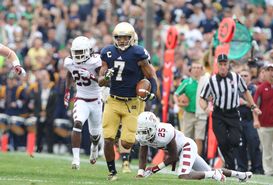 US PRESSWIRETJ Jones had 6 catches for 138 yards against Temple.
Jones is a fourth-year senior from Gainesville, GA. Like Martin and Watt he was rated as a 4-star recruit coming out of high school. Through last Saturday he has 31 starts in his career. This is the first year that he is designated as the Number 1 receiver, though. His first two years, ND had Michael Floyd and last year it was Tyler Eifert. Going into this season he had 111 career catches and 10 TDs. On Saturday he looked very good in the top role with 6 catches for 138 yards.
Jones has adequate receiver size at 5-11 1/2 and 192 pounds. He is quicker than fast, but still will run in the 4.5 range. The Irish use Jones both split out and in the slot. He has good initial quickness and gets into his routes quickly. He is a good athlete who is a good route runner and can break down and get in and out of cuts very quickly to gain separation. He consistently works to get open vs. both man and zone coverage. While not a burner he can get open deep. One of the things that he does real well is run after the catch. He has very good run instincts to go along with a quick burst. He can make the first man miss and get valuable yards after the catch. This year he is being used as a punt returner also but it remains to be seen if he has NFL return value. As a downfield blocker he is willing and more than adequate. He is always looking to make a block on the perimeter.
Overall, Jones is an interesting guy. He has the size, hands and quickness to be a quality slot receiver in the NFL. He can also play outside but I think he could very productive in the slot. Right now I see him as a 3rd to 4th round type but if he keeps playing like he did Saturday then he very easily could go in the 2nd.
Tommy Rees – Quarterback
Rees is a 4th-year senior from the Chicago area. While not a full-time starter, he has started games every year while at Notre Dame. The best thing about Rees is he is smart and very well prepared come game day. He has, at best, average athleticism. He lacks speed and seldom is able to extend plays with his feet. He does not have NFL size at just over 6-1 and 215. His arm strength is average and he doesn't consistently throw a tight ball. Still, he has a quick release and usually is a good decision maker. In the past he has had a problem with turnovers, especially in the red zone. But this past week he was 16 of 23 for 346 yards, 3 touchdowns and no interceptions. He has to continue that type of play if he wants to be in an NFL camp.
Overall, because of his lack of size, athleticism and arm strength I don't see Rees as a player who can get drafted. He can get into a camp as an undrafted free agent with a strong season. He is a good college quarterback with limited NFL traits.