September 01, 2013 -
Greg Gabriel
NFL prospect focus: Ohio State vs. Buffalo
When you look at the final score, Ohio State winning 40–20 over Buffalo, the game looks like a blowout. In reality, it was a bit closer.
In the second half with the score 30-20, Buffalo linebacker Khalil Mack sacked Braxton Miller, causing a fumble and giving the Bulls a 1st and goal at the Ohio State 1-yard line. Unfortunately for Buffalo, Mack was called for unnecessary roughness on the play, giving the ball back to Ohio State. If the play had stood, I have no doubt OSU still would have won but the score would have been closer.
In fairness, Ohio State played without a number of players, including NFL prospects C.J. Barnett (safety) and Carlos Hyde (running back). The Buckeyes also had a number of underclassmen out for the game for various reasons. Still, there were some good prospects in the game and most fared well. Let's take a look.
Kahlil Mack – Linebacker – Buffalo
Going into the game Mack was not the highest-rated prospect in the game, but after his performance he came out as the best. The 6-3, 248-pound linebacker registered 6 tackles, 1 assist, 2 sacks, 2 QB pressures and an interception that he returned for 45 yards and a touchdown (he also had a 3rd sack called back as mentioned above). Mack has been a dominant player in the Mid-American Conference for 2 years and yesterday he showed the nation how good he is.
He can be a dominant pass rusher as well as a consistent run stopper and pass defender. He has great size to play linebacker to go along with very good speed and overall athleticism. He is strong and explosive, a top competitor and is a very quick reactor. He played so well in the first half that Ohio State adjusted its blocking so he would get constantly doubled or chipped.
I have seen Mack play 3 times while in the last 2 years and going into the season I thought he may have a chance to be a 2nd round pick. That thinking now has to be adjusted. If he continues to play like he did against Ohio State he could very well be a first round pick. Mack is a perfect fit to play OLB in a 3-4 but he can also be a Sam linebacker in a 4-3 and be used as a DE in passing situations. This is a very talented player who is no longer under the radar.
Alex Neutz – Wide Receiver – Buffalo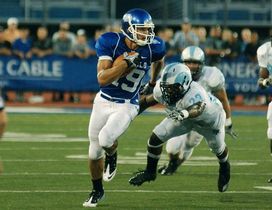 Alex Neutz is a big, physical receiver with average speed.
Neutz was Buffalo's leading receiver a year ago with 65 catches for over 1,000 yards and 11 TDs. He started this season in a strong way with 9 catches for 98 yards and a touchdown. Neutz is a big, physical receiver with average speed. He is about 6-3 and 210 and plays to 4.6 speed. He has good body control and is a good route runner and works to get open. If the ball is close, he catches it. While he has made some deep plays in the past I don't see him as a deep threat at the next level. He has the talent to be a good possession receiver at the next level. At this time I see him as a late round pick, but if he runs well at the Combine he could go as high as the 4th round.
Jordan Hall – Running Back – Ohio State
Hall has been a career backup at Ohio State, and if Carlos Hyde had not been suspended for the first three games this year he would have been a backup this year. With a chance to start, Hall made the most of his opportunity. He had 21 carries for 159 yards and 2 TDs against Buffalo. He also caught 3 passes for 14 yards. Hall is not a big guy, measuring 5-8 and 195 but he is very quick and fast with an instant burst. While not a top after contact runner, he has good balance and vision. If he sees an opening he has the ability to make a quick cut to find daylight. With his speed, once he gets in the open he is very dangerous. He was only used as a check down receiver in this game but did catch the ball well. He was adequate as a pass blocker. Going into the game, Hall was thought of as a free agent type. His play Saturday has already changed that but still he has to play well in games against top competition to be more than a late pick.
Jack Mewhort – Tackle – Ohio State
Ohio State has a few offensive linemen who are prospects, but the best is left tackle Jack Mewhort. Mewhort has excellent size for the position at about 6-6 and 310. He has good arm length, plays with strength and can bend. He was the only Ohio State blocker who could block Buffalo's Mack. Wewhort showed very good run blocking skills in this game, consistently getting movement and being able to get to the second level on a consistent basis. He shows good "pop" on contact to go along with good leg drive. He is a consistent finisher. In the pass game he is able to set quickly. He has a good punch and can mirror opponents through moves. He shows quick feet, good bend and can recover. You seldom see him give ground to a bull rush. Buffalo's defensive line was not that good, so I want to see Mewhort against better competition but off of Saturday's play he looks to be a premium round pick.