September 08, 2013 -
Greg Gabriel
NFL Prospect Focus: Penn State
Penn State struggled with Eastern Michigan early but then put together a very strong second half to beat whip Eastern 45-7. Penn State does not have their usual high number of NFL prospects in this year's senior class. From my early look it looks as if they have 3 seniors that are draftable. They would be defensive tackle DaQuan Jones, linebacker Glenn Carson and offensive guard John Urschel. They also have a junior wide receiver who many believe will also enter the draft next spring. That would be Allen Robinson who has started the season with 2 strong games. Robinson and Jones have the talent to be premium picks.
DaQuan Jones – Defensive Tackle
Jones is a 4th year senior and a 2 year starter at defensive tackle. In the first two games this year he has 18 total tackles and 2.5 sacks. In the game versus Eastern Michigan Jones I had Jones for 9 total tackles and 1.5 sacks.
Jones has good size for a defensive tackle. At about 6'3 – 304. He usually lines up in a 1 or 2 technique but will be at the 3 technique on some downs. He is not an explosive, flashy athlete but rather a good blue collar type who plays hard every down. He has good overall athleticism with balance, quickness and good change of direction. He doesn't have great speed, I would estimate his play speed at 5.15 – 5.20. He has good snap reaction and good initial quickness. He is quick to react with good instincts. He is around the ball. He shows strength and power at the point of attack and can get rid of blocks fairly quickly. He plays with bend and you don't see him get knocked off the ball. He can handle a double team block. He makes a number of tackles because he is around the ball and can get rid of blocks. He is not flashy as a pass rusher, showing more bull rush than moves. He will flash a counter move but that is not his game. He has an adequate burst to the quarterback.
Overall, Jones doesn't jump out at you but you look at the stat sheet and you see he has made a number of plays. He should be able to play in either a 3 or 4 man front, but may be best suited to play in a 4 man. In a 3 man front I see him at 4 or 5 technique. Would need to add bulk to play on the nose. At this time I see his ceiling as a 2nd round pick but will probably end up going in the 3rd. Interesting guy to look to upgrade later in the season.
Allen Robinson – Wide Receiver
Like Jones, Robinson has started the 2013 season very well. In 2 games he has 14 catches for 262 yards and 2 touchdowns.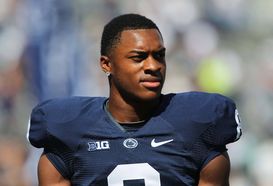 USPRESSWIRERobinson has the natural traits to be a very good NFL receiver
Jones is a 3rd year junior from Southfield, Michigan. He played as a reserve in 2011 and became a starter in 2012. As a sophomore he caught 77 passes for 1013 yards and 11 touchdowns. He has excellent size at about 6'2 – 210. He has very good play speed and I would estimate he can run the 40 in about 4.48. He is a very smooth athlete with quickness, a burst and very good body control. He has a way of making things look easy. Penn State is playing with a true freshman quarterback and because of that you don't see Robinson run a number of different routes. He is used most often on bubble screens but I have also seen him used on outs, crossing routes and streaks. With his change of direction and body control he can make a sharp cut and get separation. Once the ball is in the air he has a good burst to go get it. He has very good hands and can snatch the ball. He shows real good ability to adjust to the ball. As a runner he is quick, smooth and elusive. He has strength as a runner and can break tackles.
Overall, Robinson has the natural traits to be a very good NFL receiver. I like his size, speed, hands and athleticism. Even though he is playing with a freshman quarterback he has top production. If he decides to come out he has a chance to be a high premium round pick
John Urschel – Guard
Urschel is a 5th year senior and a 3 year starter at right guard. He has adequate size at about 6'2