January 11, 2014 -
Greg Gabriel
NFL prospect focus: Saturday 3-pack
The number of underclassmen declaring for the 2014 draft is growing every day. There are now over 80 entries and that number could reach 100 before the cutoff date of January 15. Of those who have already applied, there are 19 wide receivers, with at least eight who have the talent to be selected in the first round. When you include the senior wideouts, this class has the potential to be one of the deepest ever at the position. Clubs looking for a top receiver could find one as low as the third round simply because only so many can hear their names called prior to that point.
Today we'll take a look at one of those receivers (Florida State's Kelvin Benjamin) as well as Notre Dame tight end Troy Niklas and running back George Atkinson III. It's my opinion that Atkinson made a big mistake by leaving Notre Dame early.
Kelvin Benjamin – Wide Receiver – Florida State
Benjamin is a third-year junior with this season serving as his first as a starter. He redshirted in 2011 and played as a rotational player in 2012. That year, Benjamin caught 30 passes for 495 yards and four touchdowns. This year, he became a starter and his production soared to 54 catches for 1,011 yards and 15 scores.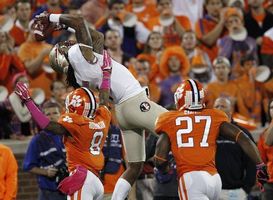 Benjamin scored 15 touchdowns in 14 games this past season.
Big receivers are in vogue right now and Benjamin is as big a receiver as you will find in this year's draft class. He is listed as being 6050 – 234 with very long arms. He could easily be a 240-245 pound receiver once he fills out. For as big as he is, Benjamin is a very good athlete. He should run in the 4.50 range with the possibility of turning in a faster time. He has good body control and flexibility, but as a route runner, he's still a bit raw. While Benjamin can break down and get in and out of cuts, he can be sloppy with his routes and does not consistently finish. He has good hands and tracks the ball well. I have seen him make some circus catches, but he is also good for at least one concentration drop per game. With his size, Benjamin can create a number of mismatch opportunities. While he is 6'5, he plays taller with his long arms. He has very good leaping ability and is extremely difficult to defend in the red zone. On the tape I've watched, the Florida State wideout is effective as both a short and deep receiver. He will compete for the ball in traffic and is very good at running after the catch. He has a quick burst, is very strong and difficult to bring down. In addition, Benjamin is both willing and effective as a blocker.
Overall, Benjamin is still raw, but has a high ceiling. He is only going to get better with experience. Because of his size, he can be used a number of different ways at the next level. While he has the talent to be drafted in the first round, because there are so many good receivers, I see him more as a second round pick at this time. Remember, South Carolina standout Alshon Jeffery went in the second round two years ago.
Troy Niklas – Tight End – Notre Dame
Niklas is a surprise entry into the draft. This was only his second year at the position and his first year as a full-time starter. He was an offensive and defensive lineman in high school and was recruited by Notre Dame to play on the defensive line. When Niklas got to school his first year, the Irish staff saw what kind of an athlete he was and converted him to outside linebacker. Most of his playing time as a freshman came via special teams. Because of his athleticism, Niklas was moved to tight end in the spring of his freshman year. He played as a backup in 2012, but still started a number of games and got a lot of playing time when Notre Dame went to two tight end sets. Niklas' role was mainly as a blocker and as a result, he caught only five passes for 75 yards and one score. This year he became the team's top tight end and upped his receiving production to 32 catches for 498 yards and five touchdowns.
Niklas is a huge tight end. He will measure in the neighborhood of 6064 – 265 at the Combine. He is very athletic for a big guy. He has speed, very good change of direction and body control. I would estimate that Niklas will run somewhere in the 4.67 to 4.72 area. In addition to his big size, Niklas is very strong. He is probably the best blocking tight end in this year's draft. While watching tape, you can see him consistently knock opponents four and five yards off the ball. He is explosive and nasty as a blocker and consistently looks to finish. He shows good pass blocking ability, but gets beat at times only because he still lacks top pass blocking technique.
Niklas has just begun to scratch the surface of his receiving talent. In 2012, you couldn't trust that he was going to make the catch because he struggled a bit adjusting to the ball while it was in the air. However, Niklas showed great improvement in that area this year and made some very difficult catches. As a route runner he is still raw, but he has good initial quickness and can get in and out of his cuts quickly. He catches the ball well and really knows how to use his body to shield a defender. He is very good with seam routes and corner routes and when in the red zone, Niklas is a nightmare to defend because of his size.
Overall, there is not a tight end in this draft who can block as well as Niklas. He will only get better as a receiver with experience. The team that drafts the Notre Dame tight end will do so because of his high ceiling as a receiver. As a rookie, he will be a regular in two tight end sets and could really help in the running game, but it may take him a year to become a top receiver. In saying that, it wouldn't surprise me to see him taken as the second tight end in this draft. I see him going in the later part of the first or early in the second round. Once developed, he has to the potential to become a Pro Bowler.
George Atkinson III – Running Back – Notre Dame
Atkinson is a third-year junior and the son of former Oakland Raider George Atkinson, Jr. During his first two seasons at Notre Dame, Atkinson was a role player and a kickoff returner. He began the 2013 campaign as a starter, lost his job by midseason, but still got some carries as a rotational back. He finished the season with 93 carries for 555 yards and three touchdowns. His career kickoff return stats are 88 returns for 2,136 yards and two scores. His career average per kick return is 24.27 yards.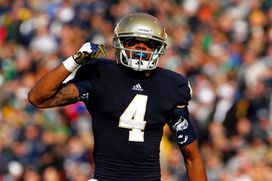 Atkinson has a lot to work on before draft day.
Atkinson has great size at approximately 6015 – 218. He has a strong-looking lower body, but is still lean in the upper body. He has great speed and if he gets invited to the Combine, Atkinson might be the fastest back in Indianapolis. He has been timed in the 10.5 area in the 100 meters. As fast as he is, however, Atkinson is not a great athlete. He has good, but not great, change of direction and body control. As a runner, he has good initial quickness, but consistently runs tall and exposes his body. While he shows he can be a hard runner, he is not very instinctive or creative. He is a one-cut guy and that one cut isn't always the right one. He flashes as an outside runner, but isn't as patient as he could/should be. Still, if he finds an opening, once in the open field he can take it the distance because of his speed. He is not the most elusive guy, but has gotten better at making the first man miss.
As a receiver, Atkinson has some issues. He has poor hands and struggles to adjust to the ball. He has had a number of drop s and isn't reliable. The same can be said about his blocking abilities. Atkinson doesn't show consistent effort, lacks technique and isn't tough. The one thing Atkinson can do well is return kickoffs. He shows more patience returning kicks and does a good job finding the open seam. He is not the type to make many miss, but with his speed all he needs is an opening. He does not return punts mainly because he doesn't track the ball well and can't be trusted to catch it.
Overall, Atkinson should not have declared for the draft. The problem was that he alienated the Notre Dame coaching staff and was suspended for their Bowl game. The report was that Atkinson was suspended because of texting during the team pregame meal, but according to sources, there was a lot more to it than that. If he had stayed at Notre Dame for the 2014 season, he may not been more than the fourth back. With his speed and return ability, Atkinson may get drafted, but he doesn't have the skills to be much more than a kickoff returner. Because of his poor hands and blocking, he can't be trusted as a running back.
Follow Greg on Twitter: @greggabe