August 31, 2013 -
Greg Gabriel
NFL prospect watch: UNC vs. South Carolina
North Carolina and South Carolina kicked off the 2013 college football season with a physical game that also had a 1 hour, 45 minute lightning delay in the 4th quarter.
These days it's unusual that we see two top teams play one another this early in the season unless it's a "Classic" game at a neutral site. If you polled the college coaches, most would rather open the season against a low-rated team so their team could build some confidence.
This game had a number of highly rated NFL prospects in it, including the odds-on favorite to be next spring's first overall pick in Jadeveon Clowney. Let's take a look at their play.
Jadeveon Clowney - Defensive End - South Carolina
Many in the draft analyst community including myself have written up Clowney as one of the best players in America. Unfortunately, he did not live up to his reputation in this game.
The first thing that jumped out at me was that Clowney was not in game shape. In fairness, Clowney has missed a good portion of preseason practice with an undisclosed injury…it showed! After just a couple of series he looked exhausted. We saw flashes of what he can do but it was not a consistent down after down performance. I don't know what the official stats were but I had Clowney down for 3 tackles, 1 assisted tackle and 2 quarterback pressures. Clowney was not as explosive off the ball as I have seen him in the past and he rarely used moves. He showed a bull rush a few times and used an arm over move often but I didn't see counter moves more than a couple of times. Where he was best was in pursuit where he showed his speed and competitive nature. His lack of conditioning showed up in long series, though. He would start off some series playing hard but by the end of that series his effort slacked off. He seemed to pick and choose when he wanted to play hard.
Overall, I am not going to downgrade Clowney off of one average game because I have seen too much excellent tape from the last two years. Still, it's a red flag so to speak. He has 10 days to get his act together and turn around his performance. Next week the Gamecocks play Georgia.
Connor Shaw – Quarterback - South Carolina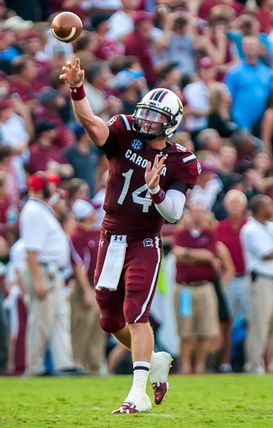 US PRESSWIREConnor Shaw has better than average arm strength as well as good accuracy and shows good ball placement.
Shaw is not a top-round type of quarterback but he is a tough, gritty type player who comes up with big plays week after week. Thursday night he threw a 65-yard touchdown pass on the Gamecocks first series.
Shaw doesn't have great size (6-1 and 205), but he is very athletic with better than average speed. He is a top leader and competitor. He finished the game completing 11 of 20 passes for 149 yards and 1 touchdown. He threw no interceptions. He rushed for 43 yards on 12 carries. Shaw has a little better than average arm strength but also has good accuracy and shows good ball placement. He plays in a spread offense and shows good ability to read the field and he is a good decision maker. Because of his speed, strength and athleticism he will often take off with the ball when a pass play isn't there. When he decides to run he is more like a running back than a quarterback. He runs hard and is fearless.
Overall, at this time I don't see Shaw as a future NFL starting quarterback but I think he can be a good backup. His passion for the game and leadership skills stand out and those are two important traits for an NFL quarterback.
James Hurst – Tackle – North Carolina
Hurst lines up at left tackle for North Carolina and in all honesty he outperformed Clowney when they went against each other. Hurst has size (6-7 and 310) and is very strong and competitive. He is not the most athletic tackle but he plays hard on every snap. He knows how to use his hands and he has power on contact. While not a top athlete, he knows angles and took away the edge from Clowney. He is not a top knee bender, but he keeps his back straight, has a strong punch and can anchor. He is just average at recovering when his opponent uses a counter move. He is a consistent run blocker and can get to the 2nd level but can be a bit inconsistent adjusting on the move. Overall, off of this game, I don't see Hurst as an NFL left tackle but he could play on the right side or move in to guard. He looks to be a future NFL starter and will get drafted in the early part of the draft. What he lacks in overall athleticism he makes up for with competitiveness and power.
Kareem Martin – Defensive End – North Carolina
I was looking forward to watching Martin play because of his size (6-6 and 260). He has prototype 4-3 defensive end numbers. I came away disappointed because I thought his play was average. While he is tall and long he is not fast or explosive. He looks to be a 4.9 type. He flashes as a competitor and shows just average strength and power. He looks to be high cut, and has average change of direction. He can look good one play going all out and then look just like an average player the next few snaps. He lacks quick hand use and can be a little slow to shed. Still, he made some effort plays but I would not call him a consistent finisher. He had some quarterback pressures but they were mainly because the quarterback was chased his way. Overall, Martin has to pick up his intensity and improve his hand use. At this time I don't see him any better than a late pick. This is a guy that I will need to see a lot of tape on. It's only opening night so there is plenty of time.
Bryn Renner – Quarterback – North Carolina
Renner is another player who came into the game with a lot of hype but then played average. He has excellent size at 6-3 and 225 but he is just an average athlete with average speed. He finished the game completing 26 of 43 passes for 194 yards and 1 touchdown. He has an average NFL arm and does not throw a consistent spiral. While he seems to be able to read the field well and make good decisions his accuracy and ball placement were off in this game. There were many times when he had an open man and couldn't get the ball to him. One of the reasons was he was not always in balance when making his throws. When he didn't set his feet before the throw the ball sailed. He was high on a number of throws. While Renner had a feel for pass rushers, he lacks the overall athleticism to make many plays with his feet or extend plays on a consistent basis. He is not a threat as a runner and his accuracy when throwing on the run is average. What also stood out to me was he was not a playmaker. Quarterbacks need to make plays on a consistent basis. Renner was unable to do that versus South Carolina. He still has 11 games to pick up his play but he has a long ways to go after Thursday night.