January 21, 2011 -
Greg Gabriel
NFL week in review
Late last week, my colleague Jack Bechta wrote a post about how ruthless the agent business can be. Having been involved in the NFL for almost 30 years, I can attest to that.
I have many friends who are in the agent business and over the years I have received numerous calls from them asking about players they are about to recruit. They want to know if it's worth their while to recruit a certain player. They want to know if I see the player as a potential high-round player and they would like to know some basics about his character. Is he a good person that they can trust or should they just stay away? Over time you get to know an agent, and by that I mean you know how he does business, what kind of players he recruits and how a player's character plays into the equation. If I thought that a certain player was not a "fit" for his business, I would tell him.
Some agents will forget about the negatives if they think the player is going to be a high first-round pick. Let's face it, they are in the business to make money and if a player is going to be a premium pick, the agent commission they earn is a large sum of money. Just do the math. If a player has a 5-year deal worth $20,000,000 and the agent is getting the standard 3 percent fee, he stands to make $600,000 over the length of the contract. But until a contract is signed there are risks.
In a recent draft an agent friend had a player drafted very high. He put a lot of work into this player. He got him prepared for his Combine and pro day workouts, where the player excelled. This player had some rough edges so the agent had professionals work with him so that when he went through the interview process he would do an excellent job. The player had some issues but the agent did an excellent job "fixing" those issues and by draft day the player was looked upon very favorably by NFL clubs. In other words, the agent did everything in his power to help this player get drafted as high as he did. Within a few weeks of the draft, the player dropped the agent to go with a guy he felt more "comfortable' with. In the end this agent had put in months of work to help the player and got nothing in return. Yes, it can be a very ruthless business.
Free Agency after the Draft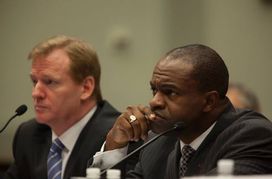 ICONUnless there is a new CBA by the draft, there will be no post-draft free agency.
While down at the East-West game practices earlier this week, I found out something that I didn't previously know about this year's draft. I can also bet that many college players in the draft also do not know this fact.
Every year when the draft ends there is about a four-hour period that is very fast-paced and "crazy" so to speak: getting undrafted free agents signed. Unless there is a new Collective Bargaining Agreement by the draft there is no post-draft free agency. When the draft ends, that's it. The hundreds of players who usually were signed shortly after the draft ended will not be signed this year. They will not know if they have a home until there is a new agreement. If the league and the union have a deal by the draft then great — it will be business as usual. But with no deal in place, these kids will have no idea if they will be able to chase their dream.
To the outsider this may not seem like much, but to the player it's huge. When a player gets signed as a free agent after the draft he is just like the draft choices. He takes part in the remainder of the offseason program, participates in the OTA's and really gets an outstanding opportunity to show the coaches what he can do. He has a lot of time to leave an impression. If there is no CBA until right before camp opens these kids may still get their chance, but it's not anywhere near the opportunity they have had in past years. Time is always of the essence — but this year it may not be.
The Weekend
If you're an old football purist you have to love the championship games being played this weekend. All four teams are northern teams that play in outdoor stadiums. These players are used to playing in the elements and this weekend they will be playing in the elements. The Sunday forecast for both Pittsburgh and Chicago is cloudy, with a high of 18 and a chance of snow flurries.
With the Bears and Packers being division opponents both know each other extremely well. I look for a very physical, low-scoring game. In the last month, Green Bay has been playing its best football of the year. Three weeks ago in Green Bay they beat a Bears team that played their starters the whole way. For some reason, the Bears don't match up as well when playing 3-4 teams, so I look for the Pack to win by 3.
Though the Steelers and Jets are not in the same division they played each other in Week 15, so there is a lot of familiarity. The Jets won that game, the difference being Brad Smith's 97-yard kickoff return for a TD. Pittsburgh is playing good football and they are at home. On top of that, Ben Roethlisberger is a playoff veteran. Steelers by 3.
Just a footnote: the way my predictions have gone this season, the people in Chicago and New York ought to be real happy!
Want to work in the NFL? Click here to sign up for the NFP's "Chalk Talk at the Combine" Seminar February 25 in Indianapolis.