August 12, 2013 -
Greg Gabriel
NFP preseason rookie report: Bears
The Bears did not win their opening preseason game versus Carolina but there were a number of rookies who got significant playing time and may challenge for starting roles when the season begins in three weeks.
Kyle Long
Long did not start last Friday but played well over a half at right guard. His play was not only good but consistent. He has very good initial quickness and is a powerful run blocker. He gets into his run blocks very quickly, locks on and works to get movement. He consistently looks to finish blocks and when free will try to find a second block. He was good getting to the 2nd level, adjusting on the move and making a productive block. He likewise was dependable with his pulls. He can pull either way, showing quickness and speed with the ability to be able to adjust to a moving target. In pass protection he was again very consistent. He sets quickly, shows a quick strong punch and keeps his hands inside. He did a good job mirroring his opponent and plays with bend and does not give ground. It won't be long before Long is the starting right guard in Chicago.
Jordan Mills
As I write this, it has been reported that Mills has been moved up to the starting right tackle job. Former starter J'Marcus Webb struggled with his play vs. Carolina and vet Jonathan Scott has been out with a knee injury. Mills, who like Long played more than a half, played well. This Thursday in the Bears next preseason game versus San Diego the right side of the line could be manned by rookies.
Mills was the Bears' 5th-round pick from Louisiana Tech. He has great size at 6-5 and 315. He is long with good athleticism. He showed good lateral agility and recovery ability Friday night. He plays with bend and can anchor. I thought his run blocking was good. In most cases he was able to stay low and generate some movement. When he got tall he would give some ground to his opponent. There was one play where he may have missed an assignment and Carolina was able to get a sack. He also got called for holding when he didn't keep his hands inside. Still, his overall play was good and something to build on. He is far from a finished product but has the tools to be a winning right tackle in the NFL.
Jon Bostic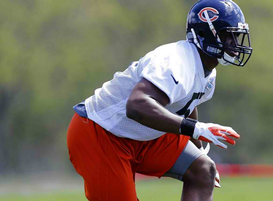 Jon Bostic ran back an INT 51 yards for a Bears touchdown on Friday night.
With starter D.J. Williams missing the game because of injury, Bostic got the bulk of playing time versus Carolina and performed well in his first NFL game experience. I thought that during the early part of the game he was a little tentative but got better as he felt more comfortable. Early on he was late to pick up a receiver on a crossing route in the red zone and the result was a Carolina touchdown. A little later he dropped into a short zone, played the ball well and intercepted it and ran it back 51 yards for a Bears touchdown.
In the run game he was best in pursuit. He can run and takes good angles showing excellent effort. Where he needs to improve is with the inside run. While his recognition skills are good, he can be slow to shed blocks when the guard gets out to him and that prevents him from making the play. When he is able to make the play, he is an aggressive tackler. If he can build off this game he has a chance to be a starter this year.
Marquess Wilson
Wilson was the Bears' 7th-round choice out of Washington State. The 6-3, 194-pound receiver is still very young at 20 years old and has a long lean frame. What he can do is run, catch the ball and get yardage after the catch. He has sub 4.5 play speed and knows how to get open. He finished the game with 4 catches for 82 yards. He runs good routes and does a good job working to get open. He showed he was not shy in traffic and did a good job holding on after taking good hits. Once the ball was in his hands he shows a burst and good run instincts.
Going into the draft, Wilson had second-round talent, but he was suspended from the Washington State team after a run-in with head coach Mike Leach. The word was that Wilson is not a bad kid, just immature. If he can keep his head screwed on straight, the Bears got themselves a 7th-round steal who just may contribute this year.
Khaseem Greene
Greene is the Bears' fourth-round pick from Rutgers. He played as the backup Will linebacker in this game. He finished with 5 tackles including a big hit for a loss. He also had a special teams tackle. He has good size at about 6-1 and 240 to go along with good play speed. He is instinctive and aggressive. He is quick to find the ball and makes plays. Like many rookie linebackers he has to learn to use his hands a little better and shed quicker. Unless there is an injury to a starter, I don't see Greene being a starter but he can be a valuable teams player as a rookie.