August 10, 2013 -
Greg Gabriel
NFP preseason rookie report: Bengals
With the preseason starting, we will try and take a look at as many rookies as possible and watch their progress.
First preseason games are awful to watch, almost as bad as a root canal. There is poor execution and plenty of penalties. It's tough to evaluate team work but fairly easy to evaluate rookies on their play. You look for their ability to carry out an assignment, physical and aggressive play and some sort of consistency. We have to remember that they have only been in camp two weeks, so mistakes will happen. Also we can't just evealuate how they do in games, practice is just as if not more important.
Cincinnati has an impressive group of rookies and most got plenty of play time Thursday night. I was abe to study five of them, led by first-round pick Tyler Eifert.
Tyler Eifert

It looks as if the Bengals are going to be playing plenty of two tight end formations. With the speed and athleticsm Eifert has he is a perfect fit for what the Bengals want the 2nd tight end to be. Eifert lined up both in tight and split out. He only had one opportunity to catch a pass in this game and that was on a short out when he was the "hot" receiver during a blitz. The play was called back because of a penalty but Eifert showed good hands. He ran just short routes but showed good ability to uncover and get seperation. He was more than adequate as a blocker. He has good "pop" on contact and looks to finish his blocks. His abiity to block in space downfield was also good.
Giovani Bernard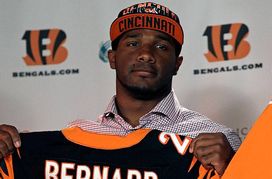 Giovani Bernard was the first running back taken in this year's draft.
Bernard was the Bengals 2nd round pick and the first running back taken in this year's draft. Bernard is short but has a thick build. He is quick to the hole and runs with good lean. He showed good ability to follow his blocks. He has top balance and shows the lower power to break tackles and get yardage after contact. It looks as if the Bengals want to use Bernard often as a receiver. He has good hands and can adjust to the ball. He had 1 drop on a pass that was short and behind him. Where Bernard was inconsistent was in his pass protection. He showed a good willingness to step in and face up a rusher but was overpowered once by a blitzing linebacker. Still, technique-wise he was fine. He will improve in this area with game experience. Bernard was also used to return one punt. He returned the kick about 11 yards but at this time I don't see him as a No. 1 return type...he is more of a good backup type as a returner.
Tanner Hawkinson

Hawkinson was a 5th round pick from Kansas. When I watched him last year he looked like a solid 3rd round type during the season. On his pro day he struggled with the bench press, only doing 13 reps. It turned out he was lifting with a jammed wrist and that had an effect on his poor lifting that day. Still, that scared off some teams and he dropped to the 5th round.
In this game, Tanner played both left guard and left tackle. He showed good ability to both run and pass block. He stays low, has good leg drive and finishes. In pass pro he was able to set quickly, use his hands and mirror. He got bull rushed one time but other than that I thought he played well. About midway through the 4th quarter his left leg got rolled up on and he was taken out of the game. At this time I don't know the extent of the injury. If he is healthy, Hawkinson has a chance to be a quality reserve for the Bengals because he can play more then one position.
Margus Hunt

Hunt was a 2nd round pick from SMU. He lined up at left end in the Bengals 4-3 defense. Hunt is about 6-8 but he is very strong with excellent athletic ability for such a tall guy. The best thing Hunt did Thursday night was bull rush. On a few occasions he was able to drive his opponent back into the quarterback. In the run game Hunt shows good ability to hold the point but I thought that he was tentative with his reads. He is not always playing at full speed because he seems unsure of what to do. This is common with rookies early in their first preseason. They feel like they are playing at full speed but aren't because of their uncertainty. Hunt also has a tendency to get tall and this can hurt his ability to shed quickly. Overall, I like Hunt's talent but with his limited football background he may not be much more than a situational pass rusher as a rookie. I can see the light turning on in another year.
Rex Burkhead

Burkhead was the Bengals 6th round pick from Nebraska. He is a very sound football player who does a lot of things well. What he lacks is great top-end speed. At the running back position quickness and instincts can be more important than long speed. Burkhead showed very good inside running ability with good vision and instincts. He runs low with strength and power and gets yards on his own. He did not get an opportunity to catch any passes, but at Nebraska he was an excellent receiver out of the backfield. The other thing that stood out about Burkhead's play was his coverage ability on the punt unit. He had a very good open field tackle. This is going to be a player that is very hard to cut because of his overall play and ability to play on special teams. Don't be shocked if Burkhead is playing in the rotation by midseason.