August 14, 2013 -
Greg Gabriel
NFP preseason rookie report: Bills
The Philadelphia Eagles were supposed to have the fast-paced offense in the NFL this year. After watching Buffalo blow out Indianapolis Sunday, it's the Bills who have jumped to the lead with a quick no-huddle offense.
The amazing thing about it was the Bills used two quarterbacks in this game and both were rookies. First-round pick EJ Manuel played the first half and undrafted free agent Jeff Tuel from Washington State played the second. Neither played like a rookie which means the future may be bright for the Buffalo Bills. Manuel and Tuel weren't the only rookies to jump out in the game. Let's take a look.
EJ Manuel
Manuel started the game and played the entire first half. He started a little slowly and seemed a bit tentative but came on strong in the second quarter. In the final 2 minutes he led a 94-yard drive for a touchdown going 8 for 8 and a TD during the drive. He finished the half going 16 for 21 for 107 yards, 1 touchdown and no interceptions.
Manuel is a big guy at 6-4 and 235. He is also very athletic and has excellent speed. He showed patience in the pocket and if he couldn't find an open receiver he ran. He has excellent run skills showing his speed to go along with good run instincts. With his running skills, defenses have to be prepared and that has to help the Bills offense.
Watching tape last fall when I was evaluating Manuel, it worried me that he played in a strict half-field offense. I watched 7 or 8 tapes and never once saw him look to the back side of the field to find a receiver. That was not the case Sunday. He did a good job going through a progression and made good decisions. While he has a very strong arm and throws a tight ball he can be a little deliberate with his delivery. Even though he is making good decisions he needs to get the ball out of his hands a little quicker. While he may not have the quickest release, he did throw with accuracy and for the most part his ball placement was good, especially on that final drive of the first half. For an opening preseason game I thought he played very well. He showed a lot of poise for a rookie and made plays when he needed to. This will be a good game for him to grow on and I have no doubt that come opening day he will be the starting quarterback in Buffalo.
Jeff Tuel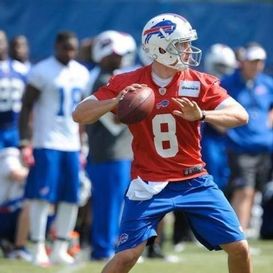 Jeff Tuel threw for 212 yards and 2 touchdowns with no picks in his debut.
I did not see Tuel last fall so this was my first exposure. If this game was an indication of his talent I don't know why he wasn't drafted. Reportedly there were durability and arm strength concerns with Tuel. In this game he may have been more impressive than Manuel. He finished the game completing 19 of 23 throws for 212 yards and 2 touchdowns with no interceptions. He ran a no-huddle offense most of the time and was very impressive with his leadership and poise. He did a great job lining other young players up and still getting the play off very quickly.
While he does not have a cannon for an arm, it is good enough and he throws a tight ball. He has a very quick release and his accuracy and ball placement were excellent. I don't think I saw him throw a poor pass. He got sacked once and the refs ruled the play a fumble but it looked as if he was throwing the ball when he got hit. Other than that play, he was near flawless. I was surprised how comfortable he was with the offense. He does a real good job reading the field and was calm going through a progression. More than a few times he threw to his 2nd or 3rd receiver. Overall, Tuel has to be a steal for Buffalo. Kevin Kolb better hope he can get back on the field or may lose out as being the primary backup
Marquise Goodwin
I don't know if Goodwin even lined up as a receiver in this game. He wasn't thrown any passes. What he did do was make his presence known as a kick returner. He returned 2 kickoffs for a total of 160 yards and a touchdown. The opening kickoff was returned for 53 yards. He was one cut away from taking that all the way back. In the 2nd quarter he caught a kick 7 yards deep in the end zone and didn't hesitate to bring it out. Goodwin is not a dancer, he is an explosive north/south returner who gets to the seam very quickly. Goodwin has world class speed and when he gets in the open field it's all over…put 6 points on the board! Reportedly he has shown good hands and route running skills in camp so I am anxious to see how he does as a receiver.
Robert Woods
Woods was the Bills second-round pick out of USC. After his 2011 season I thought he was a sure first-round pick, but with Marqise Lee coming on strong in 2012, Woods became USC's No. 2 receiver and that hurt his draft stock.
Woods started for the Bills on Sunday and finished the game with 4 catches for 32 yards and no touchdowns. He did not have a drop. Woods was used mainly on short to medium range passes. He gets off the line quickly and showed good ability to get open. He can make quick cuts to gain separation. He has sure soft hands and can get yards after the catch. He may be Buffalo's No. 2 receiver this year as a rookie. An excellent pick.
Kiko Alonso
Alonso was the Bills other second-round pick last spring. He started the game at Mike linebacker. He has excellent size and strength to go along with average to good play speed. Alonso showed good instincts and reactions and was around the ball a lot. He finished the game with 3 tackles and a pass breakup. Where I feel he needs to improve is shedding blocks at the point. There were a few plays where he chose to go around a block instead of taking on and going through the block.
In coverage it looked as if he was beaten on a seam route for a TD but did an excellent job stripping the ball from the receiver. On another play he was beaten by a running back in the flat. This is where his lack of top-end speed showed up. Still, he is a good player who can be physical and should upgrade the Bills in the middle.