August 19, 2013 -
Greg Gabriel
NFP preseason rookie report: Browns vs. Lions
When I tuned into the Browns-Lions game, the player I wanted to see the most was the Browns' first-round pick Barkevious Mingo, the pass rusher from LSU. However, he suffered a bruised lung early and I wasn't able to evaluate his play.
Still, there were other rookies in the game that showed they may be able to play in the NFL. Here are a few.
Ziggy Ansah – Detroit
Ansah was the Lions' first-round pick from BYU. Going into the preseason I thought that because of Ansah's limited experience in football he may only be a situational player this season. That still may be the case, but he started this game and played most of the first half at right end. The thing that stands out about Ansah is his length. He has very long arms and plays with strength. He is still raw as far as hand use and can be slow to shed at times but there were a few plays where he was able to get rid of the block quickly and make the play. He shows good pursuit effort, taking good angles and he has speed. As a pass rusher he lined up both inside and outside. In some pass rush situations he lined up as a defensive tackle. He has good quickness off the ball but can get tall at times. He needs to develop his hand use as a pass rusher. In this game the best thing he did was bull rush. I didn't see any counter moves. Once he learns, he has a chance to be a very good NFL pass rusher.
Larry Warford – Detroit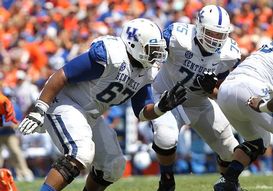 US PRESSWIREIt won't be too long before Larry Warford is the starter at right guard for the Lions.
Warford, the big guard from Kentucky, lined up at right guard in the 2nd and 4th quarters. I don't think it will be long before he is the starter at right guard. Warford has great size to go along with strength and power. He gets off the ball quickly and has some snap to him on contact. He is able to get some movement with his run blocks and is a very effective pass blocker. In pass pro he can set quickly and has quick hands. He shows a strong punch and was able to control his opponent with his hand use. He is a natural knee bender with good ability to anchor. He has the feet, balance and agility to stay with opponents through counter moves. He showed very steady play in his half of play time. This player is going to be a very steady pro.
Theo Riddick – Detroit
Riddick didn't play until midway through the second half but he showed very steady play. He isn't big, fast or flashy, just a solid football player who does a lot of things well. As a runner he is quick to the hole with good vision and instincts. He has quick feet to change direction in the hole and can find a seam. He is strong and can get yards after contact. As a receiver he is sure-handed and reliable. He can adjust to the ball and is quick to get up field after the catch. The part of his game that surprised me was his pass blocking. He picked up a blitzing linebacker on one play and put him on the ground. He will face up and show some anchor. I don't ever see Riddick as a starting back in the NFL but he can be a valuable reserve. While he didn't return kicks in this game he was better than average in college. He has the toughness to be a good special teams player. He may have limited traits but he is a football player.
Garrett Gilkey – Cleveland
Gilkey was a late-round pick out of Division II Chadron State in Western Nebraska. He has excellent size at about 6-5 and 320. He got more than a half of play time in this game and played both guard positions. When Jason Pinkston got injured, Gilkey had to come in and play versus the Detroit first defense. Early on he got abused by Ndamukong Suh. On one play Suh literally lifted him off the ground and pushed him back into the lap of the quarterback. His play early was tentative but in all honesty he got better as the game went on. He had to pull a few times but looked better pulling to his left. When he pulled to his right he didn't adjust well. In pass protection he doesn't consistently set quickly. When this happens he loses position and gives up pressures. His lateral movement and recovery are average. He had one key mental mistake, on a 3rd and short situation he got called for a false start. Overall, Gilkey has talent but is still very raw. I don't see him making the Cleveland 53-man roster but should be a good prospect for their practice squad. He is a good developmental type prospect that needs to learn the NFL game.
Caylin Hauptmann – Cleveland
Last fall Hauptmann was not on many of the scouting lists. He got noticed during the spring workout period when he stood out at the NFL regional Combines. He has adequate size at 6-4 and 300 with the frame to get a little bigger. He played tackle at Florida International but because of his frame is more suited for guard at the NFL level. Hauptmann didn't play until the second half and lined up at right guard. I thought he played well. What stands out is his aggressiveness. He is tough, strong and looks to finish. He consistently looks for blocks. He has good initial quickness but can get tall with both his run and pass block technique. He needs to learn to play with better bend. Still he competes on every play and with his power gets some production. He was more effective as a pass blocker in this game showing a strong punch and good mirror skills. Like Gilkey he may not be ready to make the 53-man roster but he would be an excellent practice squad candidate. This a good player to follow the rest of the preseason.