August 27, 2013 -
Greg Gabriel
NFP preseason rookie report: Chiefs vs. Steelers
I have purposely waited to do Kansas City and first overall pick Eric Fisher. I saw Fisher twice last year when he was in his final year at Central Michigan and was really impressed with his foot movement and flexibility. His play in the 3rd preseason game was also impressive. Let's take a look.
Eric Fisher – Kansas City
As most of you already know, KC has moved Fisher to right tackle after having played left tackle at Central Michigan. In fact, the three left tackles taken in the Top 4 picks of last spring's draft are all playing right tackle as rookies. It would not surprise me to see them back on the left side in the future. Fisher is starting and like most of the KC starting offense he played into the 3rd quarter in this game. Except for one play I thought his play was very good. On the play in question he did not stay with his pass block long enough for the QB to step up into the pocket and his man was credited with a half sack. In fairness there were no open receivers but still it was a sack.
As a run blocker, Fisher is consistent. He gets off the ball quickly and keeps his back straight on contact. He runs his feet after contact and looks to get movement. He easily gets to the 2nd level and does a good job adjusting to a moving target. In pass protection he again sets quickly and consistently keeps good position on his opponent. He has a good punch and does an excellent job with his hands. He plays with bend and does not give ground. In short, Fisher is going to be a very good tackle in the league for years to come.
Knile Davis – Kansas City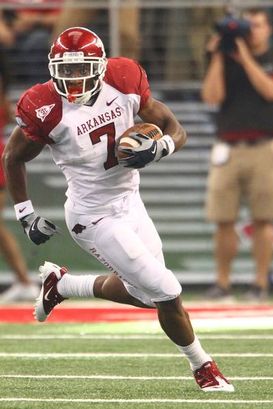 ICONFormer Arkansas RB Knile Davis returned a kickoff 109 yards for a touchdown against the Steelers.
Davis played as the 3rd RB in this game. He did not do much as a rusher gaining 12 yards on 5 carries but he also returned a kickoff 109 yards for a touchdown, showing speed and open field running ability. This was his 2nd long return of the preseason. Dave Toub is without question the best special teams coach in the NFL. He should be an NFL head coach in short order.
As a runner, Davis is a quick starter who shows good run instincts. He can make a cut in the hole and gets yards after contact. He was not used as a receiver but showed adequate pass blocking skills. I don't see Davis ever being a starter but he can be a very reliable backup and be used in a rotation.
Nico Johnson – Kansas City
Johnson is a backup inside linebacker for KC. He has good size and strength and usually plays with good instincts. I say usually plays because there was one play when he was trying to fill and get to the ball and got totally blocked out of the play because he wasn't aware of the blocker. Other than that play, his awareness was good.
Johnson is an aggressive player and makes plays but he has athletic limitations. He lacks top end speed and range. He is limited to playing as an inside backer because of this. Still, he has a good drop in coverage and his zone awareness is good. He shows good ball awareness and can close and tackle. Like Davis above, Johnson may never be a starter but should be a quality backup and teams player.
Jarvis Jones – Pittsburgh
Jones did not start but played in a rotation at right OLB in this game. Until his chest injury he was having a strong game. He not only played well as a linebacker but he also got a big tackle on the kickoff team.
Jones has size and power. On a 4th and inches play he stepped up, shed the block and stopped the play for no gain. He also made a nice play in pursuit coming from the backside. Jones is not a fast guy. He runs in the 4.8–4.9 range but he has quickness and consistently takes good angles to the ball. His lack of good top end speed showed on another play when he was chasing KC backup quarterback Chase Daniels. Jones was unable to gain any ground on the play and may have even lost some ground.
When used as a pass rusher, Jones shows his quick first step and quick hands. He can get low and flatten as he works his way to the QB. On the play Jones was injured, he got an interception on a tipped ball and returned it about 15 yards. He landed on the ball when he was tackled and that is what injured his chest. Hopefully he will be full go when the regular season starts, as Jones has the makings of a very good OLB in the Steelers scheme.
Markus Wheaton – Pittsburgh
Wheaton was the Steelers 3rd round pick from Oregon State. The Steelers needed to find a replacement for Mike Wallace who they lost in free agency. While Wheaton is not Wallace, he looks as if he can be a more than adequate replacement in time. As a rookie he is about the same size Wallace was coming out. Wallace was a low 4.3 40 guy and Wheaton has 4.43 speed. Like Wallace he is a vertical receiver. He has very good play speed and body control. He can get in and out of a cut very quickly and has good hands to go along with good ability to adjust to the ball. In this game Wheaton caught 4 passes for 54 yards. He also had a long reception ruled incomplete because he couldn't get both feet down in bounds.
After the catch, Wheaton is both quick and elusive and has the run skills to be a good return guy. Overall, like most rookie receivers, it will take Wheaton some time to adjust to the NFL game but by next season he should become the Steelers deep threat receiver.