August 12, 2013 -
Greg Gabriel
NFP preseason rookie report: Eagles
Even though the Eagles opened the preseason with a 31-22 loss to New England in Chip Kelly's first game as head coach, there were some good things to see from a talented rookie class.
Lane Johnson started at right tackle and played well. Quarterback Matt Barkley isn't getting media attention as the possible starter at quarterback but he should and may be in the conversation. Second-round pick Zach Ertz did a few nice things as the "move" tight end. On defense, Bennie Logan showed the ability to play anywhere on the defensive line and rookie free agent linebacker Jake Knott is going to be very tough to run off.
Matt Barkley
Barkley played the role of the third quarterback in this game but played more than any of the other Eagles quarterbacks, playing close to a half. He finished the game completing 11 of 22 passes for 103 yards and 1 touchdown. He did not throw an interception and was not sacked. What stood out to me is they didn't limit the offense when he was in. He was able to run the no-huddle in some series with success. While he made some mistakes he showed great poise for a rookie. He doesn't rattle. Yes, he had some rookie jitters and a few poor throws but his overall play was very good. His accuracy was for the most part good as was his ball placement. He had some balls dropped and in some cases these dropped balls ended drives. Still, he showed a good feel for the game, made the right reads and gets the ball out of his hand very quickly. He does an excellent job going through a progression. What I didn't like was he didn't throw a consistent tight ball. That is going to have to improve. I have thought for a while that Barkley will be the Eagles starting quarterback by midseason if not before. While he doesn't have the athleticism of Michael Vick I think he sees the field better and makes better decisions. Don't be surprised to see Barkley as the Eagles quarterback for years to come.
Lane Johnson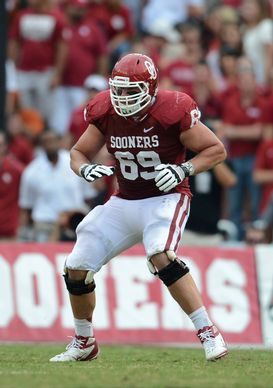 US PRESSWIRELane Johnson will be a big addition to the Eagles offensive line.
Johnson was the Eagles first-round pick and the 4th overall pick in the round. He started at right tackle and I thought he played very well. His run blocking was good, showing the ability to get some movement and finish blocks. He plays the game with intensity and consistently looked for a 2nd block when he was able. His athleticism in space shows. In pass protection he was good not great. He oversets at times, giving his opponent some room to make a counter move but that is easily correctible. He showed good hand use and has a strong punch. At the Senior Bowl I was a little worried about his lower body bulk. He is lean but he played with strength and I only saw one play vs. New England where he may have been pushed back too much. He has excellent bend and is strong and that can overcome his lack of top lower body bulk. Johnson will be a great addition to the Eagles offensive line.
Bennie Logan
Logan, the Eagles' third-round pick, did not start but came in and got a considerable amount of play time in the 2nd and 3rd quarters. He lined up at both defensive end positions in their 3-4 and also played some nose tackle. When the Eagles played a 4-man front on passing situations, he would line up as a defensive tackle. Logan had a productive game and finished with 5 total tackles and