August 21, 2013 -
Greg Gabriel
NFP preseason rookie report: Jets vs. Jaguars
Like in the Lions–Browns game, this was a game where I wanted to see certain rookies play and I was unable to due to injuries.
Luke Joeckel, the Jags' first pick, was held out because of a hip flexor injury and the Jets' Geno Smith missed the game with an ankle injury. Both clubs had a number of rookies in significant roles this early in the preseason. Let's take a look.
Sheldon Richardson – Jets
Richardson was one of my favorite players in this past draft. I thought he was a perfect fit as a 3-technique in a 4-man front. The Jets are playing him as a 3-4 defensive end and then moving him inside to tackle when they go to a 4-man front on pass rush situations. Richardson has excellent initial quickness and can be disruptive. He showed his excellent lateral quickness on one play, shedding a block and then moving inside to make the tackle. There was another play that he was unable to keep contain and the back got outside for a significant gain. Richardson has strength at the point and is tough to move. If he doesn't make the play he can occupy blockers and is still around the ball. He was able to get good pressure as a pass rusher. I think by midseason, Richardson could be a force to reckon with on the Jets defense.
Dee Milliner- Jets
Milliner was the first of two Jets first-round picks. He started at left corner but played both sides. I thought he struggled in this game. He gave up a 25-yard gain on the opening play to a Jacksonville rookie on a seam route. He played too soft in off coverage, giving up a number of catches including a first down on a 3rd and 8 situation. There was also a bubble screen that he was slow to react to, got blocked and the receiver got a long gain. In run support he was average. He is willing but has to learn to shed blocks better. Milliner is a talented player but lacks experience. He just needs time and he will be a solid corner for the Jets but I don't see him being the second coming of Darrelle Revis at this point.
Ace Sanders – Jacksonville</strong>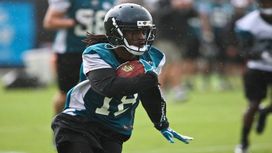 Ace Sanders could be a big-play performer if used by the Jags in the right situations.
Ace Sanders is tiny (5-7 and 178) but very quick and fast. He started at one of the wide receiver positions and made a 35-yard catch and run on the Jags' opening offensive play. He also picked up 3 yards on a reverse. Because of his quickness and body control he can be dangerous in the open field. He is very elusive with very good instincts. There were other plays where Sanders got open but was not thrown the ball. At his size, I see him as more of a situational player or maybe the Jags' slot receiver. If used correctly he can be a big-play type in their offense.
Dwayne Gratz – Jacksonville
Gratz started at corner, and like Milliner of the Jets, he struggled. He lacks a good jam and plays too loose in man coverage. He gave up at least 3 catches and there were a couple of other plays where his man was wide open but not thrown the ball. I didn't like his run support either. While he was quick to react, he showed no aggressiveness and was very slow to shed. He got called for a costly illegal hands to the face penalty also. Overall, Gratz has the physical tools but he has to learn to stop playing tentative. Being tentative in coverage leads to touchdowns by the opposing team.
Jon Cyprien – Jacksonville
Cyprien was the Jaguars second-round pick. He starts at strong safety and will also line up in man coverage on a 3rd wideout at times. Like Gratz, Cyprien struggled in this game. He fell down in man coverage one play and gave up a 25-yard touchdown. He got beat on an out route and also got called for interference giving up long penalty yardage vs. a go route. While he was aggressive and a good tackler in run support, he did not take consistently good angles to the ball. There were some plays where he could have made the play earlier if he had taken a better angle. I like the way he takes on blockers. Overall, most if not all of Cyprien's problems in this game are correctable. Much of it is just getting experience at this level and learning to play at the speed of the NFL game.
Denard Robinson – Jacksonville
The former Michigan quarterback is now a running back with Jacksonville. He also was used to return kickoffs but on the only chance to return in this game he muffed the ball and it went out of the end zone. As a runner, he has great speed and can get the corner turned on stretch plays. He has to learn to be a bit more patient and set up blocks. He shows good leg drive after contact. I didn't like the way he runs the ball inside. He runs too tall and exposes his body. He had a chance to get a first down on a 3rd and 1 and got stuffed at the line because he was too tall. Once he learns to lower his pad level he can be dangerous because he has very good run instincts to go along with an instant burst. As a receiver he caught the ball well and adjusted to the ball well. I would like to see what he can do if lined up in the slot. I feel this year he will be more of a situational player but because of his athleticism he can be dangerous once in the open field.