August 28, 2013 -
Greg Gabriel
NFP preseason rookie report: Panthers vs. Ravens
If you wanted to see some good rookie play this preseason, this was the game to watch. Carolina's first two picks, Star Lotulelei and Kawann Short, were very impressive as were John Simon and Brandon Williams from Baltimore.
Star Lotulelei – Carolina
Lotulelei started at defensive tackle and finished the game with 4 tackles, 1 sack and 3 tackles for loss. He was active just about all night. He started slow in the first series, getting knocked off the ball and not being able to shed quickly but he quickly adjusted and showed that he can be a top-flight defensive lineman in the league. He has great size to go along with strength, power and quickness. He is very explosive and is quick to find the ball. He shows excellent lateral movement and has a non-stop motor. All excellent traits for a D-Lineman. After that first series he became very disruptive. He has quick hands and it's tough to get a firm block on him. He showed a quick outside/in move on his sack.
Back in January there was talk that he may be the first pick in the draft. When he had some medical problems at the Combine that slowed the momentum but Carolina got itself one good football player with this pick.
Kawann Short – Carolina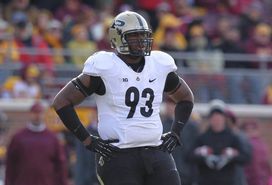 US PRESSWIREKawann Short was a first-round talent who became a second-round pick.
I had the opportunity to see Short a couple of times in 2012 and his talent stood out. What also jumped out was his inconsistency. He would play great against good players but his level of intensity would drop off when he played against a lesser opponent. Short played at 330-plus during the season but then came down to the Senior Bowl about 15-20 pounds lighter. This helped his overall play but his inconsistency during the season hurt his stock and a guy who was a first-round talent became a second-round pick.
In the game vs. Baltimore, Short showed his talent. While not a starter, he plays in the defensive line rotation and finished the game with 3 tackles (all for a loss) and a sack. While he is not fast, Short has very good initial quickness and explosive power. When he stays low he can knock his opponent back 2-3 yards into the backfield. Like Lotulelei, he has quick hands and shows he can get rid of blocks. While his motor may have been questioned in college, it was a non-factor in this game. With these picks, Carolina has two strong interior defensive linemen in which to build on.
A.J. Klein – Carolina
Klein is an inside linebacker from Iowa State. He played both Sam and Mike linebacker in this game. He also played on the punt and punt return teams. Early in the game he made a nice open field tackle while on punt coverage. When at the linebacker position he showed quick reactions to go along with good play speed and quickness. He gets to the ball quickly and is usually a good tackler (he had a miss in the backfield). Where he struggles is getting off blocks. When a lineman gets his hands on Klein, he can be very slow to shed and was often taken out of the play. In pass coverage, Klein looked good. He gets depth with his drop, shows awareness and can transition. He has the quickness and change of direction to play some man coverage versus backs. Overall, Klein should prove to be a good backup type for Carolina. He has shown he can play special teams and needs to improve his ability to shed blocks to be able to grow into a starter in the future.
John Simon – Baltimore
Simon was the Ravens 4th-round pick from Ohio State. What stood out in this game for the outside linebacker was his great competitive nature during games. Simon is all out on every play. He finished the game with 3 tackles and a hit on the quarterback. While 3 tackles doesn't sound like a lot, Simon was around the ball consistently and there were things he did that helped teammates make the play. Simon does not have long arms, but he is strong and has quick hands. He refuses to stay blocked and plays snap to whistle. There were numerous plays where he chased the ball from one side of the field to another. When he rushes the passer he knows how to get leverage by staying low and has a very good burst off of a block. Overall, Simon will be a good backup this year but it won't be too long before he is a starting outside 'backer for the Ravens. He was a great pick.
Brandon Williams – Baltimore
Williams was the Ravens 3rd-round pick from Division II Missouri Southern. Williams dominated Division II play and had a good week at the Senior Bowl but he was/is still raw. The speed of the NFL is much faster than Missouri Southern. What helps Williams is his desire to succeed. He is a relentless worker and wants to be a top NFL player. This shows in his play. He goes hard on every snap. He may break an assignment but he is doing it at full speed. Williams finished this game with 2 tackles and a sack. With his quickness off the ball, Williams is disruptive in the run game. He consistently beat blocks or pushed his opponent back to disrupt the play. Both the center and guard of Carolina had a tough time getting a clean hit on him. On one running play he knocked the center 3 yards back on his initial contact. His sack was with a quick move to the inside and quick hand movement to keep the blocker off his body. Overall, it will take some time, but Williams will be a good rotational player before his rookie year is done. I can see him being a starter in another year.