September 24, 2014 -
Greg Gabriel
NFP prospect focus: Alabama defense
In each of the last few years, Alabama has been loaded with prospects on both sides of the football. However, such is not the case this year on the defensive side, as Alabama has only one senior starting in 2014. That senior is linebacker Trey DePriest. While there are a number of very talented underclassmen on the Crimson Tide defense, there is only one who the scouting community feels will actually enter the draft. That player is junior safety Landon Collins. As the season goes on, others could also look into entering the draft and I will update you on that as I receive more information.
Trey DePriest – Linebacker
DePriest is a fourth-year senior and this is his third year as a starter on the Alabama defense. He missed the opening game this year against West Virginia because of a suspension and then didn't play much in the second game against Florida Atlantic, as that contest was a blowout and the game was called early due to severe weather conditions.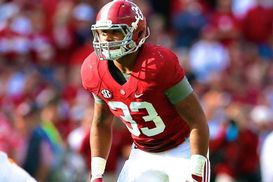 DePriest has appeared in 43 games during his four years at Alabama.
DePriest has excellent size for an inside linebacker at about 6020 – 248. He has a thick build but he is not overly powerful and not real explosive. He has good but not great athleticism. I would estimate his speed at about 4.80.
DePriest has good lateral agility, can clear piles and change direction but I don't see real sudden movement skills. I like his instincts and he is around the ball, but so far this season, I haven't seen a strong point of attack player. While he doesn't give ground to blockers, he also doesn't shed very quickly. When he gets to the ball, he is a consistently good tackler who hits and wraps.
Where DePriest has played well early in the season is in coverage. He has a good drop, gets depth and is aware. He does a good job keeping plays in front of him and can plant and drive on the ball well. DePriest is best in zone, as he doesn't have the playing speed to cover deeper routes in man coverage.
Overall, DePriest is a solid college player, but at this time I don't see potential as an NFL starter. He is best suited to play in a 3-4 scheme because he lacks the range a Mike linebacker needs in a 4-3 scheme. Right now I see a "C" level player who will be drafted in the later rounds. I'll take another look at this player later in the season.
Landon Collins – Safety
Collins is a third-year junior and this is his second year as a starter for the Alabama defense. He has played both free and strong safety while at Alabama as well as being the team's dime back in the early part of the 2013 season. He was rated as a five-star prospect coming out of high school.
Collins has excellent size at about 6000 – 220. He is smooth and athletic with very good change of direction and body control. He is not what I would call a burner, but he is fast enough. I would estimate his speed at about 4.52. He plays fast is consistently around the ball because he has such good instincts.
In coverage, Collins stays low in his pedal and has a quick turn. He has quick feet and can move quickly in transition to close. In zone, he is very aware and consistently gets a good jump on the ball. Collins has very good range to get to the sideline from the middle of the field. He plays the ball very well, takes good angles and has excellent hands to make interceptions.
He has been used some in man coverage and has the hips, feet and suddenness to mirror a wide receiver against short and longer type routes. He is also a consistent tackler in space.
When playing the run, Collins shows he can play up close to the line of scrimmage, take on and shed blocks and tackle. While he is a good hitter, I haven't seen him as a "blow up" hitter yet this season.
Overall, Collins has the traits to come in and start as a rookie. He has the skills to play ether free or strong safety and can play in any scheme. At this point of the season, I see a good player but not a special player, and I will get a later look for a possible upgrade. While I'm sure that he can be a first round pick, I'm not ready to say Collins will be the top safety in this class and be a potential top-15 type player.
Follow Greg on Twitter: @greggabe