September 26, 2014 -
Greg Gabriel
NFP prospect focus: Alabama offense
As usual, the Alabama offense has a few players who are highly thought of by NFL scouts. The best one, receiver Amari Cooper, was already profiled last week at the NFP. The other top prospects include junior running back T.J. Yeldon, senior tackle Austin Shepherd, and senior guard Arie Kouandjio.
T.J. Yeldon – Running Back
Yeldon is a third-year junior who has been the lead back in the Alabama offense since his freshman year. This season he is playing in a rotation with sophomore Derrick Henry and they each get a significant amount of touches.
Like many Alabama players, Yeldon is a former five-star recruit who was offered by the best programs in the country. Being from Alabama, he chose to stay home. During Yeldon's first two seasons he ran for over 2,300 yards with a 6.1 yards per carry average. He also had 31 receptions.
Yeldon has great size at about 6014 – 220. I would estimate his playing speed at about 4.53. While he is not a burner, Yeldon is certainly fast enough. He is a very good athlete with quick change of direction, excellent balance, quick feet and a burst. Not only does he have excellent size, but he plays with strength and power.
Yeldon has very good initial quickness and even though he is a tall running back, he runs with good lean. Yeldon is an instinctive runner who makes good decisions and can make a quick cut in the hole to find daylight. With his size and power he can be difficult to tackle and will consistently get yards after contact.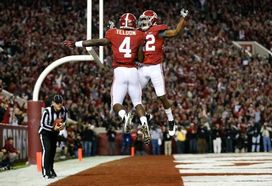 Yeldon has already notched 439 carries in 30 collegiate games.
Yeldon is a good open field runner who has the quick feet and burst to make a defender miss. He also has the speed to take it the distance. Another thing I like about him is that he secures the football and is not a fumbler.
Yeldon is reliable as a receiver, runs good routes and has soft hands. He is willing as a pass blocker and shows he can face up and anchor.
Overall, Yeldon has the traits to be an NFL starter perhaps as early as his rookie year. In recent years, Alabama backs have struggled in the NFL with one of the reasons being they are quite beat up when they leave the Crimson Tide. While I don't see Yeldon as a beat-up guy now, he is a physical runner and that can take its toll over a period of years.
Arie Kouandjio – Offensive Guard
Kouandjio is a fifth-year senior and a two-year starter for Alabama at left guard. He is the older brother of Cyrus Kouandjio, who Buffalo drafted in the second round last May. At about 6044 – 315, Kouandjio doesn't have the natural size of his brother, but he has healthier knees and better movement skills. I would estimate Arie's speed at about 5.35 and while that isn't fast, he has good quickness in a short area.
Arie can move his feet, has very good balance and plays with good bend. He has a good stance and shows good initial quickness. Kouandjio can stay low out of his stance and has excellent power on contact. He also has some natural "snap" through his hips, which allows him to consistently get movement with his run blocks. Some would use the term "road grader" when describing his run block ability.
Kouandjio has the athleticism to adjust on the move and be an effective blocker in space, be it getting out to linebackers or when on pulls. Like with his in-line run blocking, he is powerful on contact in space.
As a pass blocker, Kouandjio sets quickly and shows patience. He has quick hands, a good punch, keeps his hands inside and has the lateral agility to mirror opponents versus counter moves. He plays with good bend and doesn't give ground.
Overall, the more I watch Kouandjio, the more I like him. He has the traits to come in and start as a rookie and be effective. He is big, strong and powerful and plays with a consistent competitive nature. From what I have seen early in the year, I don't think Kouandjio gets out of the second round.
Austin Shepherd – Offensive Tackle
Shepherd is a fifth-year senior and a two-year starter at right tackle. He has good size at about 6050 – 320, but his arms look to be a little short for a tackle. He has adequate athleticism, with good feet but average change of direction and play speed. He is not a natural knee bender and has a tendency to play tall.
Shepherd almost always plays from a two-point stance and lacks great snap reaction. In the games viewed, he is consistently the last lineman off the ball for Alabama. He gets off the ball a bit tall and is not explosive on contact. He flashes generating movement, but not on a consistent basis. He will get stalemated at times.
However, Shepherd is a good technician. He has good hand use and almost always keeps his hands inside. He is also a top competitor who plays hard play after play.
When trying to block in space, Shepherd lacks top quickness and doesn't always take good angles to his block. When he gets there he shows only adequate explosiveness.
In pass protection, Shepherd sets quickly and is very aware. While he has a good punch, he is not a top bender and can give ground to some bull rushers. His feet are good and he shows he can mirror his opponents. He can have some trouble with wide speed rushers, as he just doesn't have good enough lateral agility to stop speed.
Overall, Shepherd is a good college player, but he has limitations. His best position in the NFL may be guard, as he will have help on each side and won't have to worry about wide speed. He needs to get stronger and play with better bend if he is to be successful. Right now, I see Shepherd as a backup at the next level. With his experience at tackle, he should be able to back up at two positions and should get drafted in the late rounds.
Follow Greg on Twitter: @greggabe