October 29, 2014 -
Greg Gabriel
NFP prospect focus: Ameer Abdullah
The Big Ten isn't the powerhouse conference that it used to be, but they still play tough, hard-nosed football. Several teams in the conference can run the ball as well as any in college football. This is evidenced by the fact that four of the best running backs in the country reside in the Big Ten.
Indiana has Tevin Coleman, Wisconsin has Melvin Gordon, Minnesota has David Cobb and Nebraska has Ameer Abdullah. I have already written up Gordon and Coleman and will get to Cobb in the near future. But today we will talk about Abdullah, who just may be the best prospect of the four.
Abdullah is a fourth-year senior and a two-and-a-half-year starter for the Cornhuskers. He was a backup and return man as a freshman in 2011, started about half the games in 2012 when regular starter Rex Burkhead was injured and has been the bell cow for the Nebraska rushing attack the last two seasons.
Abdullah's production as a starter has been excellent. To date this year he has 180 carries for 1,249 yards and 17 touchdowns to go along with his 13 receptions for 169 yards and two scores through the air. In 2013, Abdullah ran for 1,690 yards and had 26 receptions. He totaled 11 touchdowns that season.
Coming out of high school, Abdullah was a 3-star prospect with offers from programs such as Auburn, Texas A&M, Tennessee and South Carolina before eventually choosing Nebraska. Though Abdullah was very productive in high school, it was his lack of size that prevented him from being a 4-star type prospect. He was listed as being 5'9" – 175 coming out of high school.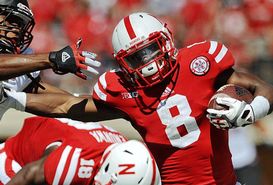 Abdullah is just shy of 1,300 rushing yards and we haven't even hit November yet.
Today, Abdullah isn't a whole lot bigger, as Nebraska lists him at 195 pounds. He may be a bit shorter than 5'9" as well.
Despite his lack of ideal size, Abdullah is a tough, strong and explosive player with very good natural athleticism. He is very quick with excellent change of direction, body control and balance. He is a very quick starter and can get to full speed in an instant. In addition, Abdullah can make a stop-and-go type cut and be back at full speed as quickly as any back I have ever seen. While he may not be a sub-4.50 forty guy, he will run 20 yards as fast as anyone. His burst and acceleration are excellent.
Nebraska runs from mainly a spread formation with some pistol and pro set mixed in. Abdullah is a quick starter and very quick to the hole. As quick as he is, he is still a patient runner who does an excellent job reading blocks. Abdullah has outstanding vision and instincts and always seems to make the right decision.
While I wouldn't describe Abdullah as a power back with his lack of size, he consistently gets yards after contact. He stays low on contact and keeps his feet moving. If his opponent doesn't properly wrap up, Abdullah can break the tackle.
Abdullah is effective both inside and outside. He has a great burst to get to the corner on outside runs and his quick cutting ability allows him to make the first man miss. Abdullah is also a very good cutback runner and with his burst, he consistently breaks to an open area.
What may separate Abdullah from other backs is his receiving skills. He has excellent hands and is a very good route runner. On shorter routes he consistently is able to get separation because of his quick cutting skills. He adjusts to the ball in the air as well as most receivers.
Another added plus for Abdullah as a prospect is that he is a proficient kickoff returner. He has the talent to become a top kick return man in the professional ranks. Abdullah is an explosive north/south type returner who can make defenders miss in space.
Overall, the only thing that Abdullah lacks is ideal size. He is tough and durable and obviously very productive. He reminds me of two backs from the past who both played for the Buffalo Bills. One is Thurman Thomas and the other is Joe Cribbs. The three of them have similar size, athleticism and traits. Whether or not Abdullah becomes as good an NFL player remains to be seen.
I see Ameer as a solid second-round pick who has a chance to come in and start as a rookie. With his size limitations, his career may not last long (five years), but I can see him being a productive NFL running back.
Follow Greg on Twitter: @greggabe